The Healthy Habitats and Oceans program (H2O) tackles the rising threat of marine debris in Florida's aquatic environments. H2O educates the public about marine debris through visits to schools, nature centers, and environmental events with our Mobile Marine Classroom and conducts volunteer beach clean-ups.

Healthy Habitats and Oceans (H2O) Program
Our scientists have witnessed the impacts of marine debris during our decades of work in Florida. Shorelines and waterways strewn with litter and abandoned fishing gear lead to the deaths of sea turtles, manatees and North Atlantic right whales. Marine debris may even be threatening the safety of boaters, divers, and surfers. Marine debris consists primarily of plastics and has been increasing dramatically.
Since much of this is preventable, CMA Research Institute launched H2O: Healthy Habitats & Oceans, an educational outreach and direct-action program targeting those audiences with the power to prevent and reduce marine debris: students, the fishing and boating community, and the general public. To reach this audience, the program utilizes a mobile marine classroom – a vehicle outfitted with interactive educational exhibits – to conduct visits to middle and high school and coastal community festivals.
Each class that cycles through is given a lesson on marine debris, a tour, and a scavenger hunt questionnaire to find hidden answers throughout the Classroom. Our traveling classroom provides a unique learning experience where we "bring the beach" to communities. To directly reduce marine debris from waterways, the program hosts frequent beach cleanups in Palm Beach County.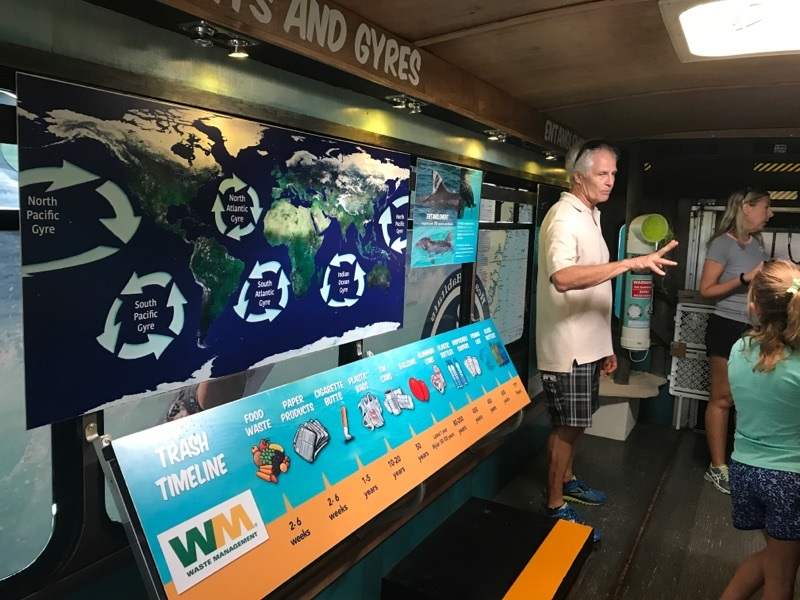 H2O Impact
H2O has been On the Go since 2015!
Here are just a few of our accomplishments:
Educated 8,000 students about marine debris
Visited 40 schools with the Mobile Classroom
Hosted 63 beach cleanups with 3,500 volunteers
Removed 7,800 pounds of debris from Florida beaches
Engaged nearly 16,000 people at 55 community events
Presented 20 educational lectures to 800 people
More than 25,000 have benefited from the H2O program!
Contact us today about your next environmental outreach opportunity!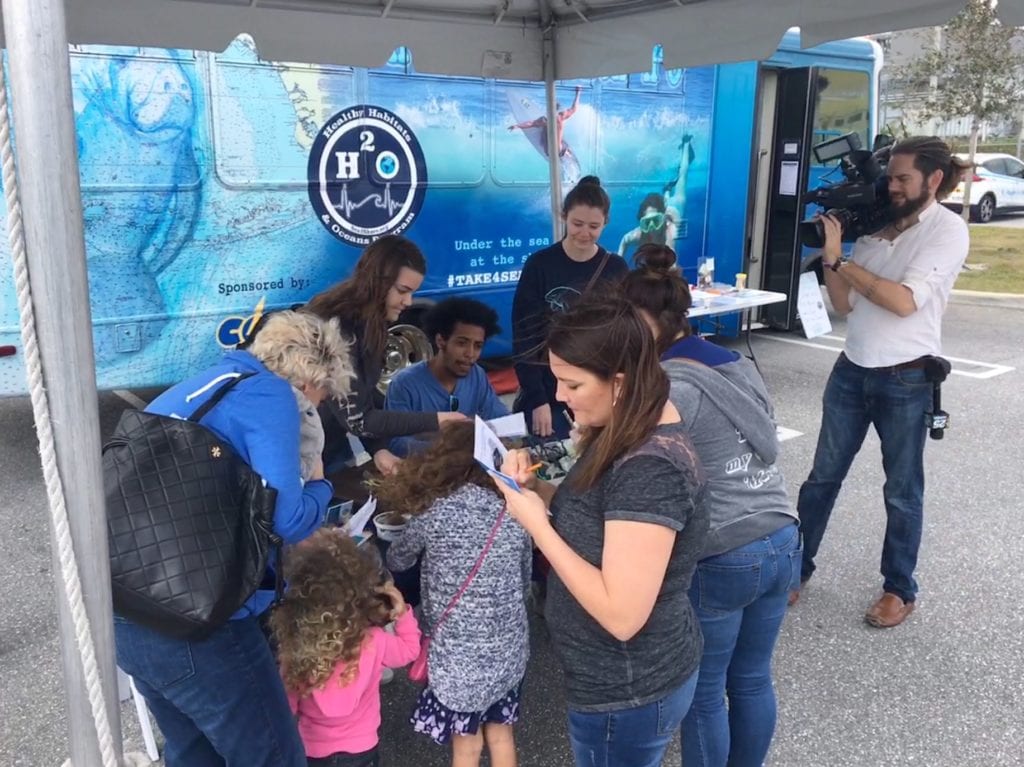 Educating the Public Promotes Awareness
​The mobile classroom is typically available for events within 60 miles from Lake Worth, FL in Palm Beach County.
For Educational Institutions
Cost Per Person

$8.00
For school visits more than 20 miles from Lake Worth, FL (33463), an additional fuel surcharge will be added to the rental fee ($30.00 for every 50 additional miles traveled).
A typical school visit includes spending the entire day at the school and having 4-6 classes visit the mobile classroom throughout the day.
Groups must book for a minimum of 60 students and a maximum of 180 students per day.
Based on the 15-person capacity and the number of students participating, presentation time will vary from 20 to 45 minutes on-board the bus with a maximum visit of 6 hours.
Students will be asked to fill out a pre-visit survey (using Google Forms if possible) to measure their marine debris knowledge. Teachers can administer this test the week prior to a visit, or the day of, preferably as a supervised assignment.
After leaving the bus, students will be given a similar post-visit survey to fill out, which can be administered by our staff in the classroom (time permitting), or by teachers who are willing to administer the test during their regular class time. We ask that surveys be completed online via Google forms if possible. Otherwise, they can be printed, completed, and mailed (or scanned and emailed) to our H2O coordinator, Paul Davis, within three weeks after the visit date.
For Festivals/Outreach Events
Cost
The minimum daily charge (up to 8 hours) for festivals and outreach events is $300.00 for anything within 20 miles of Lake Worth, FL (33463).
For events outside of the 20-mile radius, an additional fuel surcharge of $30.00 for every additional 50 miles will be applied.
No deposit is required, however, a $75.00 fee will be charged if less than 2 weeks notice is given for any cancellation.
What's Included
Outreach events include environmental and music festivals, tournaments, races and short, informal school visits.
The H2O on the Go mobile classroom will be set up for self-guided tours.
We typically set up a tent and exhibit table outside the bus to engage visitors and encourage them to visit the bus.
An ideal location for the bus for outreach events is within 100 feet of a 110 V AC outlet so electricity can be provided to cool the bus without running the engine.
Marine Debris Facts
Marine debris is defined as any persistent solid material that is manufactured or processed and directly or indirectly, intentionally or unintentionally, disposed of or abandoned into the marine environment or the Great Lakes.
80% of marine litter is land-based while an estimated 20% is ocean-based.
Debris threatens ALL species of marine life.
ENTANGLEMENT affects over 260 marine species worldwide.
Sea turtles, marine mammals, fish, and seabirds often mistake marine debris for food.
INGESTION can lead to malnutrition and starvation as debris collects in the stomach and causes animals to feel full. It can also prevent proper nutrient absorption.
Some marine plastics are made of toxic chemicals that can cause reproductive issues and death when ingested.
Ecosystems can be smothered by ghost nets, plastic bags, and derelict fishing gear, permanently altering the environment.
Marine debris can contribute to the migration of invasive species through "rafting."