Winter's story has inspired millions of people all over the world! Every day at Clearwater Marine Aquarium we welcome many visitors who continue to have a powerful connection to Winter and many that are inspired by Hope, Nicholas and the other rescued animals at CMA. These remarkable individuals bring their own inspiring stories and share how these special animals have changed their lives.
CMA Inspires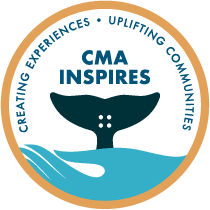 The CMA Inspires program provides unique experiences for guests who have been impacted by the work of Clearwater Marine Aquarium, inspired by our conservation, research, sustainability work, and the stories of our rescued animals, including Winter the Dolphin.
We work with groups that help underserved communities, those experiencing physical and medical challenges, and educational programs inspiring the next generation of marine conservationists. Learn how to nominate someone or share your story with CMA Inspires.
Inspirational Stories