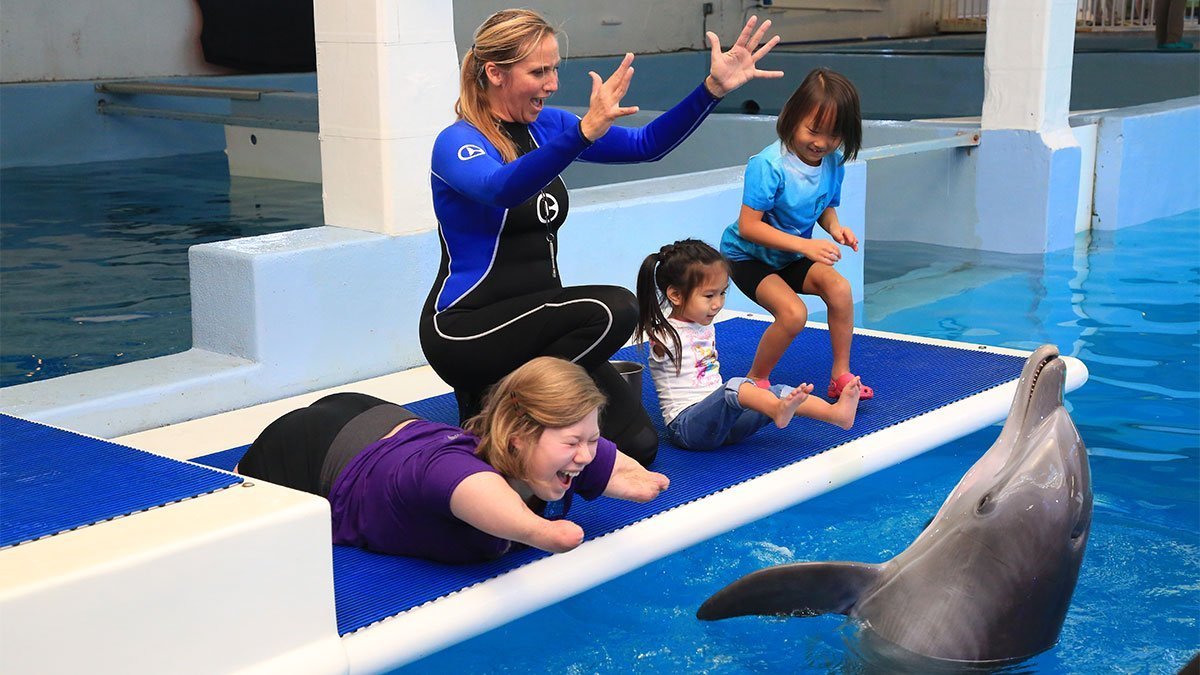 Camp No Limits Participants Meet Their Hero Winter the Dolphin
Part of Clearwater Marine Aquarium's mission is to not only rescue, rehab and release marine animals, but also to inspire the human spirit. On January 18, 35 children with limb loss and limb differences were inspired by the rescued animals at CMA, and we were inspired by them in return. Camp No Limits traveled to Clearwater Marine Aquarium for the 9th time from all over the country to meet and be inspired by Winter, the dolphin with a remarkably similar story of perseverance in the face of adversity. After being rescued from a crab trap line entanglement in 2005, she lost her tail and was fitted with a prosthetic tail designed by Hanger Clinic.
The No Limits Foundation is a Maine based nonprofit organization that provides children with limb difference peer support, education, mentorships, and the opportunity to "develop a healthy, happy and independent lifestyle" through empowering experiences. Past participants were featured in the film Dolphin Tale 2 to represent the thousands of people Winter has motivated and inspired.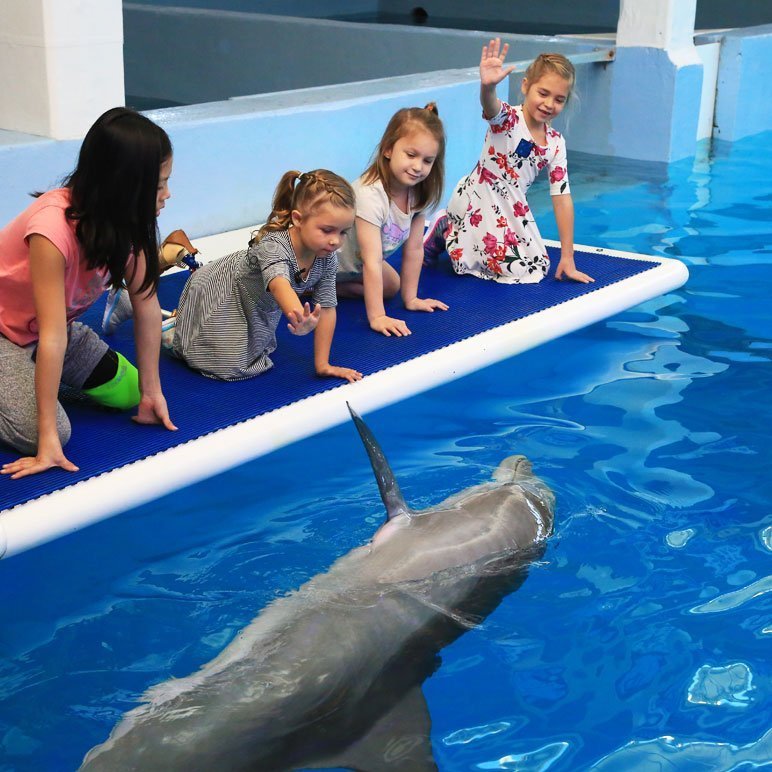 A Young Girl's Special Connection To Winter
During their visit, some of the participants spent time with Winter and her companion Hope, the dolphin who was rescued in 2010 and featured in Dolphin Tale 2. 5-year-old Morgan Pixley from California was one participant who was especially excited to meet her hero. Winter lost her tail when she was only a few months old, and Morgan also lost a limb at a very young age.
When Morgan was born, it was discovered that she didn't have a left femur — causing her to have significant limb difference. At two years old Morgan's foot was amputated to allow for a mechanical knee. Morgan's parents have been using Winter's story as an inspiration for their daughter ever since.
"Winter came to our rescue, and allowed us unlimited dialogue about what Winter was experiencing," explains Morgan's mother, Ashlee Pixley. "Our family talked about Winter's journey to lay the emotional groundwork for what Morgan would experience, and it gave her a way to cope with her fears and frustrations. Her older sister, Paige, would encourage Morgan, reminding her that Winter had to practice and learn to swim again, too. "
Special Guests Speak to Camp Kids
The creators of Winter's prosthetic tail, Kevin Carroll and Dan Strzempka, also made an appearance during Camp No Limit's visit to the aquarium. The pair is depicted by Morgan Freeman's character in the Dolphin Tale films, Dr. Cameron McCarthy. Strzempka is not only an amputee himself, but one of the many who wear Winter's Gel — the same material used to create the liner of Winter's prosthetic tail. The men both work for Hanger Clinic, continuously improving and producing Winter's Gel along with her prosthetic tails. Hanger Clinic also sponsors the No Limits Foundation and makes it possible for children with limb loss to experience adventures like those of Camp No Limits.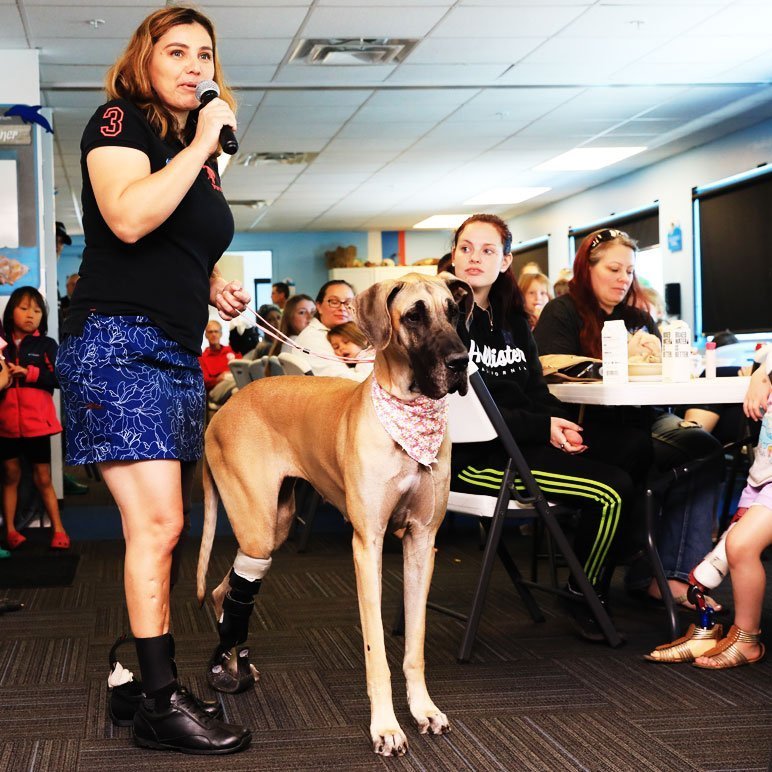 Another notable returning guest was fellow amputee, international motivational speaker, and genocide survivor Maja Kazazik. At 16 years old, she was living in former Yugoslavia when a grenade exploded, causing a severe injury that forced doctors to amputate her leg. Maja also brought along her service dog, Rosie. The Great Dane was only a few weeks old when she lost her leg due to an extensive injury. Maja then adopted her and works hard with Hanger Clinic to ensure she has the best prosthetic possible. Together, Maja and Rosie go to hospitals, nursing homes, schools, and wherever people may be in need of some encouragement.
A Day To Remember
After the group watched a special presentation featuring Nicholas, a resident dolphin who was rescued in 2003 with severe sunburns, they heard from CMA's CEO, David Yates. Lastly, the day was wrapped up by guided tours of the aquarium to meet some of our other rescued, resident animals.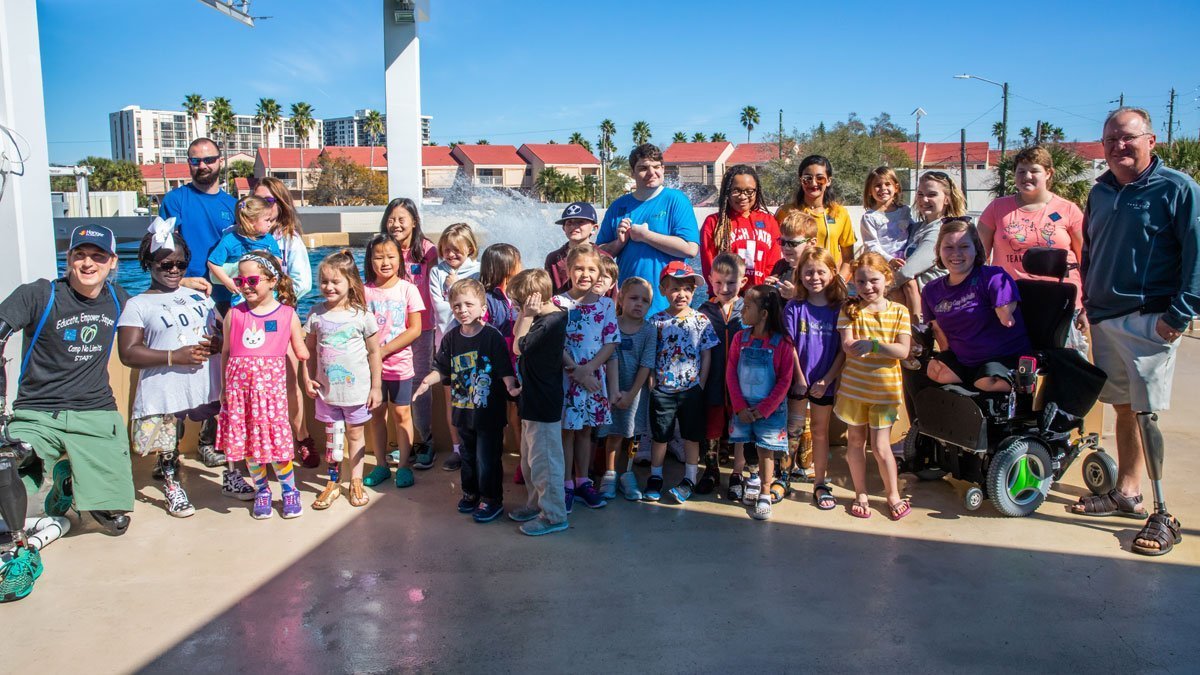 Despite the challenges of learning to cope with limb loss and modify certain aspects of life, the participants of Camp No Limits, just like Winter, don't let the unique obstacles they face hold them back. With the help of organizations like the No Limit's Foundation, Winter's story of survival continues to encourage and inspire people everywhere.