---
Dolphin Calf Freed From Fishing Line Entanglement
On March 11, 2019, Clearwater Marine Aquarium's Rescue Team alongside experts and veterinarians from several rescue organizations worked together to disentangle a bottlenose dolphin calf near Englewood, on the Gulf Coast of Florida. Rescue partners led by the Chicago Zoological Society's Sarasota Dolphin Research Program (SDRP), at the request of National Oceanic and Atmospheric Administration (NOAA), with support from Florida Fish and Wildlife Conservation Commission (FWC), University of Florida's College of Veterinary Medicine, Mote Marine Laboratory, FWC Law Enforcement, Charlotte County Sheriff's Office and CMA collaborated to help free the bottlenose dolphin calf from fishing line entanglement.
The young male bottlenose dolphin was reported over the past few weeks in Lemon Bay, near Englewood, FL, with fishing line and gear wrapped around its body and tail, and through its mouth. The rescue organizations involved in stranding response along Florida's west coast mobilized to locate both mom and her calf, take the gear off, conduct a short health assessment and release them back into the wild.
The entanglement was significant, with fishing line cutting around a third of the way through each of the calf's fluke blades (two sides of the tail). Fishing line was also through the calf's mouth, cutting into where its jaws meet and the gum tissue of its upper mouth.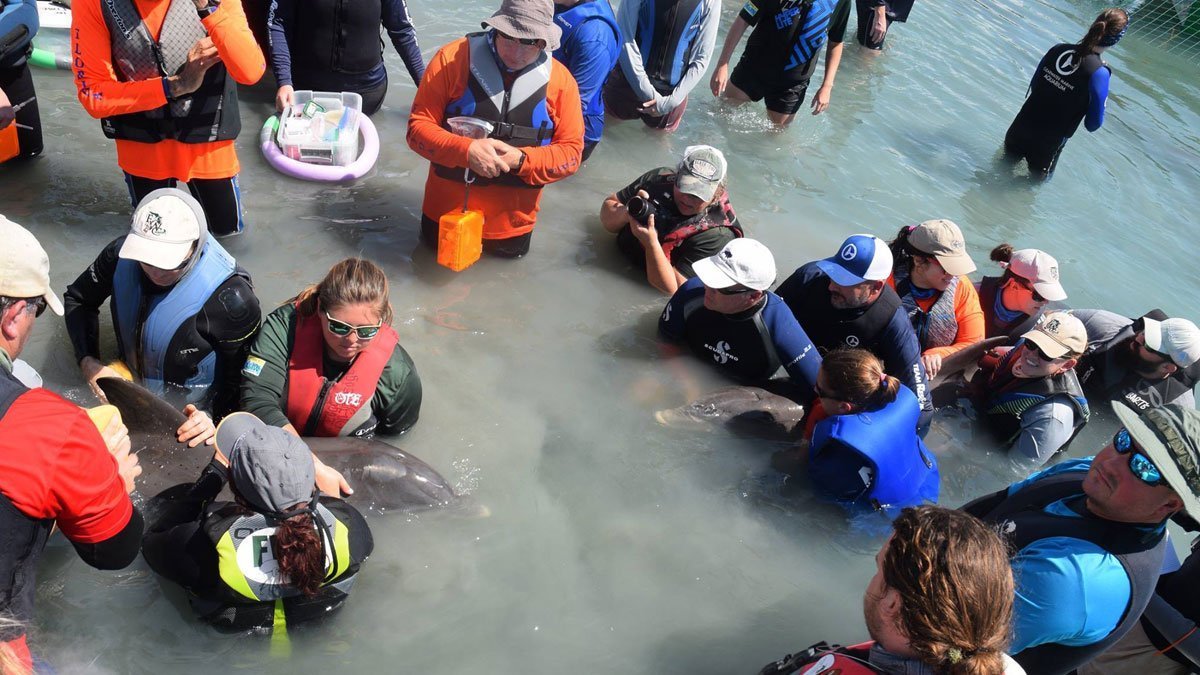 Once located, the calf and mom were secured successfully using a net deployed by the collaborative team of experts. The process was smooth and calm, with the two dolphins held close to each other.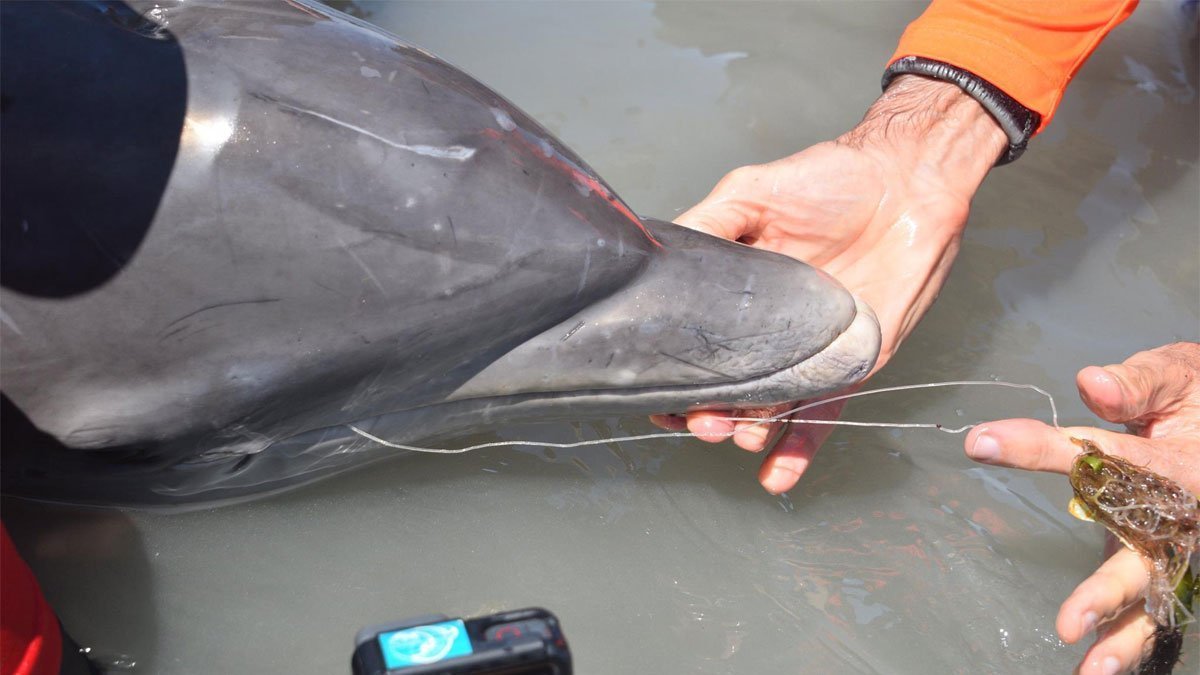 A successful rescue
The disentanglement was performed in the water, in a shallow area near mangroves. The team was able to remove all the line, give the calf an antibiotic shot, take measurements and collect a blood sample.
The pair swam off looking good and strong, emitting sounds like whistles as they went on. It was a successful, collaborative effort that CMA was proud to have been a part of. FWC and SDRP will continue to monitor the mother-calf pair following the release.
You can view NOAA's video of the rescue below.
Video credit: SDRP.
All rescue intervention efforts were authorized under NMFS Permit No. 18786-03.
---
Remember to properly dispose of fishing gear
This serves as a reminder to all to utilize responsible, dolphin-friendly fishing practices and properly dispose of fishing gear.
Monofilament is made from a single fiber of high-density plastic, the gauge or thickness varies. High-test monofilament (used for large game fish has a much greater tensile strength) is much thicker and stronger than the line used for small fish. Thicker line takes longer to break down in the environment. On average it takes about 600 years for monofilament to break down. One of the best ways we can all help reduce marine debris and entanglement hazards is to recycle monofilament. Unfortunately, due to the composition of the plastic, it cannot be recycled at home in your weekly recycling but MyFWC has made locating a recycling facility super easy! Interactive maps and more educational information can be found on MyFWC's website. The best way we can all help is to manage our line and dispose of it properly.
---
If you see an injured or entangled dolphin or other wildlife in Florida, please call FWC Wildlife Alert Hotline: 888-404-3922, press "7" for the operator.
CMA's 24-hour emergency rescue hotline is available if any dolphin or marine animal is observed in distress in the Tampa Bay Area — 727-441-1790 ext. 1.
---
CMA receives funding from NFWF to support stranding efforts including multi-agency efforts such as this. These efforts showcase the importance of a strong and active stranding network and collaboration between network partners.