2021 Manatee Deaths
In December 2020, several carcasses/rescues were made within 72 hours in a localized area, leading to increased monitoring of a potential situation. Later that month, abnormal buoyancy in live animals was recorded in the Central-east and Southeast regions. In January 2021, field reports of manatees appearing thinner were recorded, and later there was confirmation that reduced vegetation was worse than ever before in the Indian River Lagoon area. This area is a gathering place for manatees during the winter months because of the surrounding warm water brought by powerplants. With very little seagrass available in this vicinity, the manatees chose to forgo feeding and stay in warmer water than risk traveling north to find food and dying from colder water.
This loss of seagrass is due to complex water quality and ecological factors involving high nutrient loads going into coastal waters, causing harmful algae blooms, and low water clarity limiting light for submerged plants. Since 2011, seagrass beds in the Indian River Lagoon have declined as a result of recurring algae blooms. Unfortunately, the solution is not as easy as planting more seagrass. Recovery of seagrass in the Indian River Lagoon depends on successfully implementing projects designed to reduce loads of nutrients going into the lagoon. Thus, the intensity and duration of algae blooms will decrease, and light availability for the plants will increase.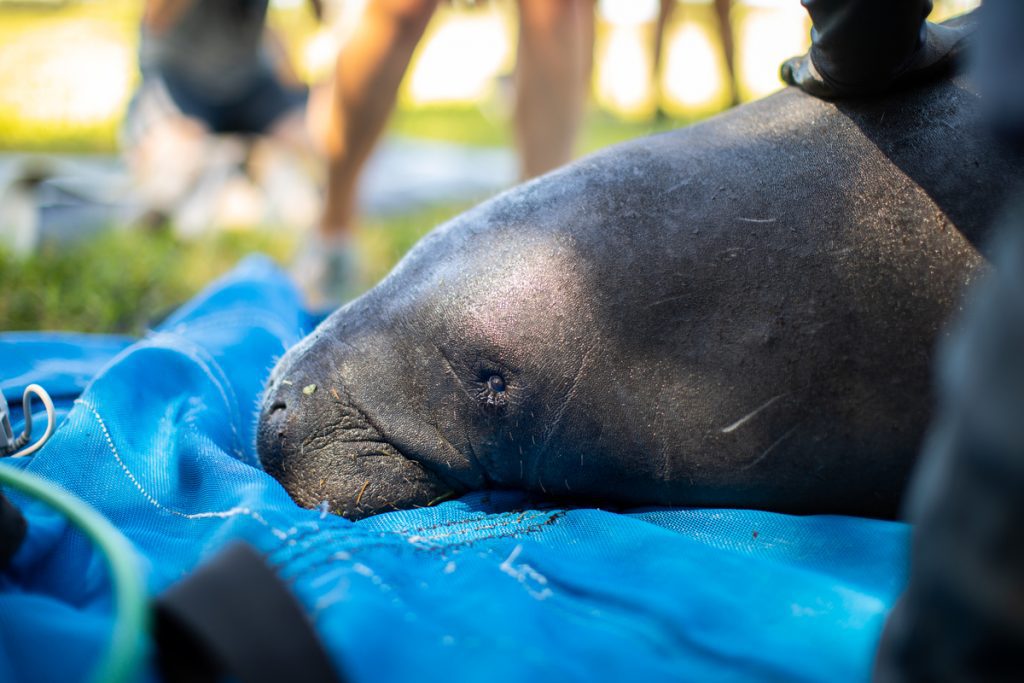 Over 840 Manatee Deaths Reported in 2021
According the Florida Fish and Wildlife Conservation Commission (FWC), the current Unusual Mortality Event (UME) occurring on the Atlantic Coast represents the highest number of manatee deaths recorded over six months. As of July 2, 2021, a total of 841 manatee deaths have been documented for 2021. This 6-month number surpasses the previous annual high of 830 recorded in the 2013 manatee UME, also taking place in Indian River Lagoon. Manatees represent 10 out of the 71 total UMEs on record, with the first instance of a manatee UME dating back to 1996. This UME, however, is the first due to starvation.
What is an Unusual Mortality Event (UME)?
An amendment to the Mammal Protection Act in 1992 formalized the Marine Mammal Health and Stranding Response Program that mandates emergency responses to marine mammals in distress, monitors health and health trends in marine mammal populations, and investigates marine mammal UMEs.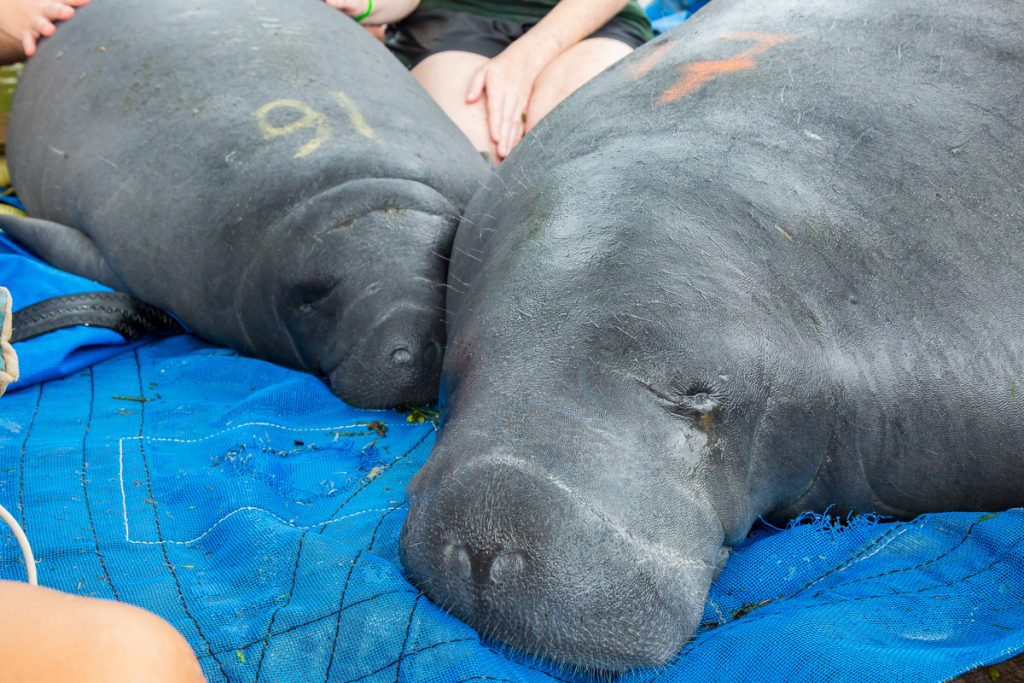 While marine mammal strandings occur for various reasons, there are cases where an unusually high number of live or dead animals may come ashore over a relatively short period in the same general area. There are seven criteria for determining an UME (from NOAA):
A marked increase in the magnitude or a marked change in the nature of morbidity, mortality, or strandings when compared with prior records.
A temporal change in morbidity, mortality, or strandings is occurring.
A spatial change in morbidity, mortality, or strandings is occurring.
The species, age, or sex composition of the affected animals is different than that of animals that are normally affected.
Affected animals exhibit similar or unusual pathologic findings, behavior patterns, clinical signs, or general physical condition (e.g., blubber thickness).
Potentially significant morbidity, mortality, or stranding is observed in species, stocks, or populations that are particularly vulnerable (e.g., listed as depleted, threatened, or endangered or declining). For example, stranding of three or four right whales may be cause for great concern whereas stranding of a similar number of fin whales may not.
Morbidity is observed concurrent with or as part of an unexplained continual decline of a marine mammal population, stock, or species.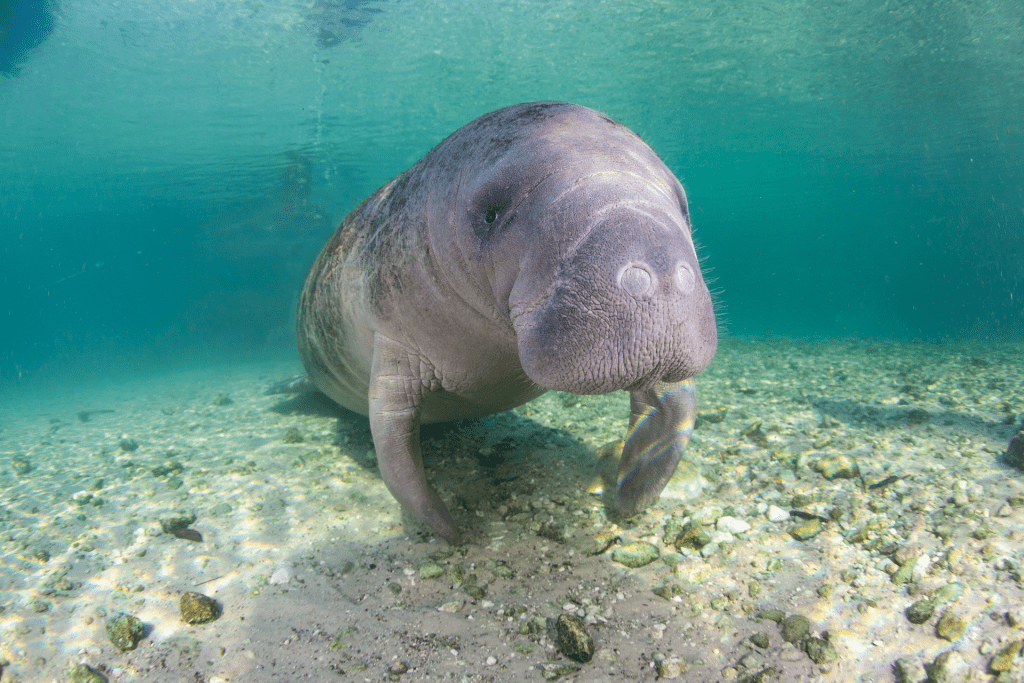 How We Are Helping
For over a decade, Clearwater Marine Aquarium has assisted in rescuing, releasing, and tracking wild manatees around the world. We are now building a new manatee rehabilitation center to help with the influx of manatees in critical need.
A recent red tide crisis in Tampa Bay and an ongoing Unusual Mortality Event on Florida's east coast is projected to cause capacity shortages in manatee rehab centers throughout the U.S., particularly in Florida during the winter season. We will continue to support manatees through rescue, transport, tagging, monitoring, and acting as consultants with our international partners in the Caribbean. We are simply adding rehabilitation capabilities.
A New Facility For Manatee Rehabilitation
Our efforts to rescue and rehabilitate manatees are expanding even further with a new onsite manatee rehabilitation facility! We will be transforming the former Winter Zone into a habitat to rehab manatees for eventual release.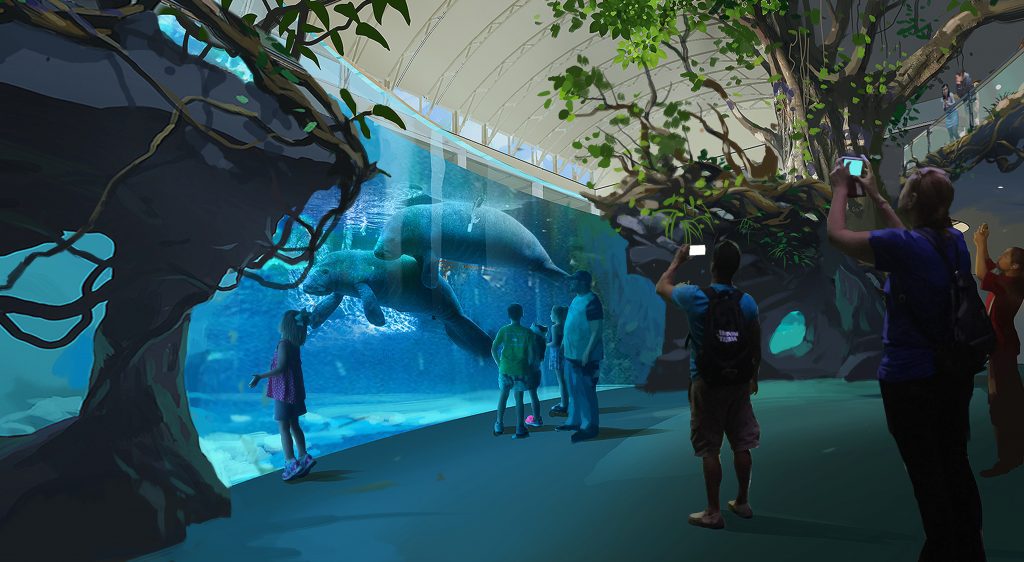 Working with our experienced partners in the Manatee Rescue & Rehabilitation Partnership, our veterinary and animal staff, efforts will focus on preparing these rescued manatees for eventual release back to the wild. We hope the blending of our wild manatee monitoring knowledge with current rehabilitation techniques will improve future rehabilitation success.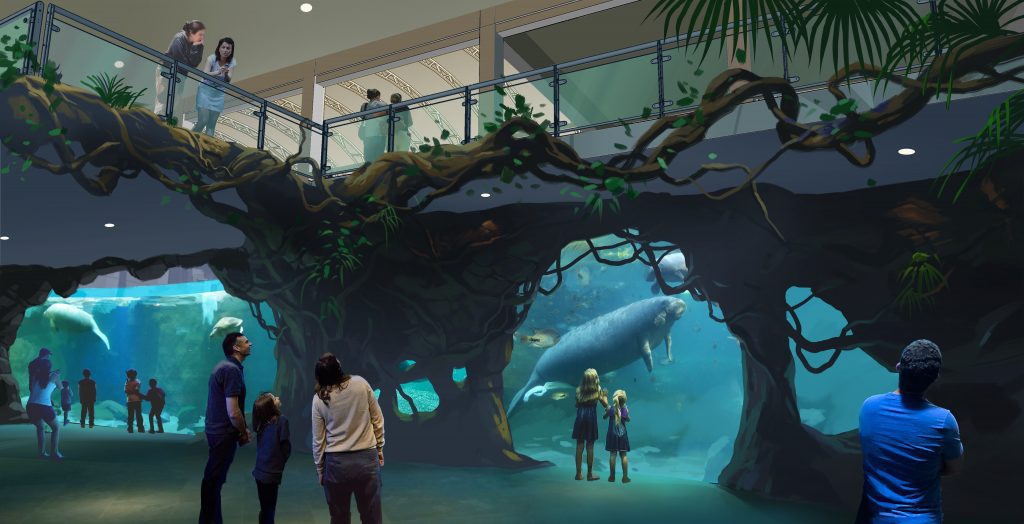 Other Ways to Help
The Manatee Rescue & Rehabilitation Partnership (MRP) is comprised of organizations dedicated to the conservation of manatees. Marine Life Rescue Project is proud to support this partnership of organizations working together to protect this species! By purchasing a Manatee Bracelet, you will help the rescue, rehabilitation, release, and conservation efforts to keep them safe in the wild. You'll also receive special access to learn about one of the manatees the Clearwater Marine Aquarium Research Institute is currently tracking!
Report distressed, sick, injured or dead manatees at 1-888-404-FWCC (3922).
Help reduce algae growth by knowing your local fertilizer regulations.
Practice safe boating for manatees and seagrasses by slowing down in manatee zones and avoiding seagrass beds.
---
All manatee work was conducted under USFWS Research Permit #MA770191.