The summer celebration will include art installations, immersive activities, and more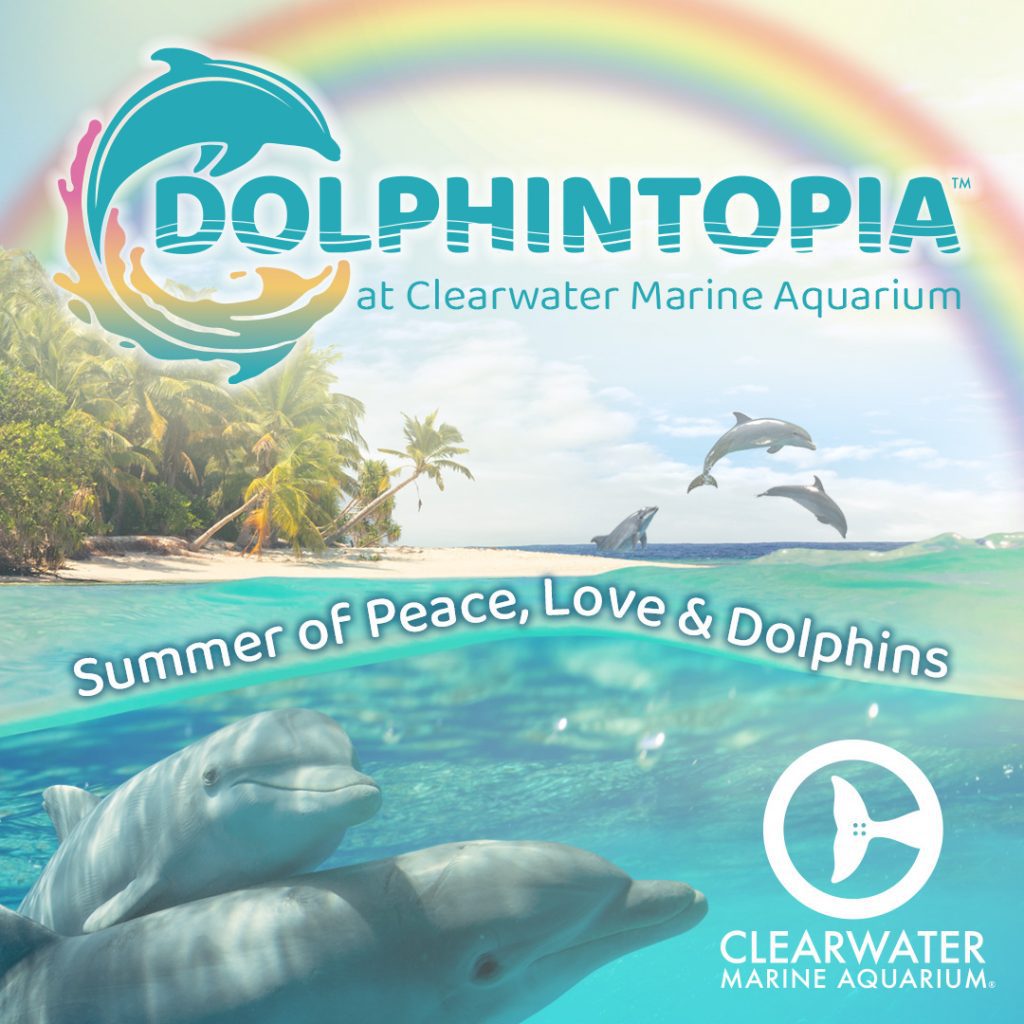 CLEARWATER, Fla. – On National Dolphin Day, Clearwater Marine Aquarium announced a brand-new immersive celebration called Dolphintopia. This June, CMA will transport guests to a summer of peace, love and dolphins. Families are invited to celebrate the facts, fiction and fun of these enchanting marine mammals. Guests will explore the fascinating science of dolphins and their intimate connection with humans throughout history.
Dolphintopia will include unique dolphin art installations and activities, interactive shows exploring the intangible connection between humans and dolphins, and vibrant Instagrammable photo opportunities. The elements of this saltwater celebration will change throughout the summer offering annual members different experiences.
In addition to the celebration, guests can visit the aquarium's resident dolphins in their habitats. CMA is currently home to five bottlenose dolphins, PJ, Apollo, Nicholas, Hemingway, and Hope – one of the stars of Dolphin Tale 2. Two rough-toothed dolphins also reside at CMA named Rex and Rudy. Guests who want an even closer look at these dolphins can purchase a VIP Dolphin Experience or Photo Moment Experience. Visitors can also explore Clearwater Bay and learn about the local dolphin population on The Dolphin and Wildlife Tour.
The celebration will be included with admission. VIP experiences and tours may be purchased online. For more information please visit cmaquarium.org.
MEDIA CONTACT Kelsy Long, Clearwater Marine Aquarium, media@cmaquarium.org.
###
About Clearwater Marine Aquarium

Clearwater Marine Aquarium (CMA) is a 501(c)(3) nonprofit working marine rescue center dedicated to preserving our marine life and environment while inspiring the human spirit through leadership in education, research, rescue, rehabilitation and release. CMA is home to rescue dolphins, sea turtles, river otters, stingrays, nurse sharks and more. Winter, the dolphin's story of survival after injury that caused her to lose her tail, has impacted millions of people around the world. A major motion picture, Dolphin Tale, highlighted her life story in 2011. The sequel, Dolphin Tale 2, was released in September 2014 and features the incredible story of Hope, a young resident dolphin of CMA. The mission and potential to change people's lives differentiates Clearwater Marine Aquarium from any other aquarium in the world
© 2022 Clearwater Marine Aquarium | 249 Windward Passage, Clearwater, FL 33767 | 727-445-1139 | 727-441-1790 | mission.cmaquarium.org | cmaquarium.org

We believe in preserving our environment while inspiring the human spirit through leadership in the rescue, rehabilitation, and release of marine life; environmental education; research; and conservation.
A Florida non-profit 501(c)(3) organization