The world's online zoo showcases interactive experiences of CMA's dolphins, marine animals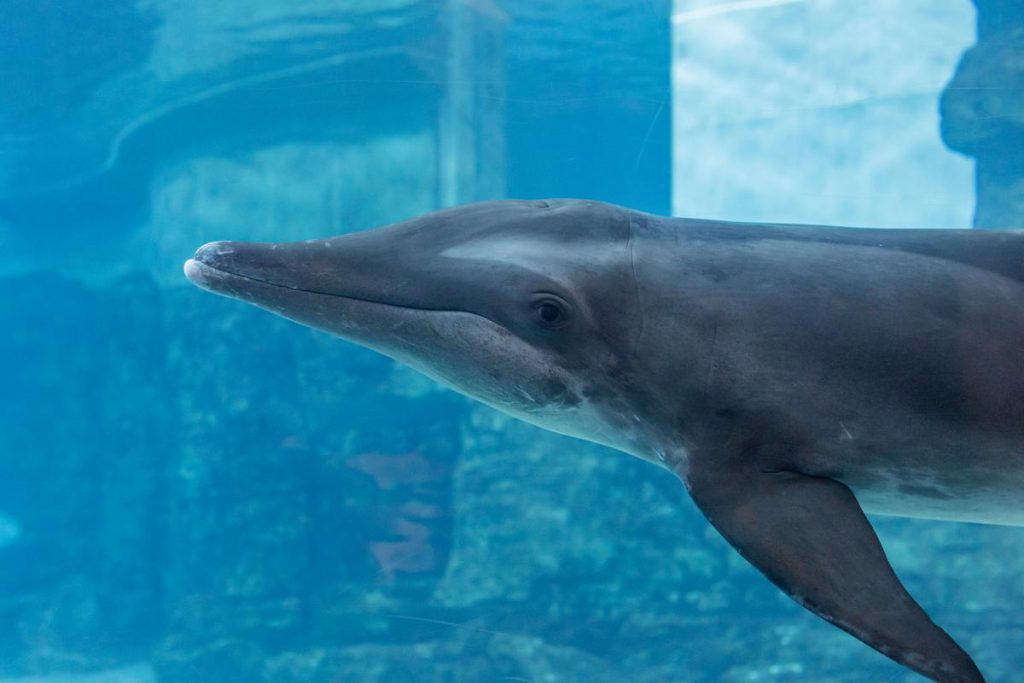 CLEARWATER, Fla. (Oct. 16, 2023) – Clearwater Marine Aquarium will now be a part of an innovative network of zoos and sanctuaries around the world that will bring its animals to viewers 24-7. CMA is now part of zoolife, and is the first aquarium to join the platform as well as the first facility to showcase dolphins.
Now, dolphins, sea turtles, river otters, great white pelicans and future species can be watched by people around the country or world, any time of day or night. Guests who love animals but can't get to CMA as often as they'd like, will now have access to CMA's animals online.
A portion of every pass will go toward CMA conservation efforts. In addition, all new CMA membership plans will include a 1-year subscription to zoolife. To sign up, please go to https://www.cmaquarium.org/membership/
Unlike individual webcams at zoos or other animal facilities, zoolife gives access to over a dozen zoos, with a variety of animal habitats from each location. Visitors can choose a species to watch such as capybaras, penguins, gorillas, meerkats, koalas, otters, platypuses, giraffes, alligators, iguanas, bats and more. In addition, users can control the 25x optical zoom cameras to get close to the animals and watch unique details and moments of their daily lives.
"As part of Clearwater Marine Aquarium's innovative initiatives, we are partnering with zoolife to bring new technology to our guests to enhance their experience and the way they can interact with our marine life animals," said Anthony Rivera, Chief Operating Officer at CMA. "This evolves into an immersive experience where viewers can build a deeper, lifelong connection with our animals," said Rivera.
The new zoolife partnership not only provides live streams of marine life, but will allow guests to tune in and see schedules for live feedings, live trainings, special enrichment sessions, as well as journeys into real life rescues of marine animals. In addition, new content is added every month to feature CMA's research from work in the field, and talks from the animal care team.
zoolife currently includes animal live streams from over 12 zoos, including Santa Barbara Zoo, Lincoln Park Zoo, Toronto Zoo, and Akron Zoo, and is adding more each quarter. Moreover, zoolife offers a variety of hosted events & live interactive talk shows with animal care providers, animal experts, animal artists, and more.
MEDIA CONTACT: Marsha Strickhouser | mstrickhouser@CMAquarium.org | (727) 242-0770
###
About Clearwater Marine Aquarium

Clearwater Marine Aquarium (CMA) is a 501(c)(3) nonprofit working marine rescue center dedicated to inspiring the human spirit through leadership in education, research, rescue, rehabilitation and release. With a mission to preserve the environment and its marine life, CMA is home to rescued dolphins, sea turtles, river otters, stingrays, a nurse shark and more. Through Clearwater Marine Aquarium Research Institute, CMA conducts important global research focused on protecting manatees, North Atlantic right whales and sea turtles. Major motion picture Dolphin Tale (2011) and its sequel Dolphin Tale 2 (2014) features the true stories of rescued resident dolphins Winter and Hope, inspiring millions around the world. The mission and potential to change people's lives differentiates Clearwater Marine Aquarium from any other aquarium in the world. CMAquarium.org.

About zoolife

About zoolife zoolife is the world's live and interactive online zoo, streaming live 24/7 from the world's top accredited zoos, sanctuaries, and rehabilitation centers. Each stream is designed to bring you closer to wildlife and offers innovative ways of learning, protecting and engaging with the animals, from the comfort of one's home. zoolife's state-of-the-art technology allows users to control the camera from their device, zoom into a tiger's whiskers, or move the camera around to explore a gorilla's habitat. Streaming live 24/7, everyday there's something remarkable going on within the 80+ animal species, between their feeding times, training sessions, keeper Q&A video chats, and community hosted events awaiting you. zoolife values being a force for good. 50% of every dollar goes to wildlife conservation efforts led by our partners across 3 continents. Together, we are building a future where we foster a deeper connection between humankind and the world's animals. For more information, please email info@zoolife.tv or visit our website.
© 2023 Clearwater Marine Aquarium | 249 Windward Passage, Clearwater, FL 33767 | 727-445-1139 | 727-441-1790 | mission.cmaquarium.org | cmaquarium.org

We believe in preserving our environment while inspiring the human spirit through leadership in the rescue, rehabilitation, and release of marine life; environmental education; research; and conservation.
A Florida non-profit 501(c)(3) organization