This family-friendly event offers dancing, music, views of dolphins and marine mammals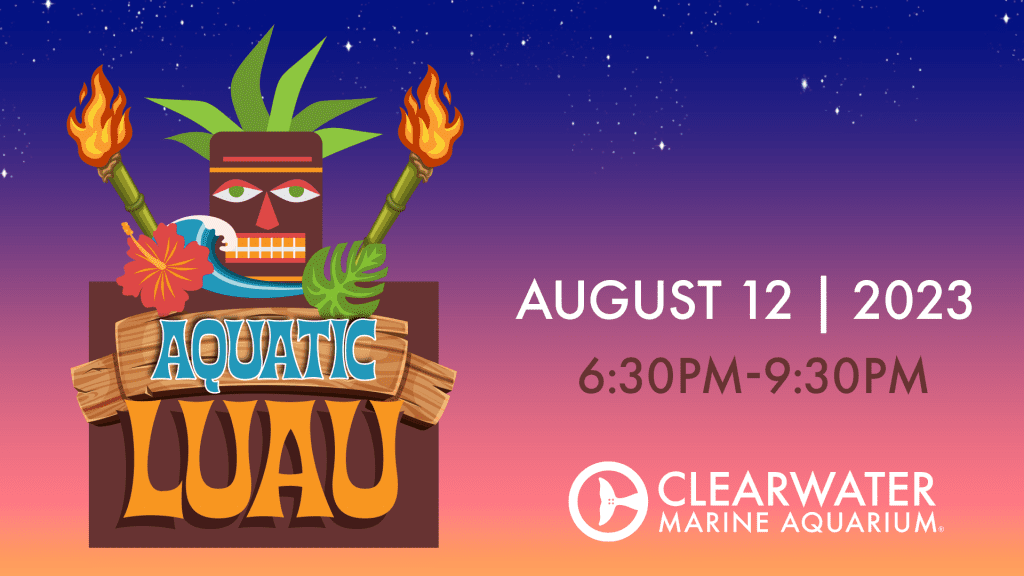 CLEARWATER, FL (July 31, 2023) – Clearwater Marine Aquarium will hold an Aquatic Luau on Saturday, Aug. 12 from 6:30 to 9:30 p.m. as part of the Aquarium's new after-hours series, offering guests a unique and unforgettable waterfront experience.
Guests can enjoy live entertainment, Hawaiian cuisine and marine life in an enchanting atmosphere overlooking Clearwater Bay, while supporting the Aquarium's mission of rescue, rehabilitate and release.
Entertainment includes a Samoan traditional fire knife dance and traditional dancers from the Polynesian, Hawaiian, Samoan and Tahitian cultures, who will also offer dance lessons.
Another highlight of the Aquatic Luau is exclusive access to underwater views of the Aquarium's rescued dolphins, sea turtles, stingrays, and other resident animals. Guests will have the opportunity to explore a number of marine life habitats, viewable during evening hours until 8:30 p.m.
"We are thrilled to present the Aquatic Luau," said Anthony Rivera, Chief Operating Officer of Clearwater Marine Aquarium. "This is a fantastic opportunity for families to enjoy a fun-filled evening at the Aquarium, surrounded by delicious food and music and the marine life that we are dedicated to protecting."
Tickets include private dining with a catered buffet included from 6 – 8 p.m. and one (1) alcoholic/non- alcoholic drink ticket. There will be cash bars available throughout the Aquarium. General admission tickets are $45 for adults and $35 for children. VIP tickets are $75 and $55 for children. CMA Members receive 10% off any ticket and will receive early admission at 6 p.m. Tickets are available for purchase at www.cmaquarium.org/aquatic-luau
MEDIA CONTACT: Marsha Strickhouser | mstrickhouser@CMAquarium.org | (727) 242-0770
###
About Clearwater Marine Aquarium

Clearwater Marine Aquarium (CMA) is a 501(c)(3) nonprofit working marine rescue center dedicated to inspiring the human spirit through leadership in education, research, rescue, rehabilitation and release. With a mission to preserve the environment and its marine life, CMA is home to rescued dolphins, sea turtles, river otters, stingrays, a nurse shark and more. Through Clearwater Marine Aquarium Research Institute, CMA conducts important global research focused on protecting manatees, North Atlantic right whales and sea turtles. Major motion picture Dolphin Tale (2011) and its sequel Dolphin Tale 2 (2014) features the true stories of rescued resident dolphins Winter and Hope, inspiring millions around the world. The mission and potential to change people's lives differentiates Clearwater Marine Aquarium from any other aquarium in the world. CMAquarium.org.
© 2023 Clearwater Marine Aquarium | 249 Windward Passage, Clearwater, FL 33767 | 727-445-1139 | 727-441-1790 | mission.cmaquarium.org | cmaquarium.org

We believe in preserving our environment while inspiring the human spirit through leadership in the rescue, rehabilitation, and release of marine life; environmental education; research; and conservation.
A Florida non-profit 501(c)(3) organization