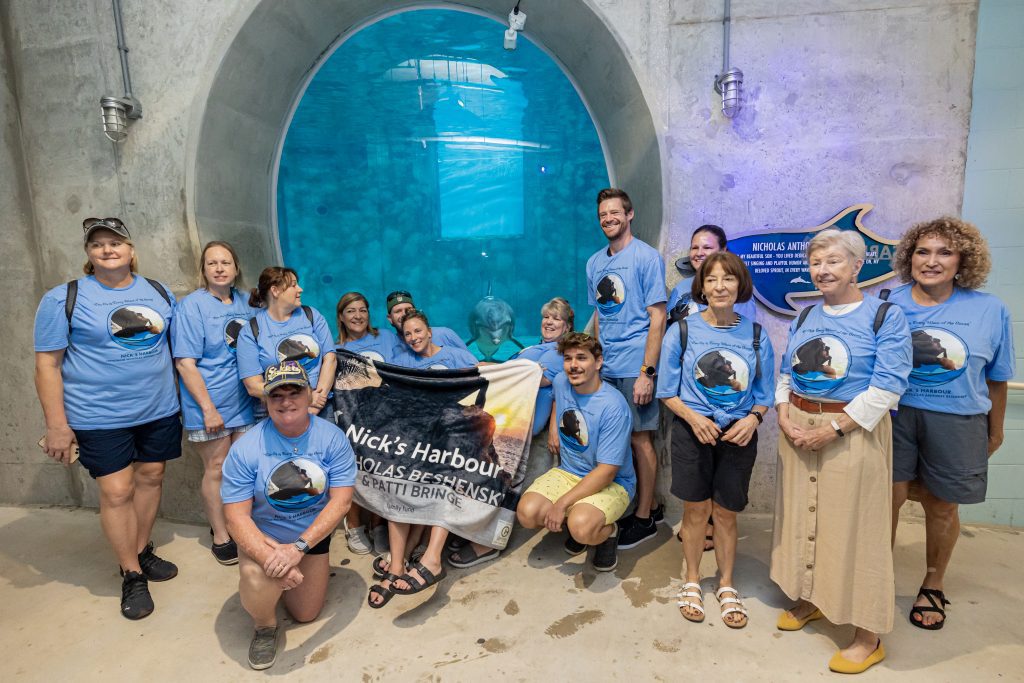 CLEARWATER, Fla. (Sept. 6, 2023) – Clearwater Marine Aquarium (CMA) is thrilled to announce the generous gift of $500,000 from the Nicholas Beshensky & Patti Bringe Family Fund in honor of Nicholas Anthony Beshensky.
In honor of her beloved son Nick, Patti aims to inspire others through Nick's passion for marine life by making a positive impact in the world and its sea life, especially dolphins, Nick's spirit family.
For 27 years, Nick and Patti visited CMA together often. "Nick loved mammals, sea animals, and became fascinated by them," shared Patti. "Nick wanted to know how animals and mammals lived and how they could live in water. He thought animals lived so much better than we did – so free and in harmony. He loved dolphins; they are his spirit family. Nick snorkeled with them, flew over them, and watched them from the seashore every moment he could. As Nick grew, so did his love for the sea and its creatures. As a young man, he knew their habitat was in trouble, and like any in need, Nick was there with an open heart," said Patti. Tragically, Nick passed away at 31 years old.
This gift is designed to support the ongoing efforts of CMA and the CMA team. "To support the amazing people at CMA, who so lovingly tend to CMA's rescue residents, especially the bottlenose dolphin Nicholas, with whom my Nick had a special bond, is the goal of this gift," said Patti. This gift will support the educational and development efforts that help humans, too. CMA inspires the human spirit through its certified sensory experiences that aid children and veterans with life-altering challenges, and product discoveries such as 'Winter's Gel,' a specialized gel fabric to promote prosthetic comfort thus increasing the wearers' independence.
CMA is acknowledging this gift by renaming the current 'Pool Five' in the Ruth and J.O. Stone Dolphin Complex to "Nick's Harbour," to recognize Nick's willingness to help others. Additionally, the Environmental Enrichment Devices (EED) room in the Complex will now be known as "Nick's Nook," to remember his playful spirit.
A plaque dedicated to Nick's memory and legacy will be installed near the newly named "Nick's Harbour." CMA will also feature a plaque on its major donor wall to recognize this extraordinary contribution. A stipend within this gift has been set aside for an annual matching funds campaign. This campaign, to be held annually to coincide with dolphin Nicholas' birthday in June, will invest in EEDs which promote the development and well-being of the residents, especially the dolphin Nicholas.
"We are so thankful to Patti for sharing the memory of her son with us," expressed Joe Handy, CEO of Clearwater Marine Aquarium. "Our guests will not only be able to learn about Nick's love of the ocean, but how our own (dolphin) Nicholas was able to inspire him. We are extremely grateful for that," said Handy. This remarkable gift will allow CMA to continue its vital work in providing exceptional care for the dolphin Nicholas and his fellow marine friends. CMA remains committed to its mission of rescue, rehabilitation and release, ensuring the well-being of marine life and inspiring conservation efforts worldwide.
"It doesn't matter what you do as long as you change something from the way it was before you touched it into something that's like you after you take your hands away," Nick expressed in his chest tattoo, which encapsulated his desire to make a difference with the world. Patti felt Nick would be honored to have his spirit live on here, at CMA, near his spirit family.
For more information about Clearwater Marine Aquarium and its ongoing initiatives, please visit www.cmaquarium.org.
Media Contact: Meagan Heller | mheller@CMAquarium.org | (305) 431-9126
###
About Clearwater Marine Aquarium

Clearwater Marine Aquarium (CMA) is a 501(c)(3) nonprofit working marine rescue center dedicated to inspiring the human spirit through leadership in education, research, rescue, rehabilitation and release. With a mission to preserve the environment and its marine life, CMA is home to rescued dolphins, sea turtles, river otters, stingrays, a nurse shark and more. Through Clearwater Marine Aquarium Research Institute, CMA conducts important global research focused on protecting manatees, North Atlantic right whales and sea turtles. Major motion picture Dolphin Tale (2011) and its sequel Dolphin Tale 2 (2014) features the true stories of rescued resident dolphins Winter and Hope, inspiring millions around the world. The mission and potential to change people's lives differentiates Clearwater Marine Aquarium from any other aquarium in the world. CMAquarium.org.
© 2023 Clearwater Marine Aquarium | 249 Windward Passage, Clearwater, FL 33767 | 727-445-1139 | 727-441-1790 | mission.cmaquarium.org | cmaquarium.org

We believe in preserving our environment while inspiring the human spirit through leadership in the rescue, rehabilitation, and release of marine life; environmental education; research; and conservation.
A Florida non-profit 501(c)(3) organization