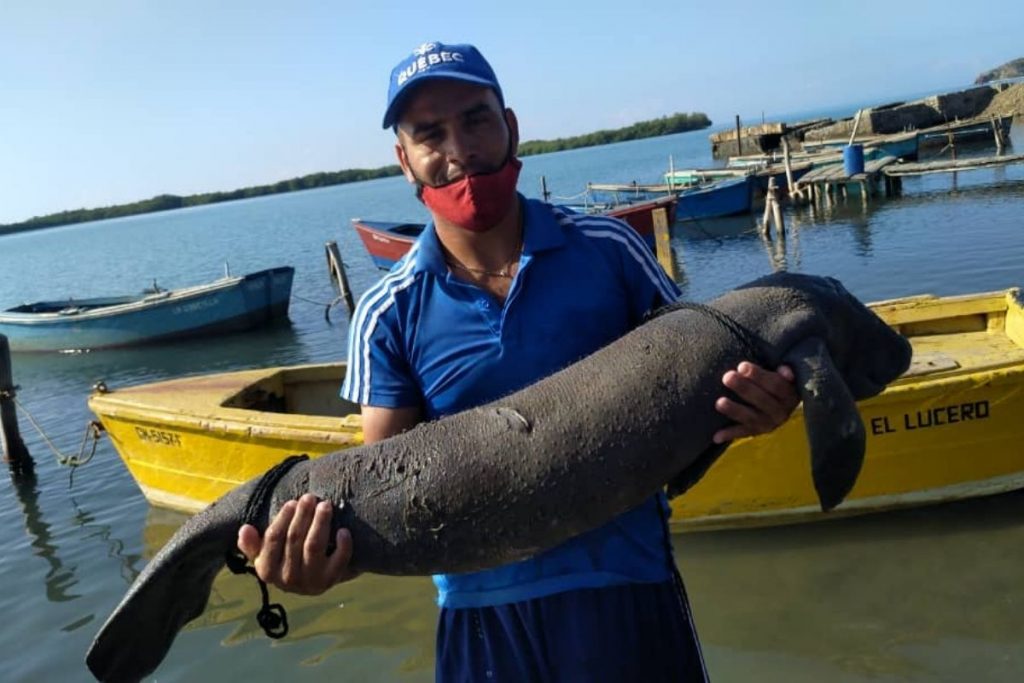 Rescuing Julia Victoria
On March 4 in Marea del Portillo, Granma, two fishermen rescued a baby manatee that had been reported alone for several days. On the day of the rescue, the manatee was looking very weak, malnourished, and dehydrated. The manatee also had a wound in the head that seemed to be caused by a harpoon. Immediately the fishermen Julio and Victor, seeing that the mother of the calf was not around and the critical manatee conditions, took the baby to the shore, where they began to feed her with milk, hoping she was going to recover strength.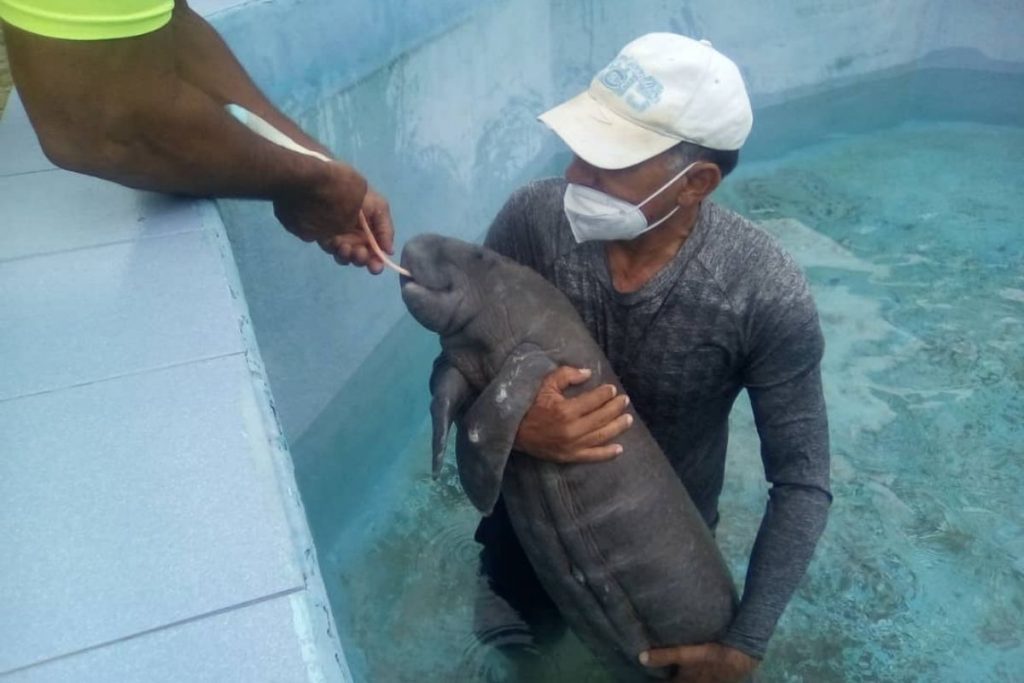 Josefina, a wonderful woman, also a fisher from the area, immediately started the mission to save her at any cost, fundamentally coordinating efforts with other villagers to obtain the elements with which she later prepared the formula that was given to the baby manatee for two days (cow's milk, goat's milk and coconut water for the natural electrolytes). While the staff from Flora and Fauna Enterprise Group (Grupo Empresarial Flora and Fauna) coordinated efforts for transferring the patient to the Baconao Aquarium, to be attended by veterinary medical personnel; biologists, and veterinarians from the region, including the Clearwater Marine Aquarium Research Institute, Puerto Rico Manatee Conservation Center and SeaWorld exchanged ideas and experiences with Cuban veterinarians to determine the care and medical treatment appropriate for a baby manatee in those conditions.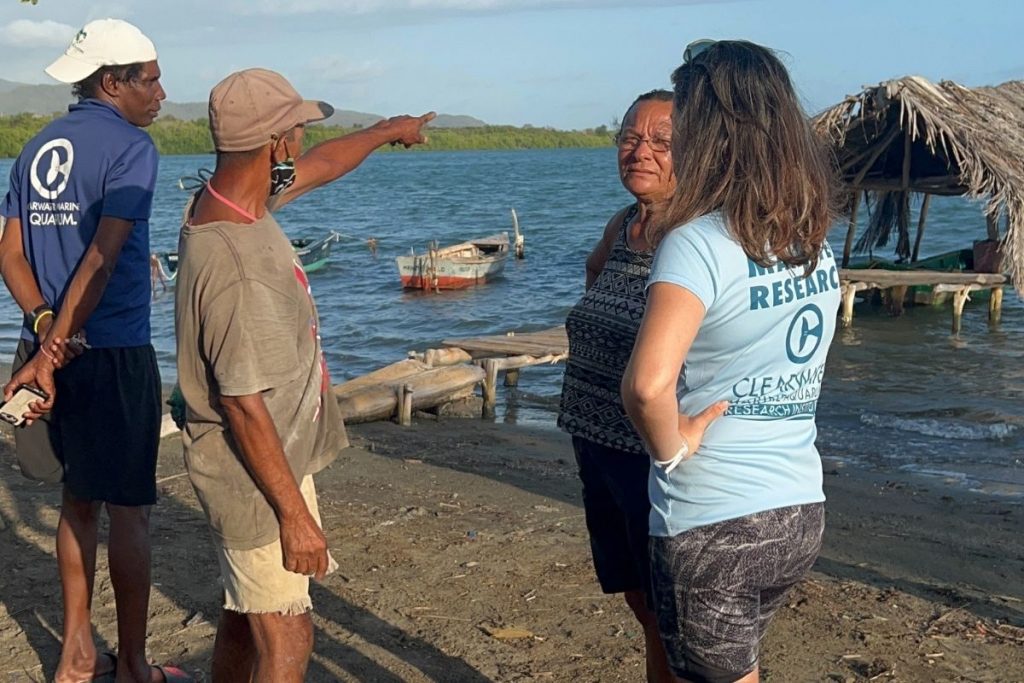 Rescue Efforts Bring a Community Together
Since Sunday, March 6, Julia Victoria (as she was named after the two fishermen who rescued her), was fighting for her life, with the help of Dr. Jorge Pena, the main veterinarian doctor of the Baconao Aquarium. The Clearwater Marine Aquarium Research Institute responded urgently to this event, and was on its way to the Baconao Aquarium with formula and medicine, when the sad news arrived, Julia Victoria had died.
The story of Julia Victoria does not have a happy ending. However, this sad event served to unite people and institutions, community members, fishermen, scientists and veterinarians from Cuba, Puerto Rico and the United States who dedicated their time and more to try to save this baby manatee. Tears were shed when they found out she didn't make it.
Clearwater Marine Aquarium is proud to work for manatee conservation efforts that provide insight to manatee research and conservation programs. Learn more about our conservation and research work.
---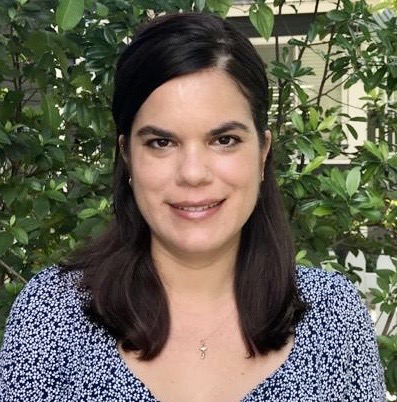 Contributor: Dr. Anmari Alvarez Aleman, CMARI Caribbean Research Director
Dr. Anmari Alvarez Aleman has been working with manatees, dolphins and the coastal communities that interact with these species for more than 15 years. Her passion for marine mammals and conservation began as a youth growing up in Cuba leading her to pursue academic studies and a career in this field as an adult.
As the Caribbean Program Director at Clearwater Marine Aquarium Research Institute, she designs, implements, and oversees research and conservation projects of marine megafauna and their habitats in the Caribbean region. Some of her current research includes understanding the connection between the Cuban and Florida manatee population and generating knowledge about the importance of Marine Protected Areas for manatee conservation in the Caribbean.