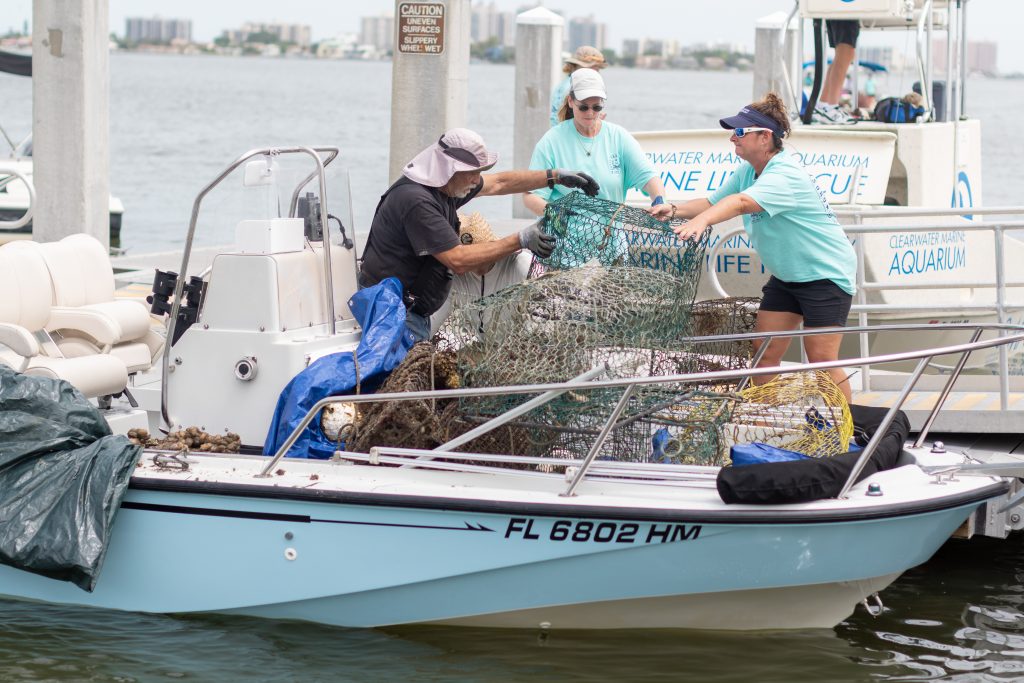 TIERRA VERDE, FL (July 27, 2023) – Ocean Aid 360, Tampa Bay Watch, Clearwater Marine Aquarium, and Coastal Impact Fund are partnering and recruiting volunteer boaters and shoreline walkers to participate in a free, family-friendly derelict crab trap and marine debris removal contest – with prizes and lunch provided for participants – on Saturday, July 15, in two locations: Belleair Causeway and Fort De Soto Park boat ramp. Interested volunteers should register online here.
The Ghost Trap Rodeo Tournament Series, Ocean Aid 360's flagship project, is dedicated to improving and maintaining the health of sensitive marine environments for the longevity of shallow water fisheries all around Florida and the Bahamas. Since these travelling tournament events began in 2018, thousands of volunteers have helped to remove over 175,000 pounds of marine debris, including 2,591 abandoned or derelict traps from the coastal waterways of Florida and the Caribbean, while releasing thousands of marine species back to the water. This upcoming event in Tampa Bay represents a homecoming, and the four locally-based organizations have a long history in organizing derelict trap removals here with community volunteers, where both stone crab and blue crab fisheries are present.
According to Ocean Aid 360's Vice President, Danielle Dawley, "Derelict and abandoned crab traps in the waters are a problem for several reasons: they continue to ghost fish (fishing that continues even after a trap becomes lost or abandoned) killing not only the crabs but several other recreationally and commercially important species; they pose a navigational hazard to boaters; and they can cause damage to valuable and sensitive habitats such as seagrass or natural hardbottom environments. Manatees, dolphins and sea turtles can also become entangled in the trap line causing injury or death."
"This event is great because it gets community volunteers involved in helping to preserve and protect the bay by removing debris and keeping marine life from needlessly getting caught and killed in abandoned traps," said Serra Herndon, Habitat Restoration Director for Tampa Bay Watch.
Ocean Aid 360, Tampa Bay Watch, and Clearwater Marine Aquarium are partnering with Coastal Impact Fund for this important derelict trap removal event. Coastal Impact Fund is a 501(c)(3) entity that provides recycling and marine debris disposal programs alongside sustainable solutions to preserve and restore the marine environment. Blue crab traps removed through this event will be re-used in living shoreline projects in Florida and South Carolina to improve fish habitat and water quality while reducing shoreline erosion.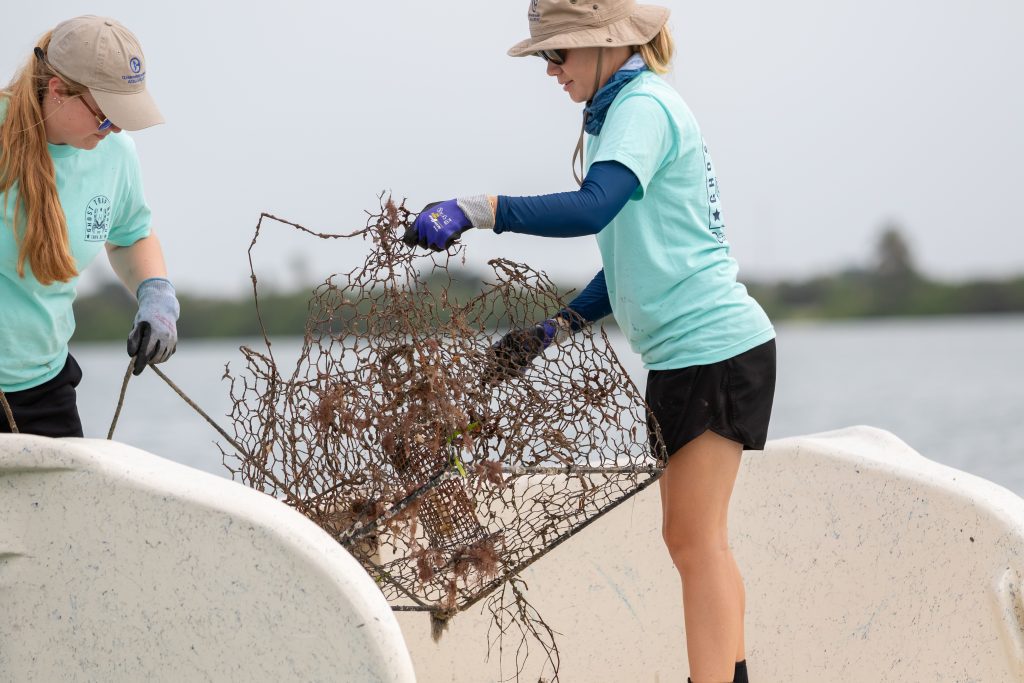 For more information regarding the FWC's trap-retrieval program, blue crab trap closure dates, or regulations, visit MyFWC.com/Rules. You can also contact FWC's trap-retrieval coordinator at 850-487-0554.This event would not be possible without help from project partners including NOAA Marine Debris, Coastal Conservation Association, SeaWorld Busch Gardens Conservation Fund, Hillsborough County Parks and Recreation, St. Petersburg Parks and Recreation, Environmental Protection Commission of Hillsborough County, Pinellas County and the City of Largo.
For more information on each organization's programming portfolio, please contact Abby Stone at Clearwater Marine Aquarium (astone@cmaquarium.org, 727-441-1790), Danielle Dawley at Ocean Aid 360 (Danielle@OceanAid360.org, 727-200-7781), Serra Herndon at Tampa Bay Watch (sherndon@tampabaywatch.org, 727-867-8166), or Devin Sanderson at Coastal Impact Fund (DSanderson@CoastalimpactFund.org).
Ocean Aid 360 is a nonprofit 501 (c)(3) and an emerging powerhouse for community-inclusive design, implementation, and monitoring of marine habitat restoration programs. Through innovative partnerships, which leverage the resources of coastal communities, private industry, and government at the local, state, and federal levels; OA360 has removed 175,000 pounds of ghost gear and marine debris, and formally advised Florida's Marine Debris Reduction Guidance Plan. For more information visit www.OceanAid360.org.
Tampa Bay Watch is a nonprofit 501 (c)(3) stewardship program dedicated exclusively to the charitable and scientific purpose of protecting and restoring the marine and wetland environments of the Tampa Bay estuary encompassing over 400 square miles of open water and 2,300 square miles of highly- developed watershed. Tampa Bay Watch involves more than 10,000 youth and adult volunteers each year in hands on habitat restoration projects. For more information, visit www.tampabaywatch.org, or call 727-867-8166.
Clearwater Marine Aquarium is a 501(c)(3) nonprofit working marine rescue center dedicated to inspiring the human spirit through leadership in education, research, rescue, rehabilitation and release. CMA is home to rescued dolphins, sea turtles, river otters, stingrays, a nurse shark and more. Winter the dolphin's story of survival, after an injury that caused her to lose her tail, has impacted millions of people around the world. Major motion picture Dolphin Tale (2011) features Winter's story and its sequel Dolphin Tale 2 (2014) features the incredible story of Hope, a young resident dolphin of CMA. Through Clearwater Marine Aquarium Research Institute, CMA conducts important global research focused on protecting manatees, right whales and sea turtles. The mission and potential to change people's lives differentiates Clearwater Marine Aquarium from any other aquarium in the world. cmaquarium.org
Coastal Impact Fund is a nonprofit 501 (c)(3) that provides capital, equipment and creative solutions that make environmental and economic sense on impactful, and cost-effective projects that will have a long-term positive effect on coastal and marine resources. Coastal Impact Fund partners with non-profit organizations, businesses, trade associations, individuals and governmental organizations through collaborations to leverage the resources and efforts that enhance our world's waterways and marine environment.
###
© 2023 Clearwater Marine Aquarium | 249 Windward Passage, Clearwater, FL 33767 | 727-445-1139 | 727-441-1790 | mission.cmaquarium.org | cmaquarium.org

We believe in preserving our environment while inspiring the human spirit through leadership in the rescue, rehabilitation, and release of marine life; environmental education; research; and conservation.
A Florida non-profit 501(c)(3) organization