Vanilla Wafer
Juvenile, Green
(Chelonia mydas)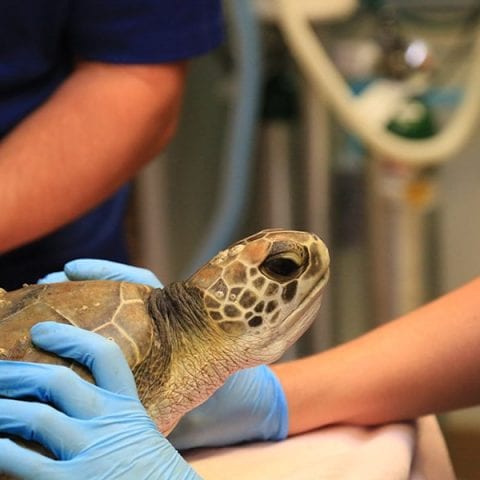 Release Date

November 7, 2017

Release Location

Honeymoon Island State Park
Vanilla Wafer, a juvenile green sea turtle, first stranded back on January 24, 2016, on Clearwater Beach. She was found with a few small fibropapilloma tumors but also with an injured carapace due to a boat strike. Although the injury was severe with exposed internal tissue, we were able to nurse her back to health through a combination of wound care, antibiotics, and pap-removal surgeries once she was strong enough. Vanilla was released on January 19, 2017, after a year in rehab.
Unfortunately, Vanilla stranded a second time just a couple months later on March 24, 2017; this time at Madeira Beach in Pinellas County. She was reported floating at the surface, having difficulties diving, with small pap regrowth. After initial triage, she was started on oral antibiotics, and once stable again went through pap-removal surgeries. To test her deep water swimming abilities, she was moved into a deeper pool in late September (along with now released green turtle Apple Jacks) — after 2 weeks in the deep pool she had shown that she had the ability to stay underwater for extended periods of time and was resting on the bottom.
Vanilla Wafer has now once again been cleared for release! She was returned home on Tuesday, November 7 at Honeymoon Island State Park. This marks the 25th sea turtle Clearwater Marine Aquarium has released in 2017. As always, it takes a big team of volunteers, staff, and generous contributions to make this happen. Thank you for your continued support of our mission of rescue, rehab, and release.
Big and Small, CMA Helps Them All! Donate Today to Support More Sea Turtle Rescue Efforts.