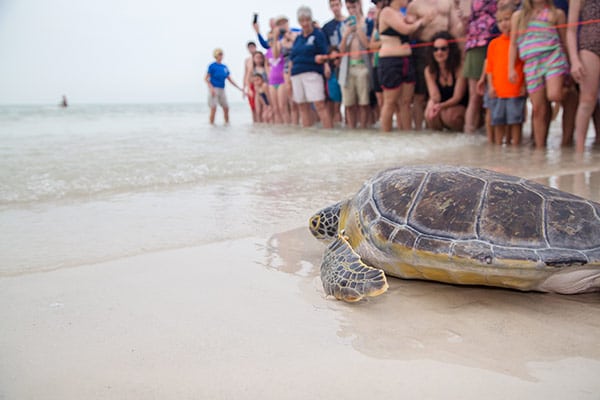 Wahoo
Juvenile, Green sea turtle
(Chelonia mydas)
Release Date

March 29, 2016
Wahoo is a juvenile green sea turtle, who came to the aquarium on May 9th, 2015 from an intercostal waterway in Dunedin. Wahoo was found entangled in fishing line with another pappy green that unfortunately was already deceased. We were able to remove the fishing line fairly easily, and no lacerations or permanent damage was noted. Wahoo also exhibited fibropapilloma tumors on his neck, flippers, tail and eyes. Wahoo came to us in good body condition and was quickly eating solid food.
On August 19th, 2015 Wahoo received his first pap removal surgery which he recovered quickly from. A few months later Wahoo stopped using is front left flipper. An x-ray revealed that he had fractured his humorous in that flipper. He was placed on a NO HANDLE protocol per our veterinarians from October 5th to November 20th to give that flipper time to heal. On December 28th Wahoo underwent his second pap removal surgery, and on January 11th 2016 he received his third pap removal surgery. Finally on January 20th 2016 Wahoo received his fourth and final pap removal surgery!
After a few months of recovery Wahoo has been cleared for release! On March 29th at the Sandpearl Resort, North Clearwater Beach.
Good luck out there buddy!
---
Watch the sea turtle release video: