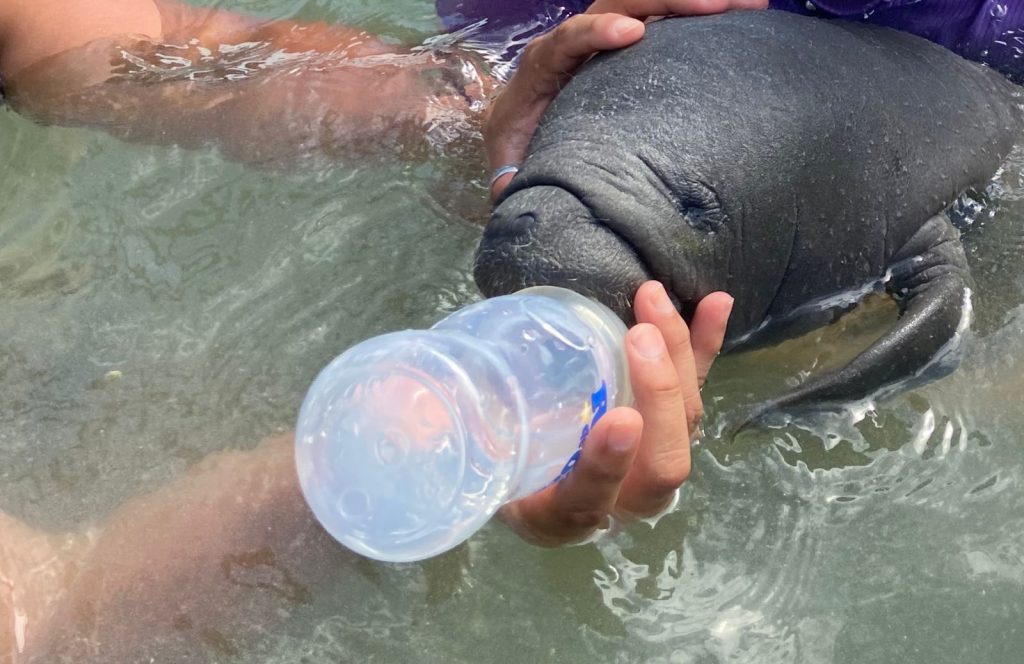 Pompeyo
Male, calf
(Trichechus manatus)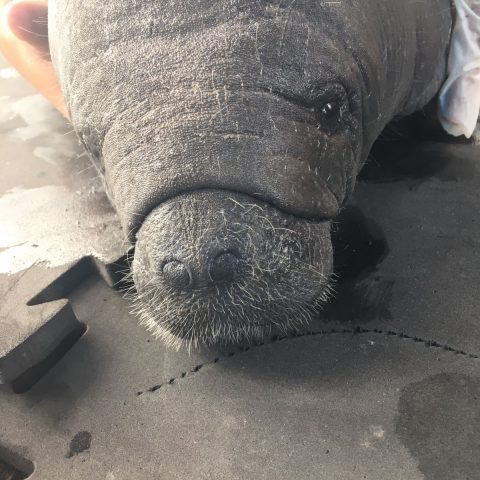 Patient Status

Current

Date Found

August 6, 2021
Location

Huay Pix, Quintana Roo, Mexico
Reason for Rescue

Found alone, without mother
Body length

92 cm

Exam Findings

Good body condition; alert and responsive.

Initial Treatment

Received formula and supplements.
Manatee Calf's Story
A male manatee calf was found alive and alone on August 6, 2021, near Huay Pix, a small town located 10 km to the west of Chetumal City in Mexico. The calf was left alone for over a day, indicating his mother would likely not return. After his rescue and upon initial assessment, the calf had a body length of 92 cm, was in good health and active and alert. The manatee was transported to "Centro de Atención y Rehabilitación de Mamíferos Acuáticos (CARMA)" (Center for Rehabilitation of Aquatic Mammals) in Laguna Guerrero, where he will be kept for rehabilitation in order to guarantee his health and appropriate growth.
Funds are needed to cover the cost of formula and supplements needed to feed the calf for at least six more months before starting with solid foods, until the calf is ready to be back in the wild.
Currently, the calf is being fed with formula every three hours during the day and every six hours during the nights. Only authorized staff are able to oversee his rehabilitation and have access to the facility.
Several national agencies have been involved in the rescue and care of this manatee calf: Instituto de Biodiversidad y Áreas Naturales Protegidas del Estado de Quintana Roo (IBANQROO), Procuraduría Federal de Protección al Ambiente (PROFEPA), Procuraduría de Protección al Ambiente del Estado de Quintana Roo (PPA), El Colegio de la Frontera Sur (ECOSUR), Universidad de Quintana Roo (UQROO), el Concejo Nacional de Ciencia y Tecnología (CONACYT), Fundación Internacional para la Naturaleza y la Sustentabilidad (FINS) y la Asociación Mexicana de Hábitats para la Interacción y Protección de Mamíferos Marinos (AMHMAR).
Clearwater Marine Aquarium has established partnerships with scientists around the world who are conducting research and conservation work with marine animals. We are proud to support our partners in any way we can and a lot of that help comes from advocates like you!
---
Pompeyo was named in honor of Vice Admiral Othón Pompeyo Blanco Núñez de Cáceres. He was was a Mexican Marine and the founder of the city of Chetumal who served as undersecretary of the Mexican Navy from 1941 to 1946. The municipality of Othón P. Blanco, Quintana Roo, is named after him. Quintana Roo is where the manatee calf was rescued.