Wild Dolphin Updates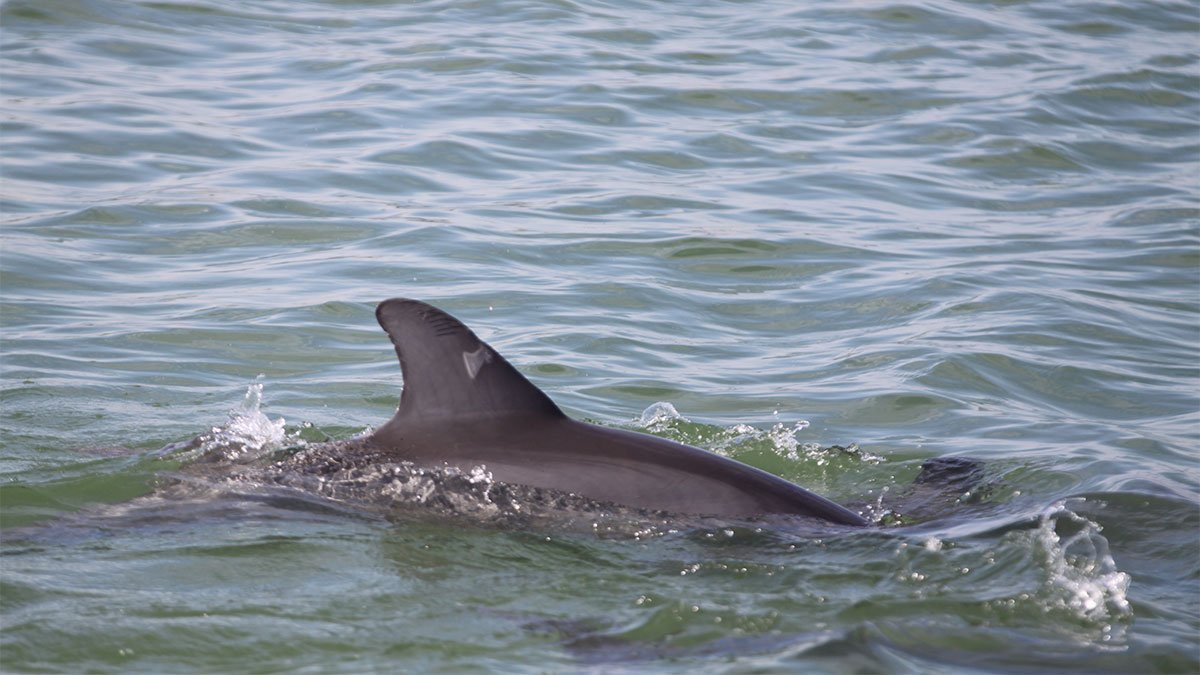 Changes in Dorsal Fins Are a Challenge for Dolphin Identification
One of the most challenging aspects of dorsal identification is positively identifying a fin over time as changed markings to the fin can make a dolphin look, sometimes, significantly different. While some fins are dramatically changed, others are more subtle.
Recently, we've noticed new markings in a seasonal visitor, Divo. Divo is believed to be pair bonded with another dolphin named Alon. This animal was originally identified based on a large divot (hence the name) located on the front or leading edge of its dorsal fin as well as its association with Alon, a more easily recognizable dolphin. Apart from the front divot, Divo was considered a clean fin.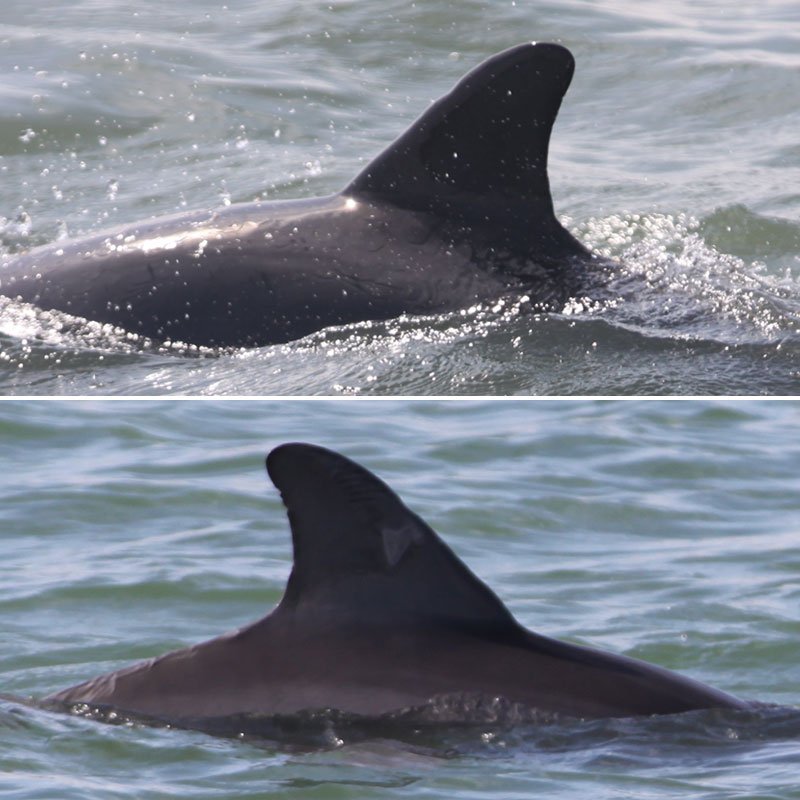 In November 2018, the pair was recently spotted traveling in Clearwater Bay. From this sighting, we noticed new markings to the upper trailing edge of Divo's fin and were able to confirm a positive ID for this animal based on its divot and presence of Alon nearby.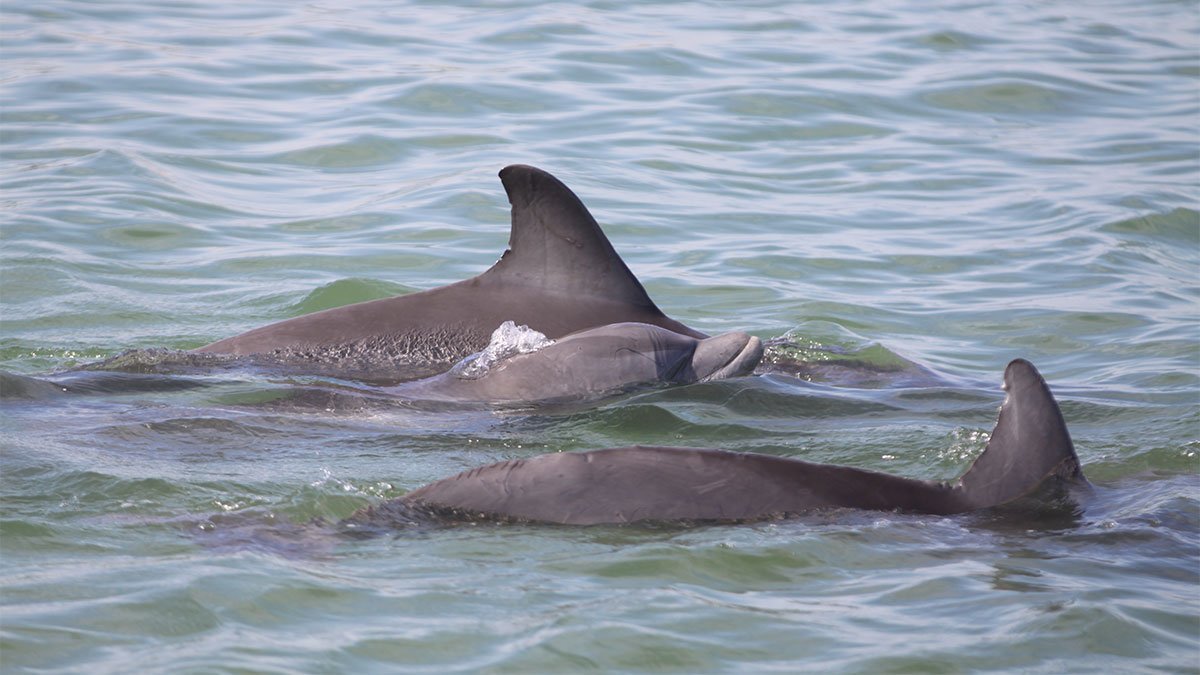 Notches and Rake Marks
Tidal is another dolphin whose added nicks and notches make it a more easily identifiable animal. In April 2016, Tidal was spotted with multiple rake marks to its dorsal fin. When seen again in January of the following year, it had acquired a new semi-circle type notch in the lower portion of the trailing edge of its fin and a larger space in the notch already observed in the same area. Rake marks are a sign of socialization with other dolphins, formed when dolphins rake their teeth over one another's body. Although we do not know whether or not raking was the cause of Tidal's new notch, we can allude to Tidal being involved in some type of high level activity similar to that found with conspecific (same species) socialization.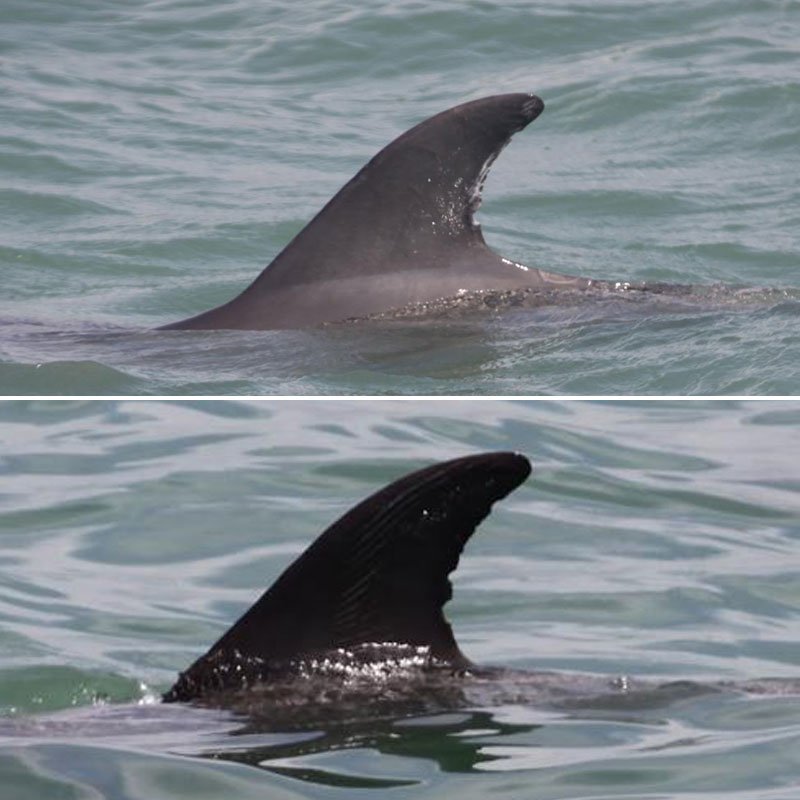 Changes in Dolphin Calves
As seen with these two dolphins, finding new markings on mature dolphins can result in making that animal easier to identify. Still, the most important formation of markings come with those formed on calves. Nola, Cali's second observed calf in our study, started its life with a clean fin as all calves do; however, unlike most calves, Nola started acquiring notches within the first year of its life. Born in spring of 2017, Nola was seen with a series of small nicks on the trailing edge of its fin in October of the same year.
There are some calves in our study, such as Faren, calf of Kelvin, who still lack markings at several years of age. Thanks to Nola's markings, when this animal leaves Cali, it will be easily recognizable whereas Faren would not be.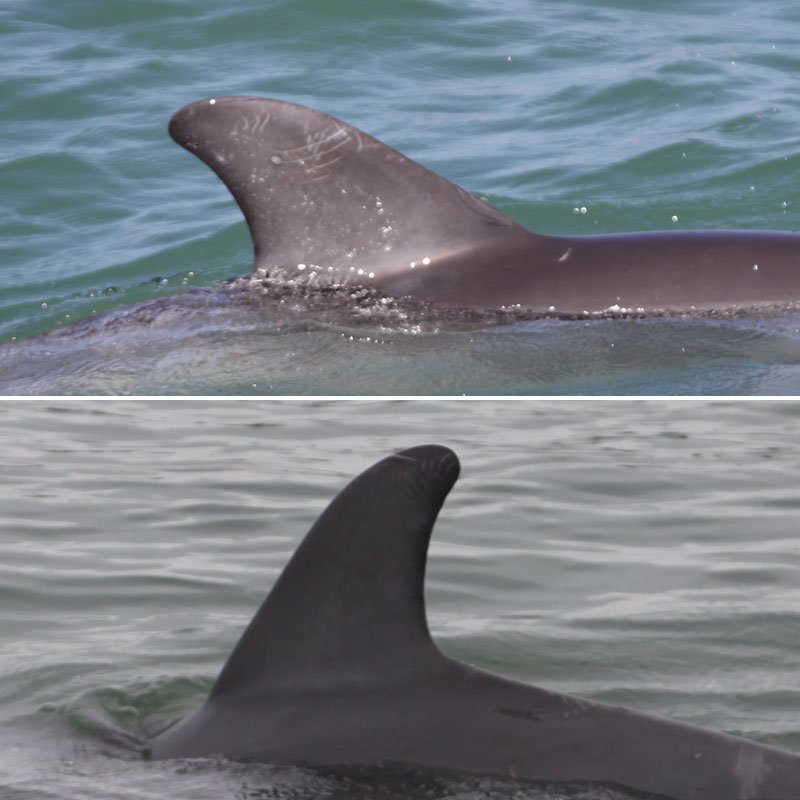 See how many dorsal fins you can identify and match below!
[h5p id="2″]
Learn more about different kinds of dorsal fins.
---
Research conducted and photographs collected under the NMFS Scientific Research Permit No. 19749.