225-Pound Loggerhead Sea Turtle Goes Home After Months of Rehab
Clearwater Marine Aquarium released Kirby, a 225-pound endangered loggerhead sea turtle, on Tuesday, May 14, 2019. Kirby is an adult male sea turtle who was found floating near Indian Rocks Beach on January 29, 2019. CMA staff rescued Kirby and found a T-shaped wound on his head, several barnacles and algae on his carapace. He also had a buoyancy issue suspected to be caused by a GI tract problem.
His treatment plan consisted of fluids, vitamins, antibiotics, and monitoring body temperature. Kirby steadily gained weight and his buoyancy improved. Visitors were able to view Kirby as he rehabilitated at CMA's marine animal hospital and could watch him via his live webcam. After several months of rehabilitation, he fully recovered and was ready to return to the wild.
Satellite Tracking to Help Protect Sea Turtles
Kirby was satellite tagged prior to release so Clearwater Marine Aquarium can evaluate his movements. Satellite tracking is beneficial for research purposes, including the migration of sea turtles, their foraging behavior and other information that can help conservation efforts to protect them. There is very limited data available on male sea turtles, and Kirby's path will provide valuable data for researchers and veterinary teams following his release. However, sea turtle satellite trackers can cost over $5,000, so a Facebook fundraiser was created to help cover the cost. Over 170 supporters contributed and raised the money for Kirby's tracker.
"Kirby's release is both rewarding and emotional for our team who has worked hard for months on his rehabilitation," says David Yates, CEO of CMA. "Seeing a rescued animal return home to the ocean where they belong is one of the best parts of our job."
Kirby was cleared for release by both our veterinarian and Florida Fish and Wildlife Conservation Commission (FWC). CMA staff, volunteers and supporters gathered at Clearwater Beach to see Kirby return home. We all wish him well back in the Gulf of Mexico and look forward to tracking his journey.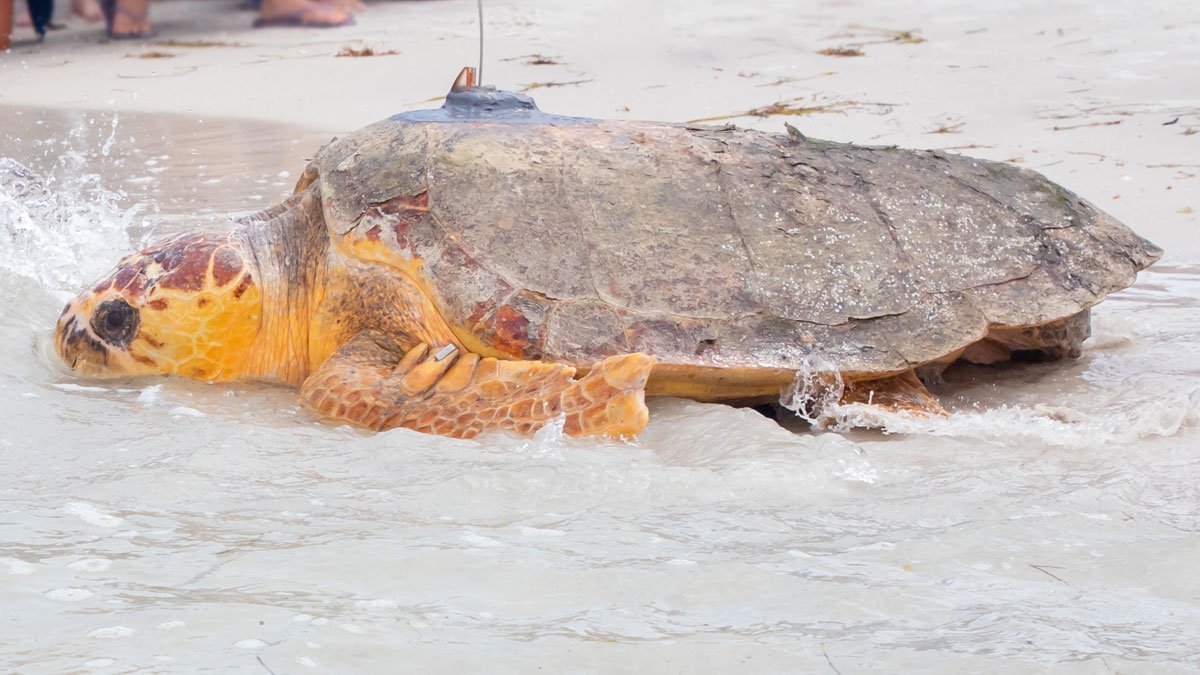 ---
All marine turtle footage taken in Florida was obtained with the approval of the U.S. Fish and Wildlife Service and the Florida Fish and Wildlife Conservation Commission (FWC) under conditions not harmful to marine turtles. Footage was acquired while conducting authorized conservation activities pursuant to FWC MTP-19-172.