The family-friendly night offers look into CMA's 50-year history and glimpse into the future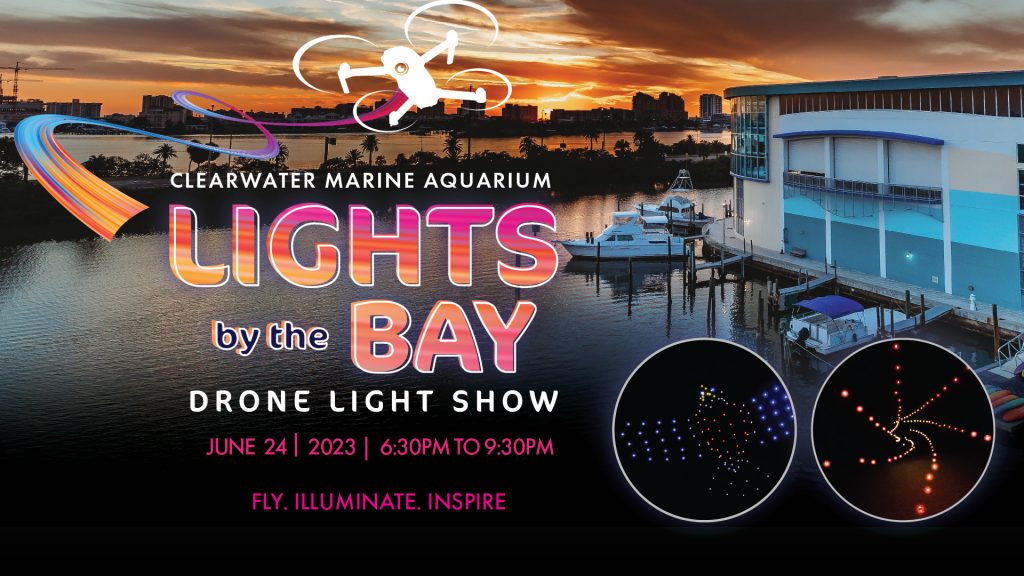 CLEARWATER, FL (June 14, 2023) – Clearwater Marine Aquarium will present a family-friendly event, Lights by the Bay, Saturday, June 24, from 6:30 to 9:30 p.m., as part of its new after-hours events. Once the sun goes down, more than 150 drones will take center stage, performing aerial maneuvers and light displays, all set against the stunning backdrop of Clearwater Marine Aquarium and Clearwater Bay.
Lights by the Bay's Drone Show will focus on CMA's mission of rescue, rehab and release, in addition to the animals who have shaped the Aquarium's rich 50-year history. The show will also give a peek into CMA'S future with a surprise ending. This is one of the few drone shows that has been brought to the Tampa Bay area.
"We are excited we have the opportunity to use lights and music to tell our story of rescue, rehabilitation and release throughout our history," said Anthony Rivera, Chief Operating Officer at CMA.
"The use of drone lights are far more environmentally friendly than fireworks and we're contributing to environmental care through this process. In addition, the lights are LED with mostly amber, red and orange lights, which are recommended by the Florida Fish and Wildlife Conservation Commission (FWC) so they won't compromise or harm sea turtles in any way during their crucial nesting season," he said.
In addition to the drone show, there will be live music and signature food and drinks, and guests will have access to view the Ruth and J.O. Stone Dolphin Complex. They'll also have access to a number of marine life habitats such as sea turtles, stingrays, and other residents that will be viewable during the evening hours between 6 and 8:30. A baby alligator and armadillo will greet guests, and a sloth will be in the VIP area from 6 to 7:15 p.m.
In addition to being suitable for all ages, drone shows are more environmentally friendly than fireworks displays, and do not release harmful chemicals into the atmosphere, which can have a negative impact on air quality, according to the drone company, OPEN SKY Drone Light Shows. They do not cause respiratory problems, require use of pyrotechnic materials, and can be controlled more precisely than traditional fireworks. They are powered by electricity- a cleaner, more sustainable energy source, and more importantly for the marine animals, generate very little noise pollution compared to noise associated with traditional fireworks.
CMA will offer both VIP and general admission tickets. GA tickets are $55 for adults and $35 for children ages 3-12. VIP tickets are $85 for adults and $55 for children ages 3-12. CMA members will receive 10% discount for all ticket prices.
Tickets include admission to the Aquarium from 6:30 – 9 p.m., live entertainment, an interactive dolphin presentation, two alcoholic/nonalcoholic drink tickets and the drone show presentation.
Dining options will be available for purchase throughout the aquarium until 9:30 p.m., as well as cash bars. Children can enjoy a game area with face painting and crafts and they will receive two non-alcoholic drink tickets.
VIP tickets will allow early entrance at 6 p.m. and have access to a private viewing area, private VIP bathrooms, private dining in the Grand Ballroom provided by Big Claw Catering, and VIP Only cash bars available throughout the Aquarium.
For more information about the event and to purchase your ticket, visit the CMA website.
Media Contact: Marsha Strickhouser | mstrickhouser@CMAquarium.org | (727) 242-0770
###
About Clearwater Marine Aquarium

Clearwater Marine Aquarium (CMA) is a 501(c)(3) nonprofit working marine rescue center dedicated to inspiring the human spirit through leadership in education, research, rescue, rehabilitation and release. With a mission to preserve the environment and its marine life, CMA is home to rescued dolphins, sea turtles, river otters, stingrays, a nurse shark and more. Through Clearwater Marine Aquarium Research Institute, CMA conducts important global research focused on protecting manatees, North Atlantic right whales and sea turtles. Major motion picture Dolphin Tale (2011) and its sequel Dolphin Tale 2 (2014) features the true stories of rescued resident dolphins Winter and Hope, inspiring millions around the world. The mission and potential to change people's lives differentiates Clearwater Marine Aquarium from any other aquarium in the world.
© 2023 Clearwater Marine Aquarium | 249 Windward Passage, Clearwater, FL 33767 | 727-445-1139 | 727-441-1790 | mission.cmaquarium.org | cmaquarium.org

We believe in preserving our environment while inspiring the human spirit through leadership in the rescue, rehabilitation, and release of marine life; environmental education; research; and conservation.
A Florida non-profit 501(c)(3) organization