CLEARWATER, FL (Sept. 21, 2023) – Today, Clearwater Marine Aquarium was able to return a juvenile green sea turtle back to its home after a successful rehabilitation. Monkey Bread was found August 4 floating offshore New Port Richey.
The turtle was active and in good body condition but had a few fibropapilloma tumors. After initial treatments of fluids/vitamins paired with a healthy diet, Monkey Bread showed normal behavior in water and was ready for tumor removal surgery. Several tumors were removed including small ones on both eyes.
The surgical sites healed well, and Monkey Bread was cleared for release by both CMA veterinarian and Florida Fish and Wildlife Conservation Commission (FWC). It was released this morning off Fred Howard Park.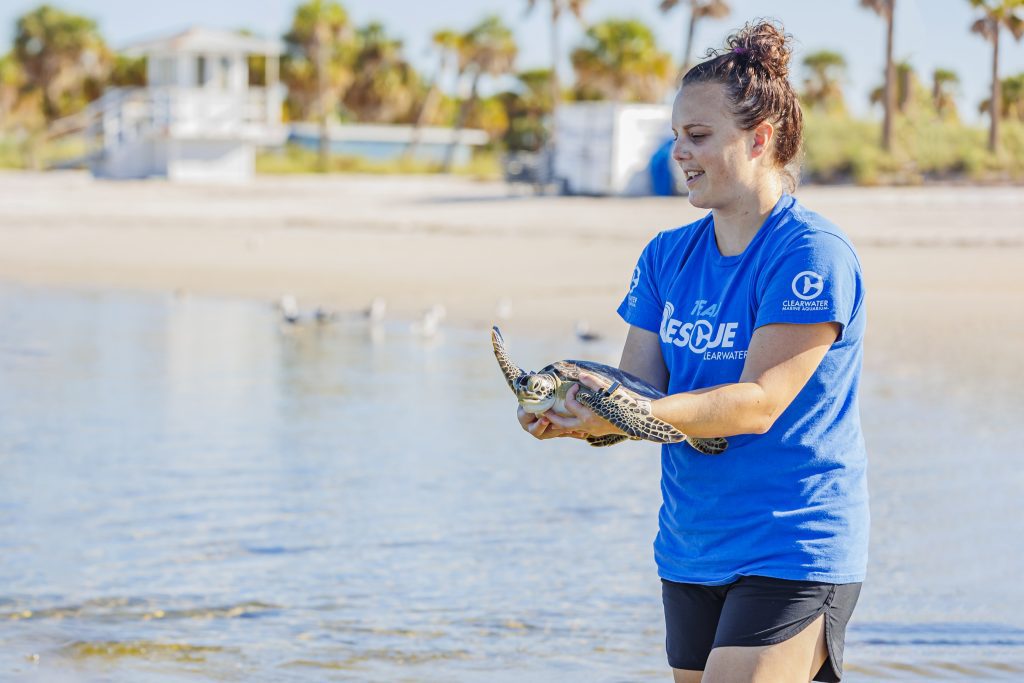 MEDIA CONTACT: Marsha Strickhouser | mstrickhouser@CMAquarium.org | (727) 242-0770
###
About Clearwater Marine Aquarium

Clearwater Marine Aquarium (CMA) is a 501(c)(3) nonprofit working marine rescue center dedicated to inspiring the human spirit through leadership in education, research, rescue, rehabilitation and release. With a mission to preserve the environment and its marine life, CMA is home to rescued dolphins, sea turtles, river otters, stingrays, a nurse shark and more. Through Clearwater Marine Aquarium Research Institute, CMA conducts important global research focused on protecting manatees, North Atlantic right whales and sea turtles. Major motion picture Dolphin Tale (2011) and its sequel Dolphin Tale 2 (2014) features the true stories of rescued resident dolphins Winter and Hope, inspiring millions around the world. The mission and potential to change people's lives differentiates Clearwater Marine Aquarium from any other aquarium in the world. CMAquarium.org.
© 2023 Clearwater Marine Aquarium | 249 Windward Passage, Clearwater, FL 33767 | 727-445-1139 | 727-441-1790 | mission.cmaquarium.org | cmaquarium.org

We believe in preserving our environment while inspiring the human spirit through leadership in the rescue, rehabilitation, and release of marine life; environmental education; research; and conservation.
A Florida non-profit 501(c)(3) organization