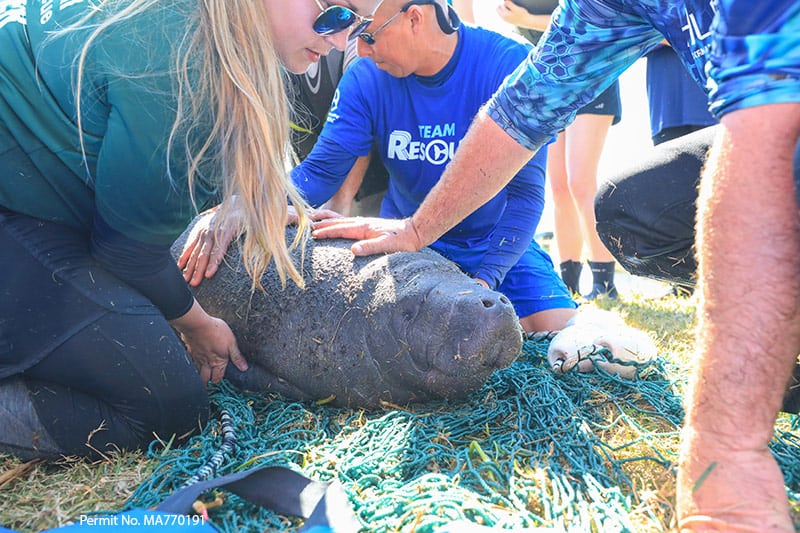 Oldsmar, FL (February 6, 2017) – Clearwater Marine Aquarium rescue personnel assisted Florida Fish and Wildlife Conservation Commission (FWC) with relocating two manatees entrapped within a retention pond and canal system at Bicentennial Park in Oldsmar, FL. The manatees had been observed approximately two weeks earlier and were estimated to be between 5 and 8 feet in length. Marine Mammal Pathobiology Laboratory (MMPL) staff members hypothesized that the manatees became entrapped during high-wind storm events a few weeks ago.
Due to the shallow conditions within the retention ponds, and no warm water source, the manatees were vulnerable to colder weather conditions and other risks. An intervention was approved and organized with the intention of relocation to allow the animals access to warm water, "Wintering Zones," such as the nearby Crystal River Preserve.
Coordinated Rescue Plan
Teams met at Bicentennial Park in the morning to discuss the plan. Due to the expansive construction of the pond system, the primary focus was locating the animals and maintaining visual tracking. Upon observation, the animals were contained within a target pond through the use of strategic net placement across canal openings.
Utilizing a seine-style net with a float line on the top and weight on the bottom, the animals were contained and then brought to the shoreline. Upon capture it was observed that the two manatees were a cow-calf pair.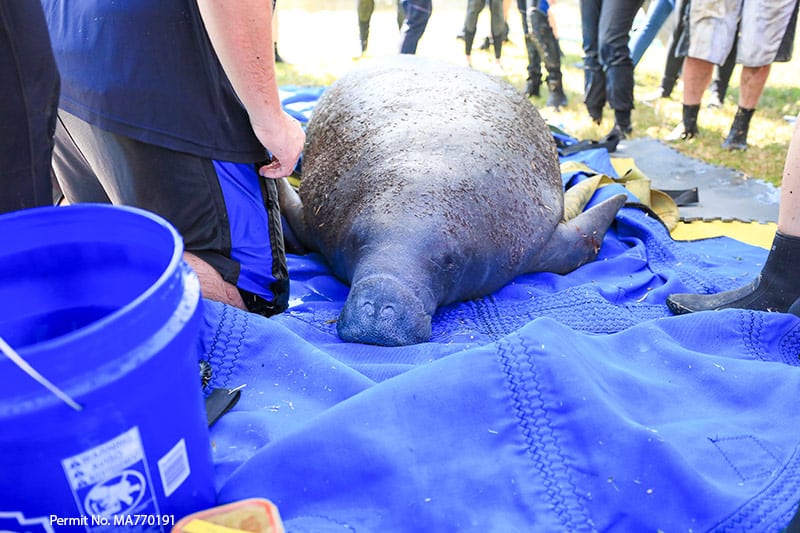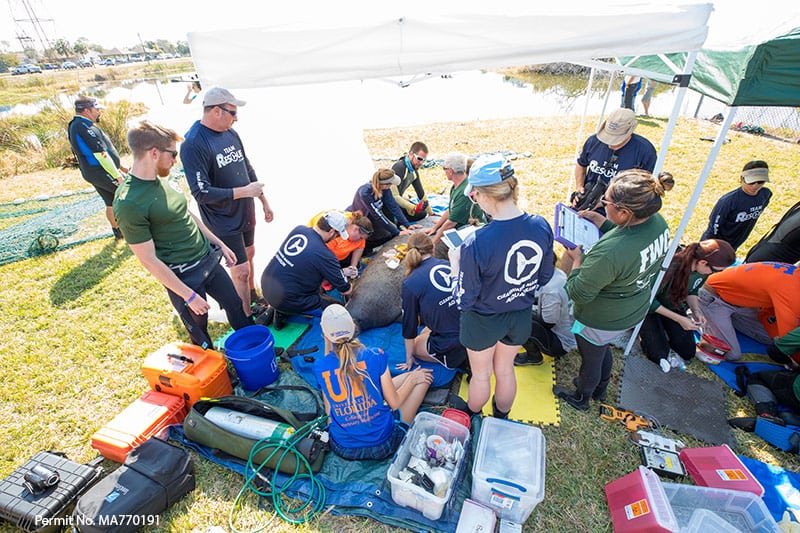 Manatee Assessment
A thorough examination was necessary to determine whether the animals would need further rehabilitation or be ready for immediate release. The animals were assessed by Dr. M. Walsh from the University of Florida, who deemed the animals to be in good condition through collection of morphometrics, blubber thickness assessment, heart rate, diagnostic sample collection, as well as body photographs. Scars from a previous boat strike were found on the mother manatee, which is a reminder to follow safe boating practices, especially in areas near manatees.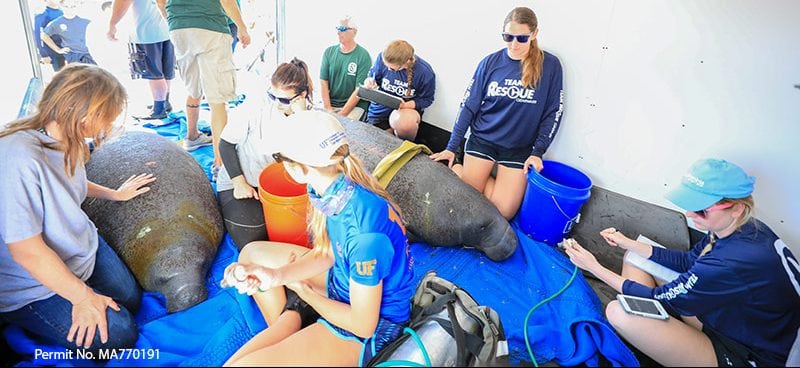 Mother and Calf Released into Tampa Bay
The animals were approved for release and were then transported by FWC MMPL staff to the Veteran's Memorial boat ramps in Oldsmar. Mom and calf swam off together into Tampa Bay, where they will be able to access warm-water sources and protected areas.
---
Watch video of the manatee rescue and release
All activities conducted under Permit Number MA770191.
---
Contact FWC's Wildlife Alert Toll-Free Number 1-888-404-FWCC (3922)
Abide by the posted speed zone signs while in areas known to be used by manatees or when observations indicate manatees might be present.
Wear polarized sunglasses to reduce glare on the surface of the water, which will enable you to see manatees more easily.
Try to stay in deep-water channels whenever possible.
Avoid boating over seagrass beds and shallow areas. Manatees are often found in shallow, slow-moving rivers, estuaries, lagoons, and coastal areas.
Remain at least 50 feet away from a manatee when operating a powerboat.
Please don't discard monofilament line, hooks, or any other litter into the water. Manatees and other wildlife may ingest or become entangled in this debris and can become injured or even die.