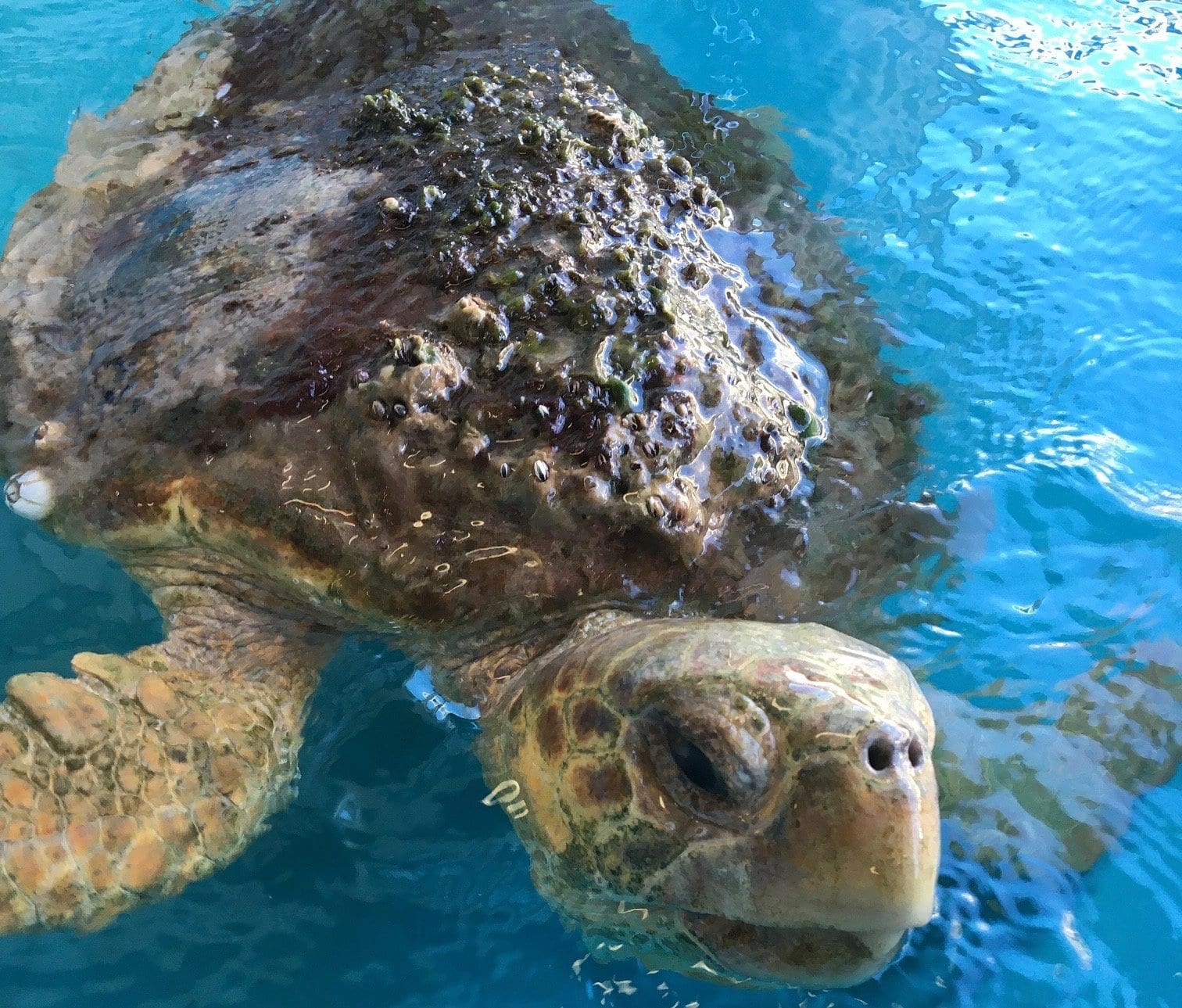 Cara
Sub-Adult, Loggerhead
(Caretta caretta)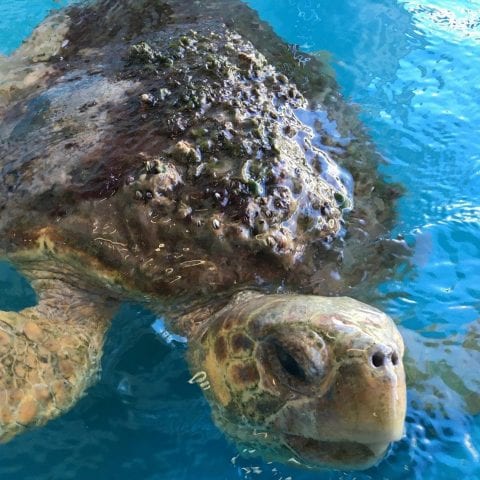 Patient Status

Released on July 1, 2020

Date Found

March 26, 2020
Location

Near Indian Shores Beach; Pinellas County.
Reason for Rescue

Found Floating Sideways and Lethargic.
Initial Assessment
Weight

31.96 kg (70.3 lbs)

SCL (Straight Carapace Length)

65.0 cm

Exam Findings

Very lethargic and underweight. Large amount of epibiota on carapace (shell).

Initial Treatment

Received vitamin injections, fluids and antibiotics.
Cara's Story
Cara is a sub-adult loggerhead who was found floating sideways by a boater near Indian Shores Beach. Upon intake, she was very lethargic and underweight. There is a large amount of epibiota (barnacles and algae) covering her carapace (shell). X-rays revealed a large amount of GI gas which could be the cause of her buoyancy. Cara's initial treatment consists of vitamins, fluids and antibiotics.
Treatment Updates
3.27.20

Cara's first swim test revealed she does favor one side when swimming. She was offered squid today and ate it all very quickly!

3.29.20

She officially started on a diet. We are continuing to do glucose checks and giving fluids as needed.

3.31.20

Cara was started on oral medication.

4.8.20

Cara is continuing to improve and she is gaining weight!

4.15.20

She was cleared to be moved to one of our deeper pools! She is continuing to improve and is eating well! We are monitoring her buoyancy and her deep water swim time.

4.27.20

Cara's buoyancy has resolved and she is resting on the bottom! She was taken off of oral medication.

5.15.20

Cara was placed back on oral medication. We are monitoring her appetite. She likes to stay under the shade cover where the majority of sunlight hits her pool.

5.25.20

Cara's appetite has improved and she is eating well.

6.7.20

Cara will be taken off of medications.

7.1.20

Cara was released at Clearwater Beach!
Read more about Cara's release.
---
All marine turtle footage taken in Florida was obtained with the approval of the U.S. Fish and Wildlife Service and the Florida Fish and Wildlife Conservation Commission (FWC) under conditions not harmful to marine turtles. Footage was acquired while conducting authorized conservation activities pursuant to FWC MTP-18-172.