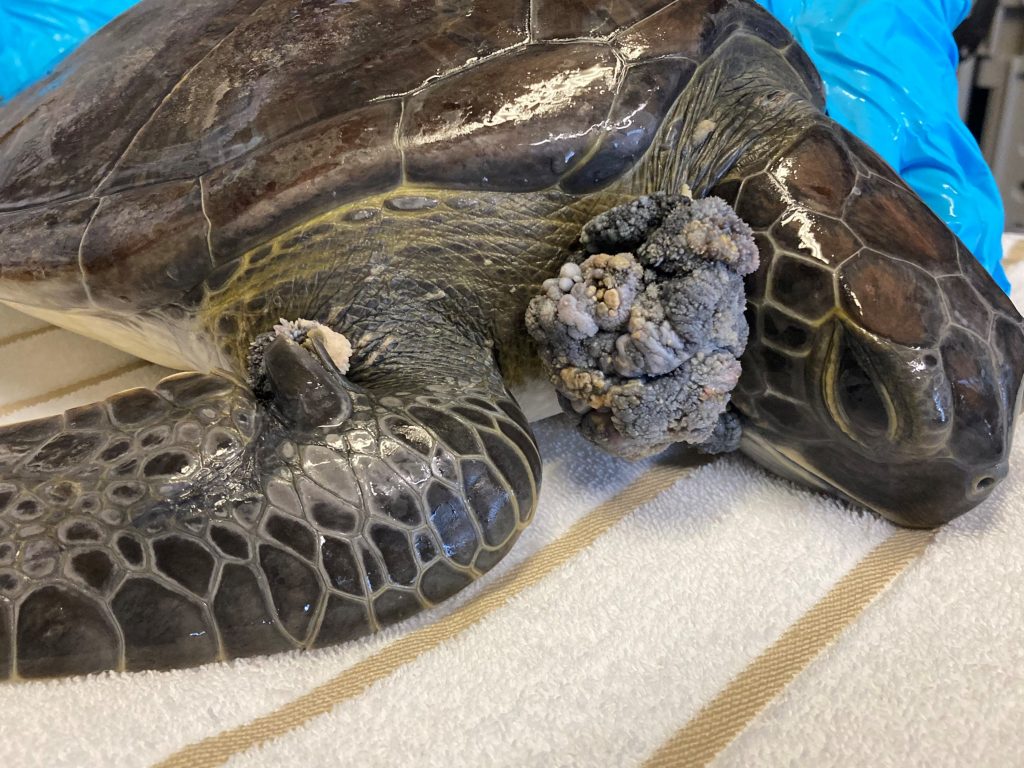 Cuyahoga Valley
Green, Juvenile
(Chelonia mydas)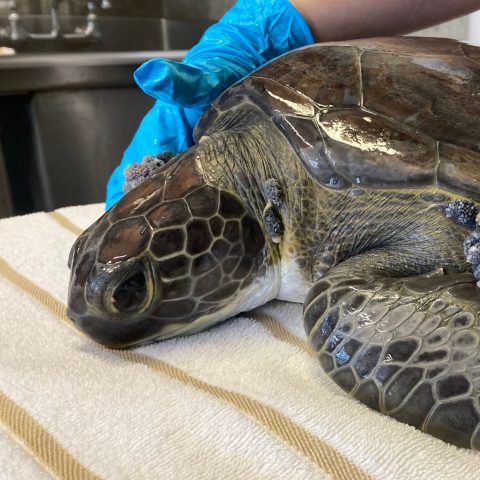 Patient Status

Former

Date Found

December 28, 2022
Location

South Anclote Island; Pinellas County
Reason for Rescue

fishing line ingestion, entanglement, cold body temperature
Initial Assessment
Weight

6.17 kg (13.6 lbs)

SCL (Straight Carapace Length)

38 cm

Exam Findings

Entanglement around right rear flipper. Fishing line entering mouth. Overall good body condition. Fibropapilloma tumors present. Cold body temperature.

Initial Treatment

Fluids.
Cuyahoga Valley's Story
Cuyahoga Valley is a juvenile green sea turtle who was found washed ashore on Anclote Island on December 28. Cuyahoga experienced acute hypothermia due to our local cold weather, and their body temperature was back to normal values the next day! Cuyahoga also ingested and was entangled in fishing line. It is very important to always dispose of your fishing gear properly. Ingested fishing line can cause serious problems internally to marine life!
INTERESTING FACT: Cuyahoga Valley is named after Cuyahoga Valley National Park in Ohio, USA.
Treatment Updates
12.29.22

Cuyahoga was able to be in water all day and overnight and is already starting to show interest in food! Cuyahoga is not showing any concerning swimming behaviors. We will continue to be on fecal watch for remaining fishing line.

1.3.23

Cuyahoga went for a CT scan, no obvious internal tumors seen!

1.27.23

Cuyahoga is continuing to eat well and is gaining weight. Cuyahoga will go for a recheck CT next week.

2.9.23

Cuyahoga had an endoscopy performed to search for any remaining fishing line. Unfortuantely while searching for the fishing line, internal fibropapilloma tumors were found in the GI. Due to these findings, Cuyahoga was humanely euthanized.
---
All marine turtle footage taken in Florida was obtained with the approval of the U.S. Fish and Wildlife Service and the Florida Fish and Wildlife Conservation Commission (FWC) under conditions not harmful to marine turtles. Footage was acquired while conducting authorized conservation activities pursuant to FWC MTP-21/22-172A.