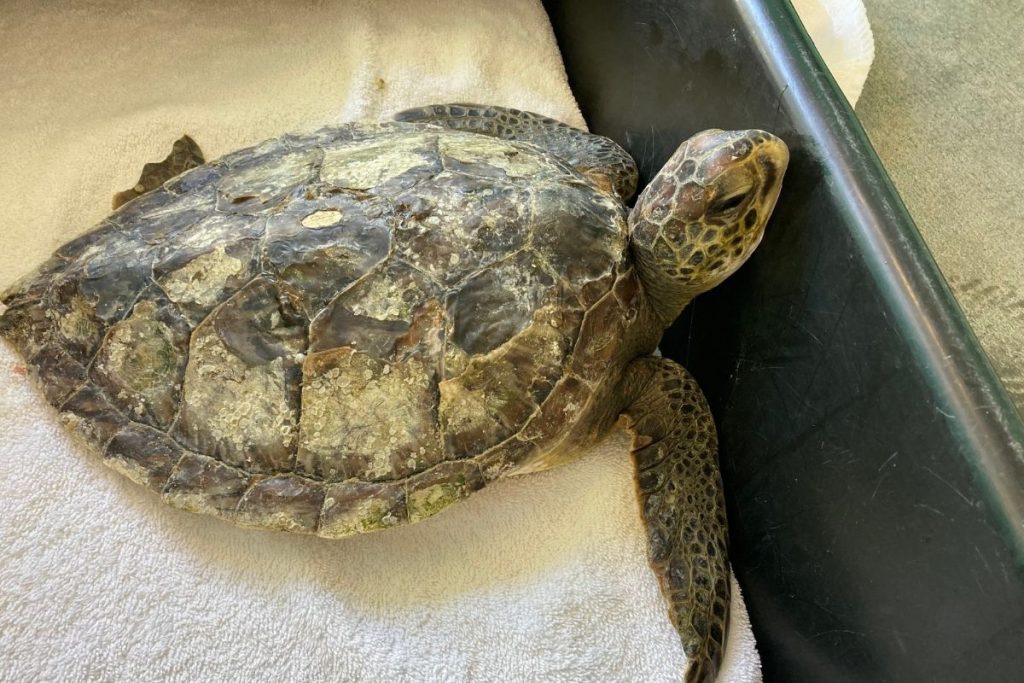 Enchilada
Juvenile, green
(Chelonia mydas)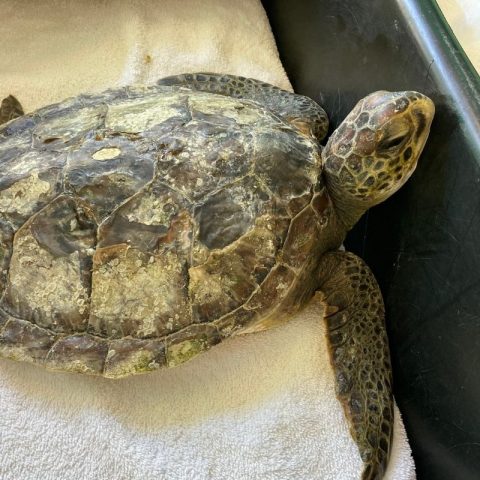 Patient Status

Released June 23, 2022

Date Found

February 28, 2022
Location

Palm Coast; Flagler County
Reason for Rescue

lethargic, found floating
Initial Assessment
Weight

3.2 kg (6.4 lbs)

SCL (Straight Carapace Length)

32.2 cm

Exam Findings

Lethargic and thin. Missing right rear flipper but not related to stranding

Initial Treatment

Antibiotics and fluids
Enchilada's Story
Enchilada is a juvenile green sea turtle who was washed ashore in Flagler County on Feb 28th and taken to Whitney Laboratory. Enchilada was transferred to CMA on March 2nd from Volusia County Marine Science Center to help free up space for more local strandings in that area. Enchilada appears debililated at examination. She is also missing her right rear flipper, however, that is unrelated to stranding as it is completely healed. Enchilada's initial treatment consists of antibiotics and fluids.
INTERESTING FACT: Naming theme: Sauces
Treatment Updates
3.4.22

Enchilada is doing well in water. She was initially placed in a shallow kiddie pool due to her lethargy to help her achieve good breaths. We are slowly increasing swim time as she improves. Enchilada is showing interest in food!

3.9.22

Enchilada is continuing to eat well and has been started on a diet!

3.18.22

Enchilada is continuing to eat well and improve! We have been scrubbing Enchilada's carapace daily with betadine to help encourage healing.

3.28.22

Enchilada had a routine exam completed. She is gaining weight and continuing to improve! We are hopeful for a release in the near future.

4.25.22

Enchilada was started on oral antibiotics based on recent labwork.

6.2.22

Enchilada is off medications!

6.23.22

Enchilada was released on the East Coast of Florida!
Learn more about Enchilada's release.
---
All marine turtle footage taken in Florida was obtained with the approval of the U.S. Fish and Wildlife Service and the Florida Fish and Wildlife Conservation Commission (FWC) under conditions not harmful to marine turtles. Footage was acquired while conducting authorized conservation activities pursuant to FWC MTP-21/22-172A.