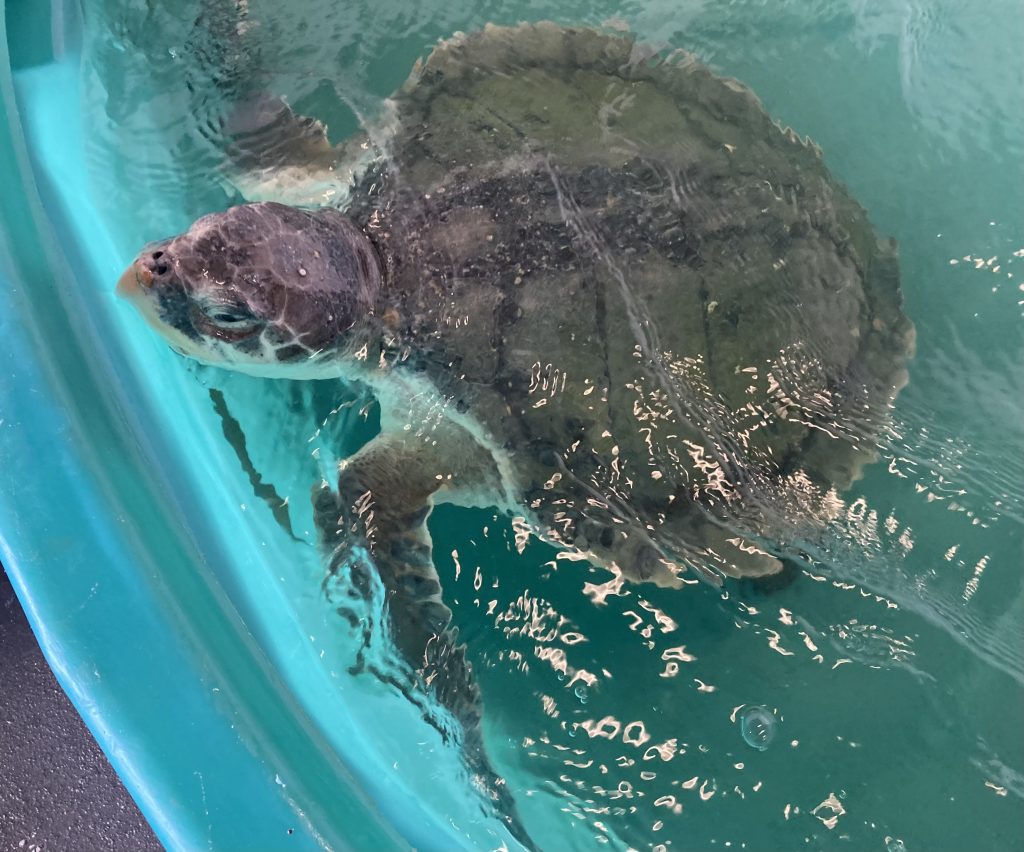 Focaccia
Kemp's ridley, Subadult
((Lepidochelys kempii))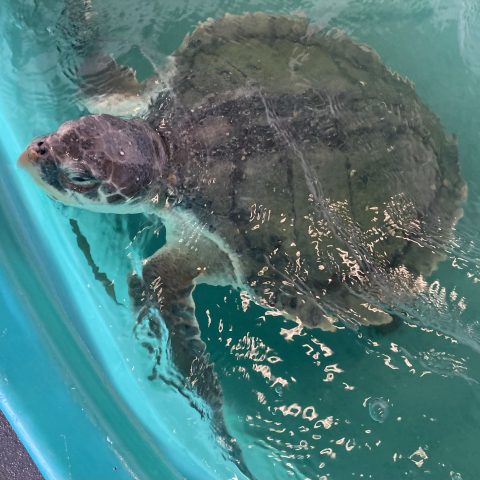 Patient Status

Released

Date Found

June 20, 2023
Location

Sand Key; Pinellas County
Reason for Rescue

Red tide exposure, swimming in distress
Initial Assessment
Weight

21.4 kg (47 lbs)

SCL (Straight Carapace Length)

54.1 cm

Exam Findings

Quiet but responsive. Relatively good body condition. Minor abrasions on plastron.

Initial Treatment

Vitamins and fluids.
Focaccia's Story
Focaccia is a subadult Kemp's ridley who was found struggling in the water near Sand Key on June 20. Focaccia's behaviors during their first swim test showed uncoordinated swimming that was similar to our previous red tide exposed kemp's ridleys: Chandler, Howie, and Alexis Rose in 2021. Focaccia's bloodwork was sent to FWRI (Florida Fish and Wildlife Research Institute) and tested positive for high levels of brevetoxin exposure. Focaccia's treatment plan consists of fluid therapy and IV nutrition to aid in flushing out the toxins.
INTERESTING FACT: Naming theme: Bread.
Treatment Updates
6.25.23

Our team is continuing to give IV nutrition and fluid therapy as well glucose checks. Focaccia is still being dry docked at this time due to neurological behaviors. A routine CT scan showed no obvious concerns.

6.28.23

We have been slowly increasing Focaccia's time in water the last few days. Focaccia is able to be in water half a day and is improving! A recheck blood sample was collected.

7.6.23

Focaccia was moved to a deeper, bigger pool and is doing well. Brevetoxin levels are improving. Eating well!

7.20.23

Focaccia was successfully released in Clearwater!
---
All marine turtle footage taken in Florida was obtained with the approval of the U.S. Fish and Wildlife Service and the Florida Fish and Wildlife Conservation Commission (FWC) under conditions not harmful to marine turtles. Footage was acquired while conducting authorized conservation activities pursuant to FWC MTP-23/24-172.