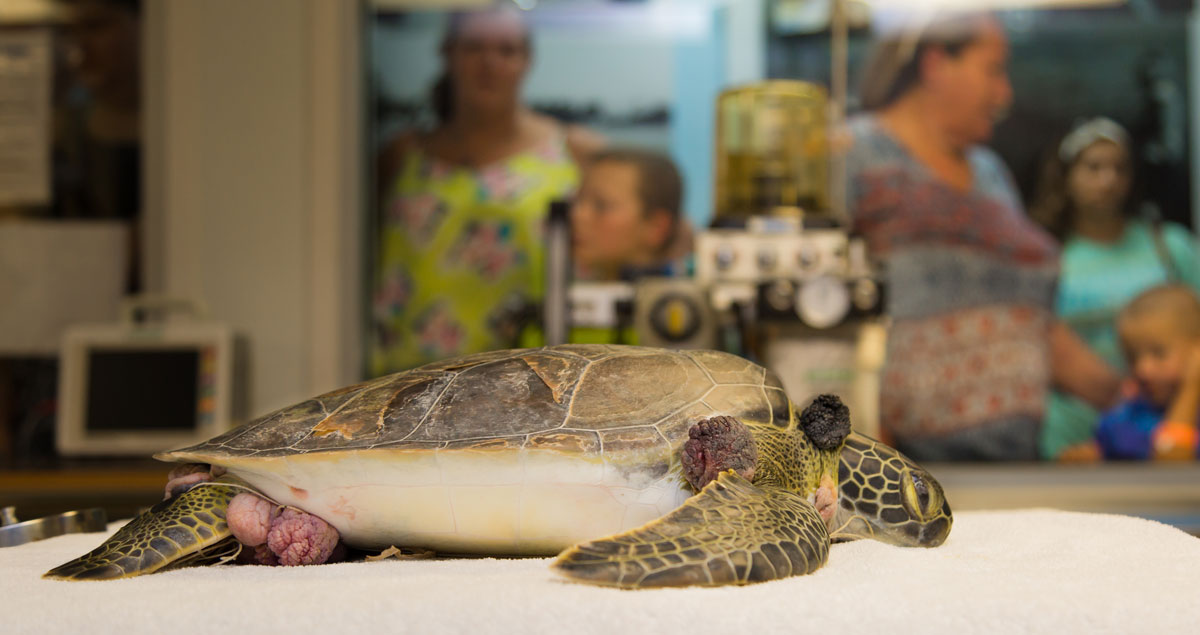 Ivory
Juvenile, Green
(Chelonia mydas)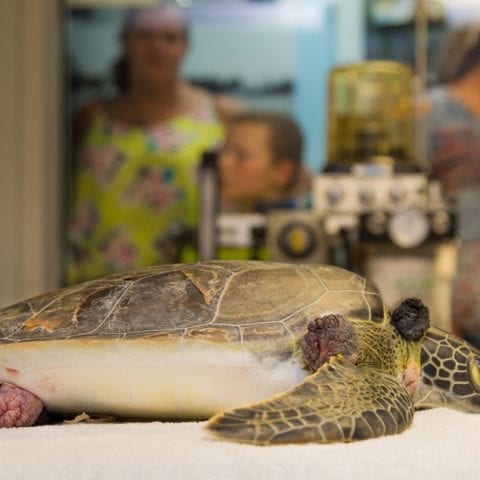 Patient Status

Released on February 22, 2018

Date Found

September 23, 2017

Location Found

Crystal River, Hernando County, FL

Reason for Rescue

Found entangled in fishing line; Fibropapilloma tumors
Triage
Weight

4.1 kg (9.1 lbs)

SCL (STRAIGHT CARAPACE LENGTH)

31.5 cm (12.4 in)

EXAM FINDINGS

Alert and active, in good body condition. Superficial abrasions on front flippers from fishing line. Heavy affliction of fibropapilloma tumors on the body.

INITIAL TREATMENT

Received vitamins, antibiotics, and fluids.
---
Ivory's Story
On September 23, 2017, a boater in Crystal River, Hernando County, Florida, found 2 green sea turtles entangled together in fishing line — later named Honeysuckle and Ivory. Both turtles were also afflicted with fibropapilloma tumors. The turtles were picked up by CMA's Rescue Team and brought to the aquarium for triage and care. The contact had already cut away most of the fishing line on both turtles.
Monofilament fishing line is very dangerous for turtles, especially fishing line that remains in the ocean and isn't disposed of properly. Turtles can get tangled in the line, causing flipper amputations, or they can swallow the line causing digestive problems. It's important that you clean up after yourself any time you go fishing.
Fibropapillomatosis is a virus that is most common in juvenile green sea turtles and is rarely seen in other sea turtle species. The virus causes cauliflower-like tumors to grow on the turtle's soft tissues. This virus is very contagious so once a turtle with this virus comes into our facility, it is quarantined in our Intensive Care Unit. Although the cause of this virus is still unknown, you can help by keeping our oceans clean of trash and chemical pollutants.
Naming Theme

Flowers

Did You Know?

Ivory was found entangled in fishing line with fellow stranded turtle Honeysuckle!
---
Treatment Updates
9.24.17

Started on a daily regimen of antibiotics, glucose checks, and fluids.

9.25.17

Swim tested for the first time. Slightly buoyant in the water, very active. Slowly began to increase daily swim time.

9.28.17

Offered food for the first time, but not interested in eating.

10.2.17

Began tube feeding Ivory.

10.5.17

Began eating solid food; slowly began to increase daily diet.

10.9.17

Discontinued glucose checks, fluids, and antibiotic injections. Began oral medications.

11.9.17

Surgical procedure to remove external fibropapilloma tumors, including tumors on the eyes. Started on daily eye drops to help the eyes heal.
---
All marine turtle footage taken in Florida was obtained with the approval of the U.S. Fish and Wildlife Service and the Florida Fish and Wildlife Conservation Commission (FWC) under conditions not harmful to marine turtles. Footage was acquired while conducting authorized conservation activities pursuant to FWC MTP-17-172.