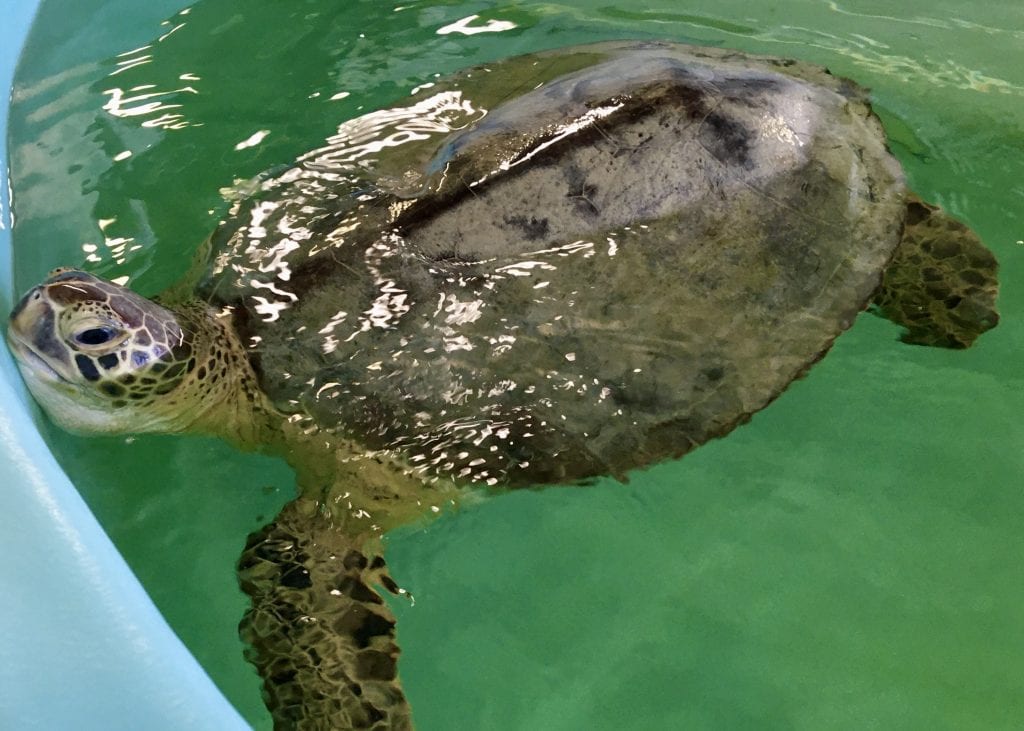 Jerome
Juvenile, Green
(Chelonia mydas)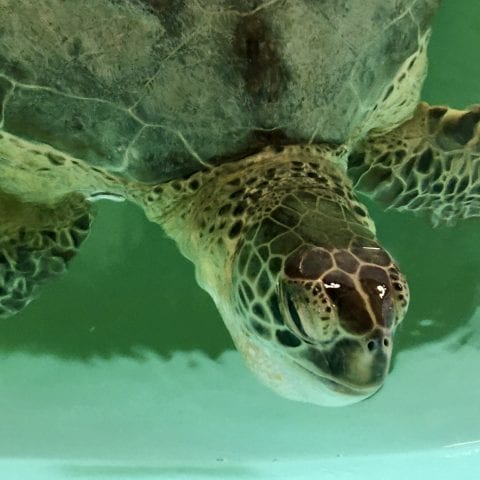 Patient Status

Former

Date Found

January 24, 2021
Location

Hudson; Pasco County
Reason for Rescue

Found Floating
Initial Assessment
Weight

27.7 kg (60.9 lbs)

SCL (Straight Carapace Length)

56.5 cm

Exam Findings

Active and good body condition; several healed, old wounds on carapace. Minor pap tumors.

Initial Treatment

Received vitamins, antibiotics & fluids.
Jerome's Story
Jerome is a large, almost subadult, green sea turtle who was found floating offshore of Hudson, FL on January 24, 2021. Upon intake, it was observed that Jerome has several healed, old boat strike injuries to his carapace (shell), which could be the cause of his buoyancy issue. Jerome's initial treatment plan consists of vitamin injections, antibiotics, and fluids.
Treatment Updates
1.27.21

Jerome was swim tested for the first time. It was observed that Jerome does have a buoyancy issue and is unable to stay on the bottom. We will continue to monitor and increase Jerome's swim time as he improves.

We are continuing to do glucose checks and give fluids if needed.

2.1.21

Jerome started to show interest in food and will start on a diet!

2.3.21

Jerome is able to be in deep water all day and overnight.

He is continuing to eat well!

2.16.21

Jerome's CT showed pulmonary bullae (isolated air pockets in the lungs). This is likely causing his buoyancy issue. A bronchoscopy was performed to assess condition. Samples were collected, and we will continue to monitor Jerome's condition.

3.9.21

Jerome was started on oral antibiotics and antifungals based on culture results. We are continuing to monitor his buoyancy issue.

4.6.21

Jerome went for a recheck CT scan to check to see if his treatment plan is working. Unfortunately, there was no improvement with his lung condition. Due to poor prognosis, Jerome was humanely euthanized.
---
All marine turtle footage taken in Florida was obtained with the approval of the U.S. Fish and Wildlife Service and the Florida Fish and Wildlife Conservation Commission (FWC) under conditions not harmful to marine turtles. Footage was acquired while conducting authorized conservation activities pursuant to FWC MTP-19-172.