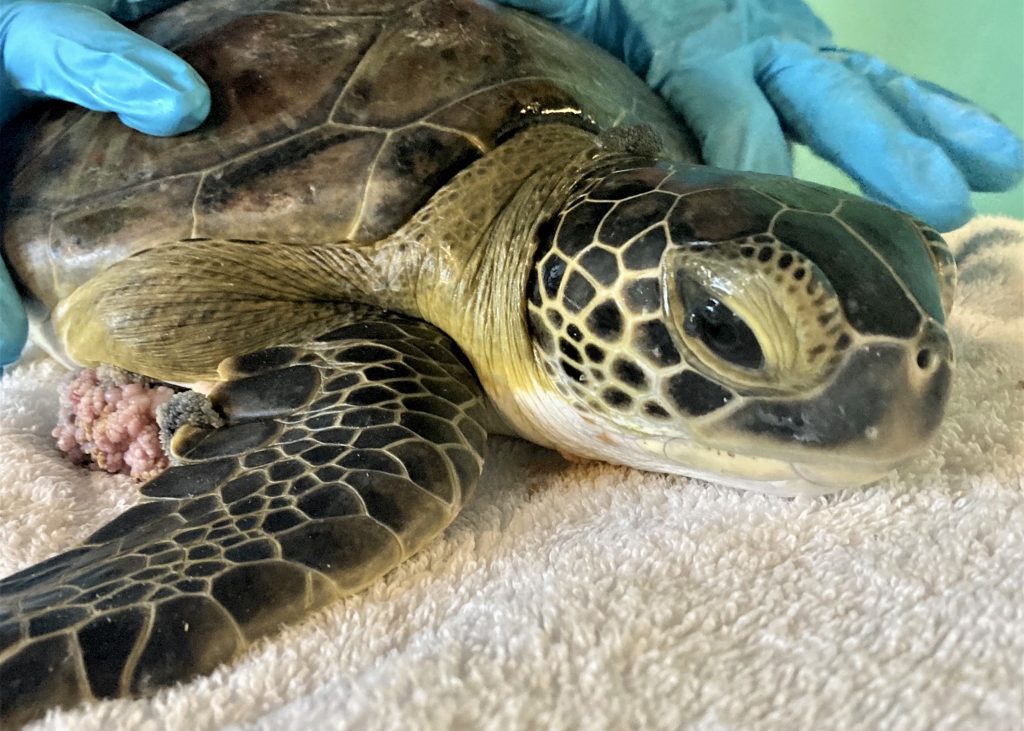 Jess
Sub-adult, green
(Chelonia mydas)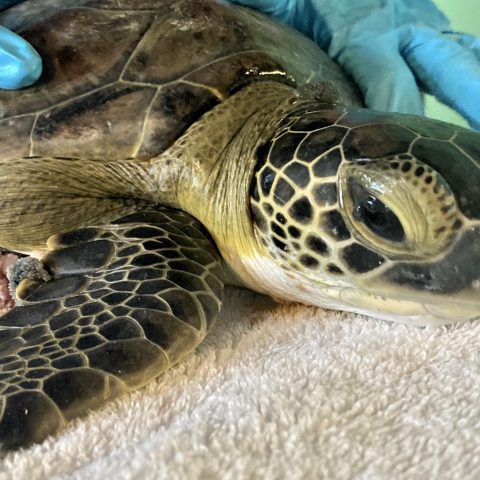 Patient Status

Current

Date Found

September 21, 2021
Location

Ponce Inlet; Volusia County
Reason for Rescue

Floating
Initial Assessment
Weight

3.84 kg (8.45 lbs)

SCL (Straight Carapace Length)

32.8 cm

Exam Findings

Fibropapilloma tumor on left eye. Patient is very active and responsive.

Initial Treatment

Received vitamins & fluids.
Jess's Story
Jess is a juvenile, green sea turtle who was found floating near Ponce Inlet in Volusia County on September 21, 2021. Jess was transferred to CMA from Volusia County Marine Science Center on September 21, 2021, as we are able to care for patients with fibropapilloma tumors (pap tumors). Jess does have a moderate amount of pap tumors that hopefully can be removed surgically following more diagnostics. Jess' initial treatment plan consists of vitamin injections and fluids.
INTERESTING FACT: Jess is a part of our Sitcom Characters naming theme. Jess is from New Girl!
Treatment Updates
9.23.21

Jess was swim tested for the first time. Due to floating behavior, Jess was placed in a kiddie pool to help achieve good breaths.

We will continue to increase monitored swim time as Jess improves.

9.27.21

We have been offering food daily and Jess is eating well!

Jess is able to be in water all day and overnight

9.29.21

Jess went for a routine CT scan and no obvious internal tumors seen!

We are continuing to do glucose checks and give fluids as needed.

9.30.21

Jess is improving and able to be in deep water all day!

Jess is no longer showing any floating behaviors.
---
All marine turtle footage taken in Florida was obtained with the approval of the U.S. Fish and Wildlife Service and the Florida Fish and Wildlife Conservation Commission (FWC) under conditions not harmful to marine turtles. Footage was acquired while conducting authorized conservation activities pursuant to FWC MTP-19-172.