Kobia
Juvenile, Green
(Chelonia mydas)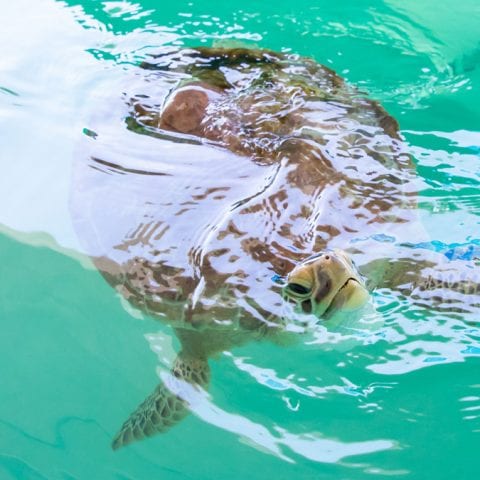 Patient Status

Transferred on October 27, 2018

Date Found

July 16, 2018

Location

Near marker 57 by Kingfish boat ramp; Manatee County

Reason for Rescue

Positively buoyant
Triage
Weight

10.8 kg

SCL (Straight Carapace Length)

40.2 cm

Exam Findings

Originally treated and a patient at Mote Marine Laboratory in Sarasota, FL. Treated for buoyancy and wound on left front flipper.

Initial Treatment

Fluids and antibiotics
Kobia's Story
Kobia is a juvenile green sea turtle who was found near the Kingfish boat ramp by marker 57 in Manatee County, and was positively buoyant and unable to dive. He was rescued and sent to Mote Marine Laboratory in Sarasota, FL for rehabilitation. Kobia, along with Miss Pam, were transferred to Clearwater Marine Aquarium on August 29.
Treatment Updates
8.29.18

Transferred to Clearwater Marine Aquarium from Mote Marine Laboratory.

8.30.18

Very active, great body condition. Laceration on left front flipper granulated. Given vitamins and fluids. Radiographs done and lab work sent to the lab.

8.31.18

Started on antibiotics; diet; swimming in deep water and able to rest at the bottom with bottom up.

9.15.18

No new changes, continuing on antibiotics.

10.17.18

CT scan done. Patient is continuing to do well.

10.27.18

Transferred back to Mote Marine Laboratory for deep water swim testing per FWC. Will stay there until cleared for release.
---
All marine turtle footage taken in Florida was obtained with the approval of the U.S. Fish and Wildlife Service and the Florida Fish and Wildlife Conservation Commission (FWC) under conditions not harmful to marine turtles. Footage was acquired while conducting authorized conservation activities pursuant to FWC MTP-18-172.