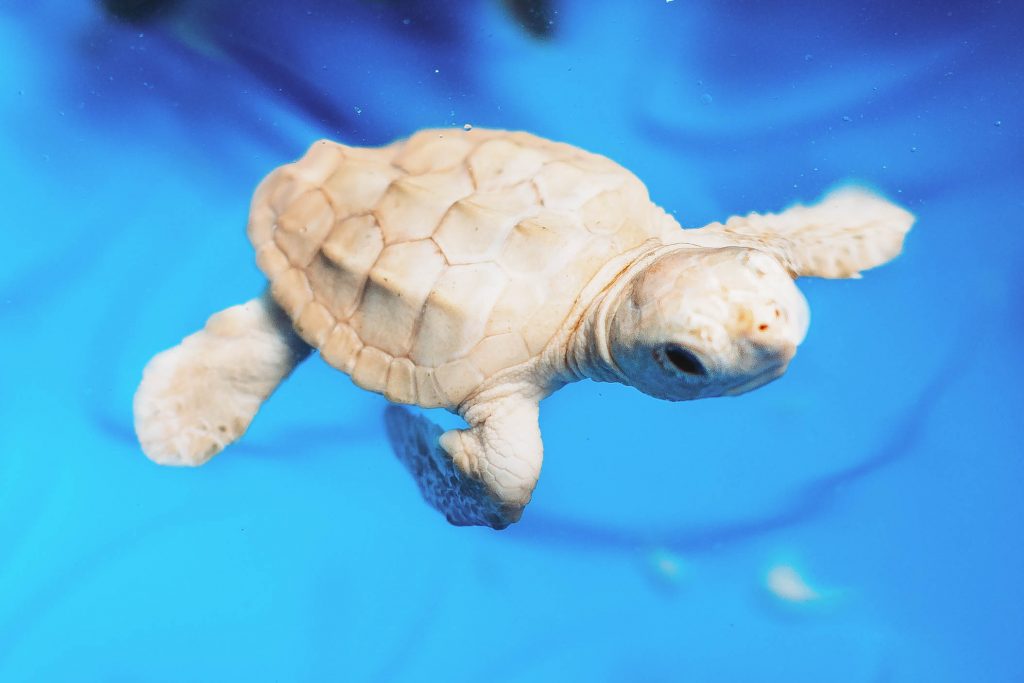 Leu
Loggerhead
(Caretta caretta)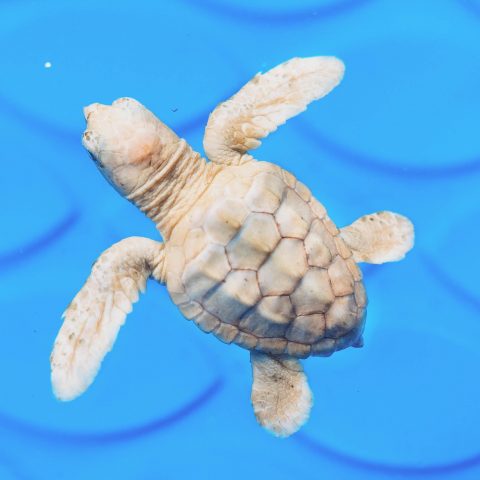 Patient Status

Current

Date Found

August 19, 2022
Location

Belleair Beach; Pinellas County
Reason for Rescue

Found during an inventory; leucistic
Initial Assessment
Weight

19 g (0.67 oz)

SCL (Straight Carapace Length)

4.9 cm

Exam Findings

Alert. The yolk sac and amniotic sac are still attached.

Initial Treatment

Placed in our incubator on moist towels and kept yolk sac moistened with saline.
Leu's Story
Leu is a leucistic, loggerhead hatchling that was found during a routine nest inventory by our Sea Turtle Conservation team during nesting patrols. Leucism is a genetic abnormality that causes reduced pigmentation. This is different from albinism because there isn't a total loss of pigment. There is a white coloration to the skin and carapace, but the eyes are normally pigmented. Typically these hatchlings have a low survival rate due to their lack of counter shading from predators and potentially other genetic abnormalities. We will work closely with FWC (Florida Fish and Wildlife) to determine best options for Leu. At this time, our goal is to get Leu healthy!
INTERESTING FACT: Hatchlings absorb their yolk sac before emerging from the nest. They live off the nutrients from their yolk sac for several days as they are making their way to the sargassum weed line where they will spend several years of their life as juvenile loggerheads following the current.
Treatment Updates
8.26.22

Leu has now absorbed majority of the yolk sac and is now ready to go swimming!

9.7.22

Leu is continuing to do well in our hatchling tank! Leu is showing normal hatchling behaviors such as "tucking." Loggerhead hatchlings are motionless at the surface and have their front flippers pressed against the sides of their carapace. Loggerheads may also go from a tuck into a swimming stroke called a "rear-flipper kick." Leu also is able to dive down and explore!

9.14.22

Leu started to show signs of lethargy. We have been keeping a close eye on Leu's appetite, and Leu has not been able to eat on it's own. We have started tube feeing Leu to help give the give proper nutrition needed to improve and gain weight.

10.1.22

Our team is still tube feeding Leu twice a day. Leu's behavior is normal and is continuing to do well with these tubings. We are monitoring Leu's weight daily as well.

10.20.22

Despite our best efforts to provide supportive care, Leu started to decline over the last few days. Our team is deeply saddened to say that Leu passed on their own overnight.
---
All marine turtle footage taken in Florida was obtained with the approval of the U.S. Fish and Wildlife Service and the Florida Fish and Wildlife Conservation Commission (FWC) under conditions not harmful to marine turtles. Footage was acquired while conducting authorized conservation activities pursuant to FWC MTP-21/22-172A.