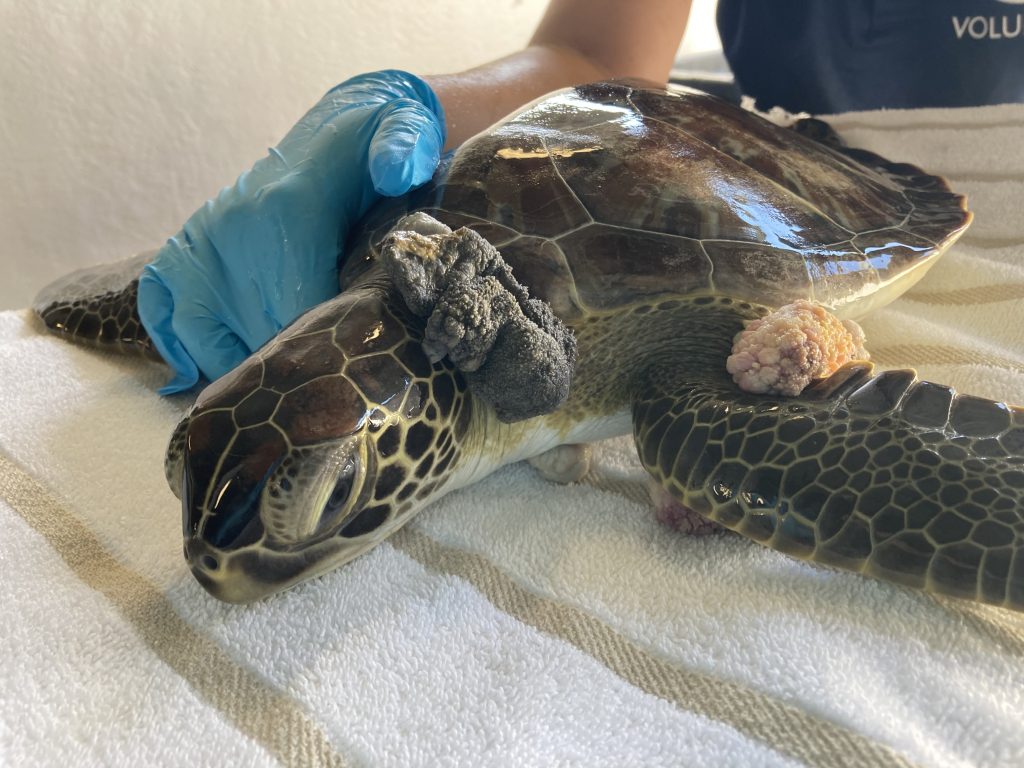 Monkey Bread
Green, Juvenile
(Chelonia mydas)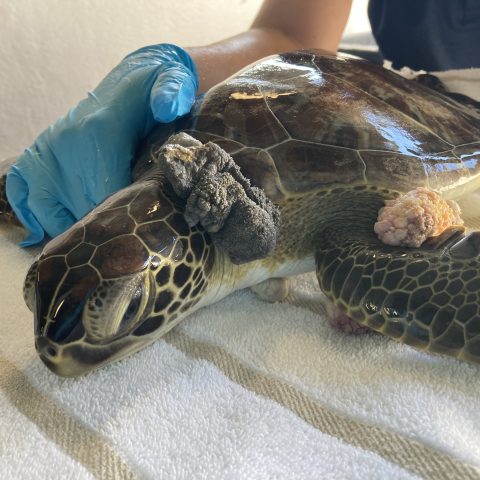 Patient Status

Released

Date Found

August 4, 2023
Location

Offshore New Port Richey; Pasco County
Reason for Rescue

Floating
Initial Assessment
Weight

3.48 kg (7.66 lbs)

SCL (Straight Carapace Length)

30.5 cm

Exam Findings

Active, good body condition, small tumors on both eyes, and other large ones on skin.

Initial Treatment

Vitamins and fluids
Monkey Bread's Story
Monkey Bread is a juvenile green sea turtle who was found floating and having difficulty staying submerged offshore of New Port Richey. Monkey Bread has small fibropapilloma tumors on both eyes and several other tumors on their body. Their overall body condition and activity level is good! Monkey Bread's initial treatment plan consists of fluids and vitamins.
INTERESTING FACT: Naming theme: Bread
Treatment Updates
8.5.23

Monkey Bread is doing well in water and showing no signs of buoyancy issues. There was a large defecation noted.

8.10.23

Monkey Bread is able to be in deep water all day and overnight. CT scan and endoscopy showed no obvious internal tumors. We are currently monitoring their appetite. We are hopeful they will be ready for surgery soon!

8.17.23

Monkey Bread successfully had the majority of their fibropapilloma tumors removed. They are recovering well!

9.7.23

Monkey Bread is continuing to heal well post surgery.

9.21.23

Monkey Bread was released at Fred Howard Park!
---
All marine turtle footage taken in Florida was obtained with the approval of the U.S. Fish and Wildlife Service and the Florida Fish and Wildlife Conservation Commission (FWC) under conditions not harmful to marine turtles. Footage was acquired while conducting authorized conservation activities pursuant to FWC MTP-23/24-172.