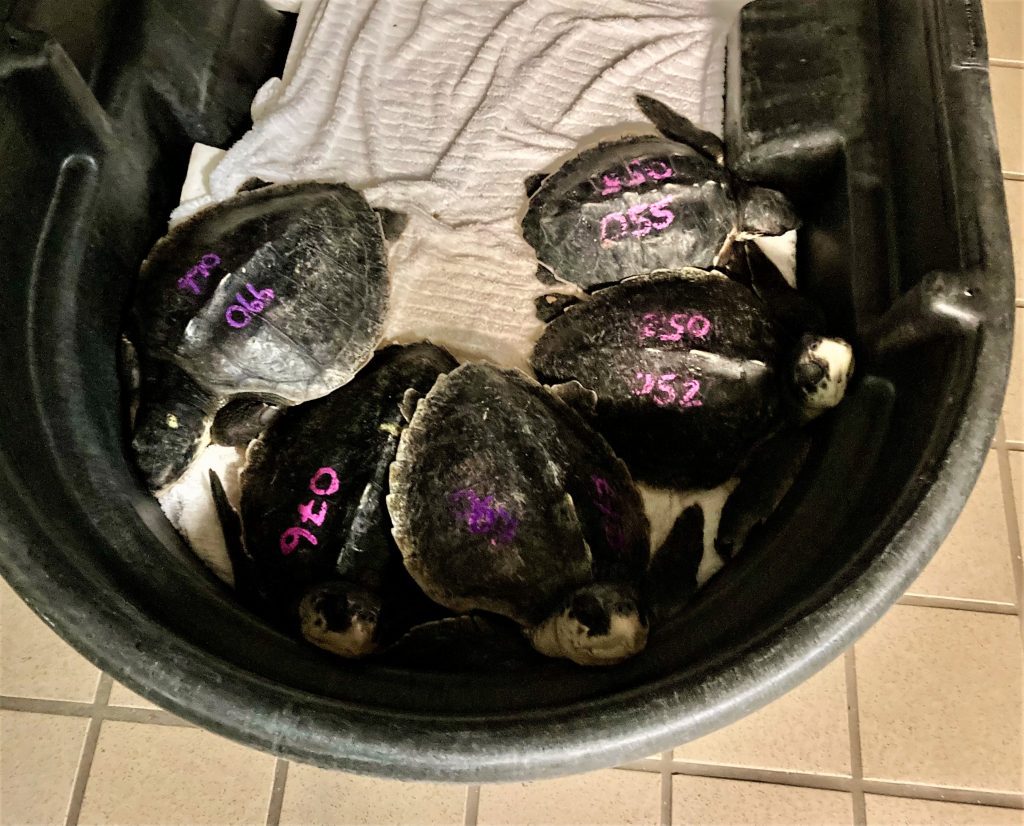 New England Patients
Kemp's Ridley, Juvenile
(Lepidochelys kempii)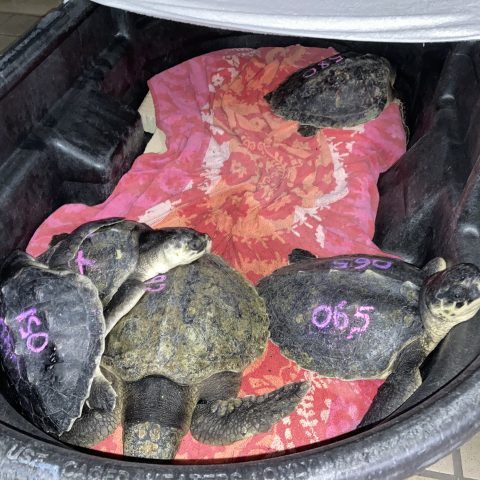 Patient Status

Current

Date Found

December 13, 2022
Location

Cape Cod, Massachusetts
Reason for Rescue

cold-stunned
Initial Assessment
Weight

Ranges: 1.3 kg to 3.1 kg

SCL (Straight Carapace Length)

Ranges: 20.1 cm to 26.8 cm

Exam Findings

Very active! Thin body conditions. Skin lesions present on several.

Initial Treatment

Antibiotics and fluids.
New England Patients'

Story

On December 13, Clearwater Marine Aquarium received 10 juvenile Kemp's ridley transfers from New England Aquarium and National Marine Life Center. These turtles were part of a recent mass cold-stun event in Cape Cod Massachusetts. These facilities treat hundreds of sea turtles every year due to cold-stunning. When their facilities reach max capacity, they transfer out their patients to other sea turtle hospitals to make room for new intakes. Sea turtles can experience cold-stunning when water temperatures drop below 50 degrees Fahrenheit. This can lead to decrease circulation, lethargy, and hypothermic conditions. These turtles can develop pneumonia as well. Upon arrival at CMA, all 10 turtles received a full workup from our vet team which included an exam, labwork, and xrays. We will continue to monitor these turtles over the next few days and hope for a quick turnaround!
INTERESTING FACT: These sea turtles were all named after National Parks – Yellowstone, Isle Royale, Yosemite, Mount Rainier, Joshua Tree, Redwood, Zion, Sequioa, Smoky, and Teton.
Watch our live webcam to see four of these Kemp ridley sea turtles recovering in one of our rehab pools.
Treatment Updates
12.15.22

All patients are doing well in water all day and overnight! Majority are already eating! We are monitoring appetites for those that are not as quick to eat and giving fluids as needed.

12.16.22

Several patients that are eating were started on oral antibiotics and antifungals based on labwork and radiograph results.

12.22.22

All our patients are eating extremely well!

12.27.22

Routine recheck exams were completed on all 10 patients. A few had recheck xrays as well to check the status of their pneumonia.

1.26.23

Routine exams were completed on all 10 patients. All are eating well and gaining weight. Several are still on oral antibiotics and antifungals based on radiographs and labwork.
---
All marine turtle footage taken in Florida was obtained with the approval of the U.S. Fish and Wildlife Service and the Florida Fish and Wildlife Conservation Commission (FWC) under conditions not harmful to marine turtles. Footage was acquired while conducting authorized conservation activities pursuant to FWC MTP-23/24-172.