Oat Bran
Juvenile, Kemp's ridley
(Lepidochelys kempii)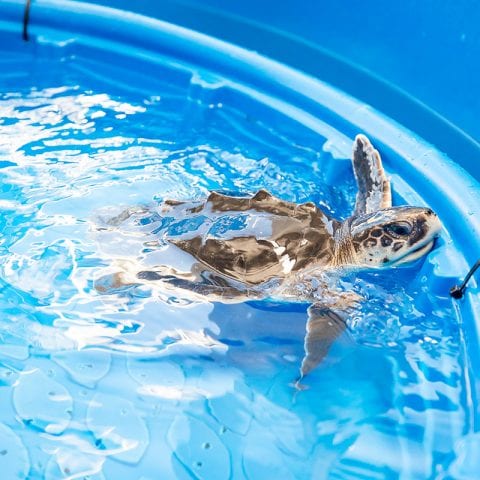 Patient Status

Date Found

May 6, 2017

Location Found

Pier 60, Clearwater Beach, Pinellas County, FL

Reason for Rescue

Fisherman caught turtle by accident, turtle swallowed hook
---
TRIAGE
Weight

1.34 kg (2.95 lbs)

SCL (Straight Carapace Length)

21.2 cm (8.35 in)

Exam Findings

Alert and active, slightly thin. No visible hook or line in the mouth.

Initial Treatment

Received vitamins, antibiotics and fluids.
---
OAT BRAN'S STORY
On the evening of May 6, 2017, a fisherman accidentally caught a small, juvenile Kemp's ridley (named Oat Bran) at Pier 60. He had been using squid as bait which attracted Oat Bran to bite and swallow the hook. The concerned fisherman called Clearwater Marine Aquarium, and rescue personnel picked up and brought the turtle back to the aquarium for triage. As the hook was lodged in the turtle's esophagus, a surgical procedure was performed to remove the hook.
To avoid having sea turtles swallow fishing hooks, fishermen should use circle hooks rather than J-hooks. Circle hooks are harder for turtles to swallow, so they won't accidentally get caught. Studies have shown that circle hooks catch fish just as well as J-hooks can. Before your next fishing adventure, please consider using circle hooks to avoid catching and causing harm to any sea turtles.
Naming Theme

Cereal

Did You Know?

Oat Bran was caught by a fisherman using a J-hook shaped hook. Most fishermen use this type of hook as it is streamline, but it is easy for turtles to swallow. We encourage recreational fishermen to switch to circle hooks which are not easily swallowed by turtles, but catch fish the same!
---
TREATMENT UPDATES
5.7.17

Started on a daily regimen of antibiotics, fluids and glucose checks.

5.7.17

Successful surgical removal of hook stuck in turtle's esophagus.

5.8.17

Started Total Parenteral Nutrition (TPN) and continued with antibiotics. Daily wound care of surgical site.

5.13.17

Swim tested in shallow water, slowly started to increase time in shallow water each day.

5.25.17

Food offered, and ate all. Slowly began increasing daily diet.

5.30.17

Glucose checks and fluids discontinued, surgical sutures removed. Started oral meds and swim tested in deeper water. Slowly increased amount of time in deeper water.

6.15.17

Oat Bran now in deep water full time.

8.24.17

After 111 days in rehab, Oat Bran was released at Honeymoon Island, Pinellas County, FL. We wish Oat Bran the best back home in the ocean!
---
All marine turtle footage taken in Florida was obtained with the approval of the U.S. Fish and Wildlife Service and the Florida Fish and Wildlife Conservation Commission (FWC) under conditions not harmful to marine turtles. Footage was acquired while conducting authorized conservation activities pursuant to FWC MTP-17-172.