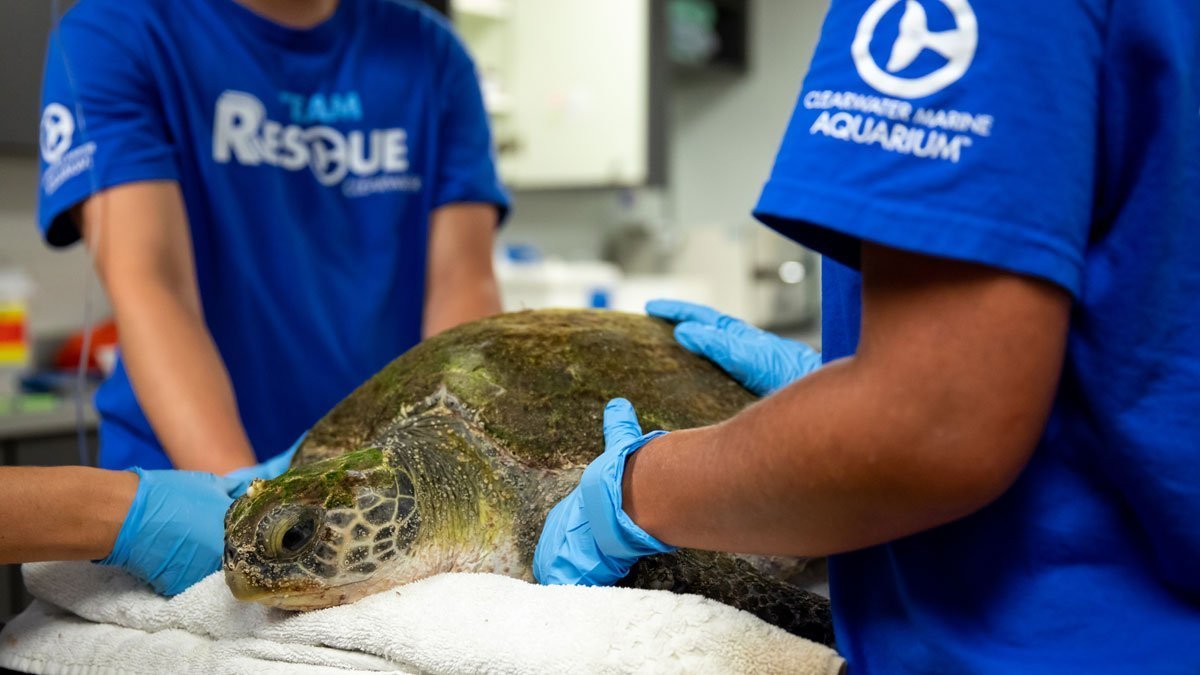 Olivia
Juvenile, Green
(Chelonia mydas)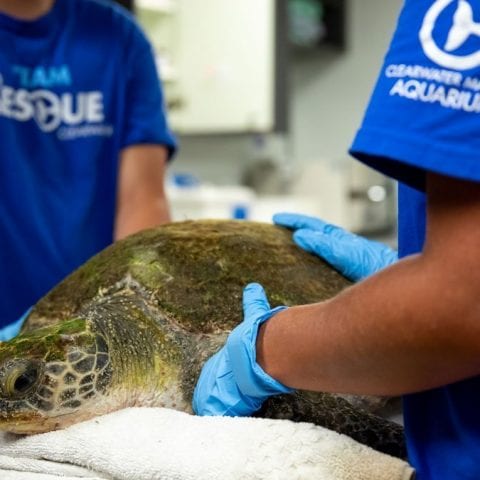 Patient Status

Current

Date Found

June 2, 2019

Location

John's Pass, Pinellas County

Reason for Rescue

Found floating with boat strike injuries.
Triage
Weight

25.3 kg (55.7 lbs)

SCL (Straight Carapace Length)

58.7 cm

Exam Findings

Good body condition and alert. The injuries to the carapace (shell) and rear flipper do not appear to be fresh wounds.

Initial Treatment

Received vitamins, fluids, antibiotics, and anti-inflammatory medications.
Olivia's Story
Olivia is a large, juvenile green sea turtle, who was found floating offshore near John's Pass in Pinellas County, Florida on June 2, 2019. Olivia has severe injuries to her carapace (shell) and left rear flipper from a boat strike. The injuries appear to be older. However, due to the extensive damage, our veterinarian determined that amputation of the left rear flipper was necessary. The damaged end portion of Olivia's carapace was also removed with a CO2 laser.
To help out sea turtles like Olivia, please obey all boating regulations and keep a look out for wildlife in the water!
INTERESTING FACT: Olivia was named after a character in a book by author Mary Alice Monroe.
Treatment Updates
6.6.19

Went for CT scan. Continuing to do glucose checks twice a day and giving fluids if needed.

6.9.19

Olivia's bandage was removed. Now able to be placed in a pool to help promote healing.

6.13.19

Started on diet. Eating well!

6.16.19

Doing well in water. Showing signs of improvement. Olivia is able to be in deep water without kiddie pool for the majority of the day!

6.27.19

Eating well and increasing diet. We are continuing to monitor her buoyancy and swimming behavior.

7.10.19

Olivia has shown a decrease in usage of both front flippers. Continuing to monitor. Started on antibiotics and antifungal medications.

7.13.19

Olivia ate some of her diet off the bottom of her pool for the first time! Our team has been working on ways to encourage her to dive and use her flippers. We are still monitoring her appetite and swimming behavior.

8.19.19

Olivia's wounds are almost all the way healed. She is resting on the bottom continuously, and the use of her front flippers has improved! This has been a huge step in her rehab progress!

9.12.19

Went for a recheck CT to recheck her shoulders. There are signs of much improvement!

9.23.19

Olivia has been taken off her oral antibiotics and antifungal medications.

10.24.19

Olivia is back on antibiotics and antifungal medications after her recheck CT last week. We will continue to monitor her shoulders. Appetite is still great!

11.22.19

Olivia will be going for another recheck CT next week as we continue to monitor her shoulders.

12.5.19

Our team is slowly introducing a variety of greens into Olivia's diet. She is showing a lot of interest in them! Olivia is a unique green sea turtle because she has, in the past, preferred squid and other fish over her greens!

1.8.20

Olivia went for her recheck CT today. The infection is still present in Olivia's shoulders. Olivia has shown a decrease in appetite which we are monitoring.

1.23.20

Olivia started a new medication that will hopefully help with her condition. Her appetite has improved.

2.13.20

Olivia's appetite is back to normal. She is continuing to show improvement.

2.28.20

Recent physicals have shown us a lot of good news for Olivia!
---
All marine turtle footage taken in Florida was obtained with the approval of the U.S. Fish and Wildlife Service and the Florida Fish and Wildlife Conservation Commission (FWC) under conditions not harmful to marine turtles. Footage was acquired while conducting authorized conservation activities pursuant to FWC MTP-18-172.