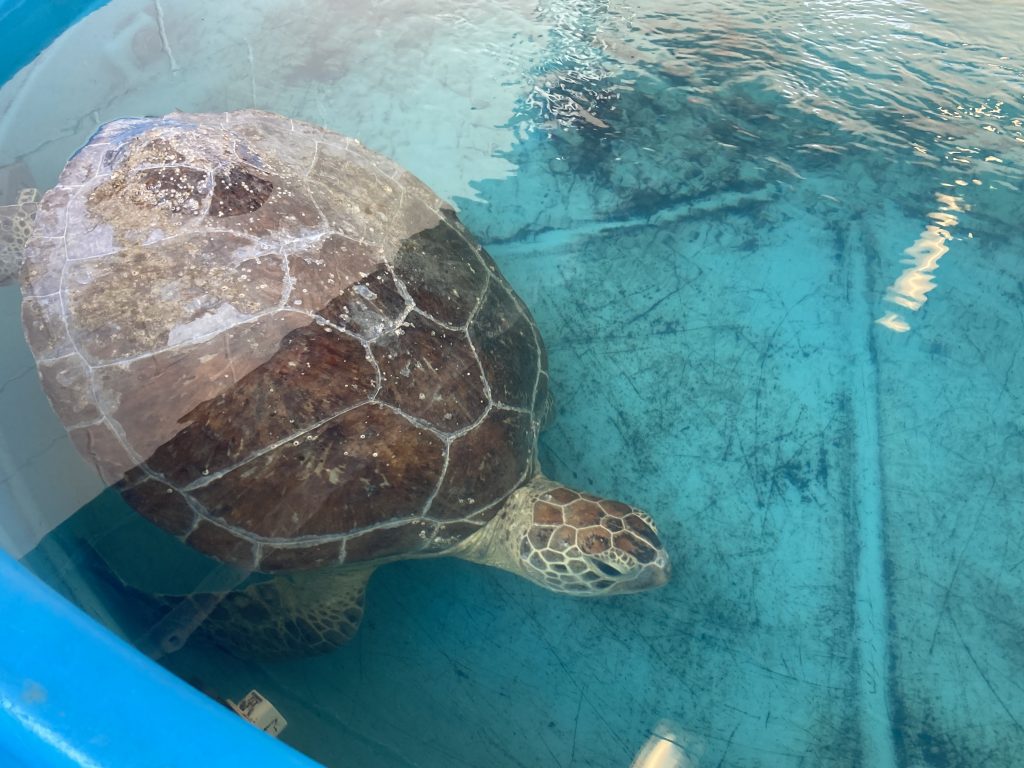 Ranch
Juvenile, green
(Chelonia mydas)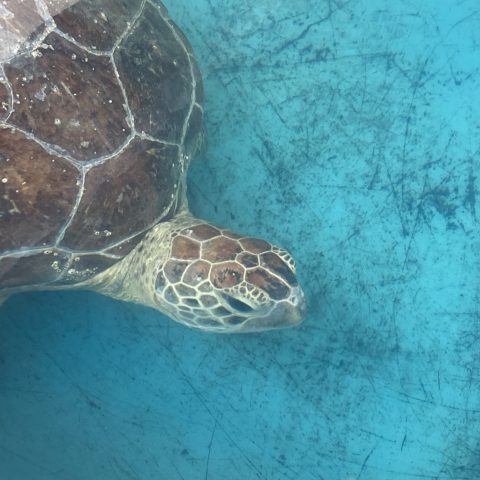 Patient Status

Current

Date Found

June 17, 2022
Location

Offshore Belleair Beach; Pinellas County
Reason for Rescue

Found floating with difficulty staying submerged
Initial Assessment
Weight

21.3 kg (46.9 lbs)

SCL (Straight Carapace Length)

57.1 cm

Exam Findings

Good body condition. Moderate load of epibiota. Caudal carapace (shell) deformity.

Initial Treatment

Vitamins, antibiotics, and fluids
Ranch's Story
Ranch is a large juvenile, almost subadult, green sea turtle that was found floating offshore of Belleair Beach. It was reported that Ranch had difficulty staying submerged. At examination, Ranch was active and in good body condition. Ranch does have a deformity to her caudal carapace (shell) and previous carapace injuries that are healed. Ranch's initial treatment consists of vitamin injections, antibiotics, and fluids
INTERESTING FACT: Sea turtles species are divided up into life stages depending on their straight carapace (shell) lengths. Ranch is less than 3 cm away from being classified as a subadult green sea turtle!
Treatment Updates
6.18.22

Ranch was swim tested for the first time. It was observed that Ranch is buoyant and does have difficulty staying submerged. We will continue to increase Ranch's swim time as she improves.

6.21.22

Ranch is able to be in water all day and overnight. She is starting to show interest in food! We are continuing to do glucose checks and giving fluids as needed. Radiographs revealed there is a lot of gastrointestinal gas and possible trauma to spine which both could be contributing to Ranch's buoyancy issue.

6.24.22

We are seeing improvement in Ranch's buoyancy as she is able to be more submerged in water than a few days ago!

6.29.22

Ranch has started on a diet and continuing to eat well! We are monitoring Ranch's defecations.

7.4.22

Ranch was moved to a deeper pool. He is able to dive down to eat but still rests at the surface. We will continue to monitor buoyancy over the next several weeks.

7.14.22

Ranch has been seen resting on the bottom, caudal end up consistently the last few days! This is very exciting for his rehab progress!

7.20.22

Ranch has now been seen resting flat!
---
All marine turtle footage taken in Florida was obtained with the approval of the U.S. Fish and Wildlife Service and the Florida Fish and Wildlife Conservation Commission (FWC) under conditions not harmful to marine turtles. Footage was acquired while conducting authorized conservation activities pursuant to FWC MTP-21/22-172A.