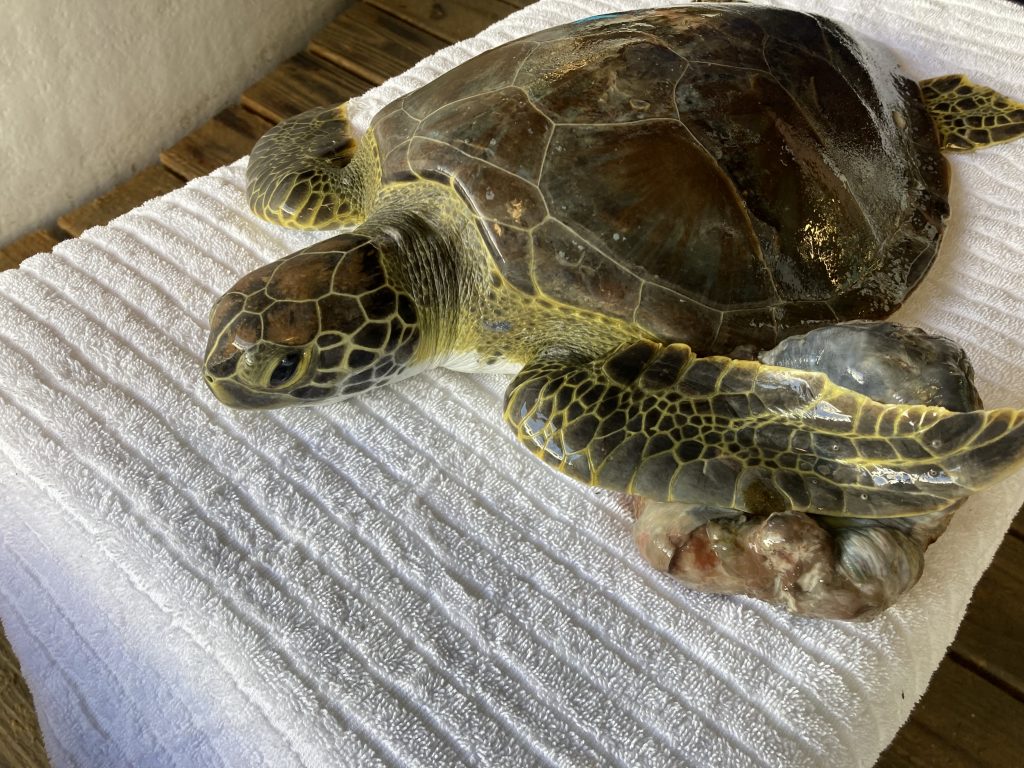 Sparkler
Green, Juvenile
(Chelonia mydas)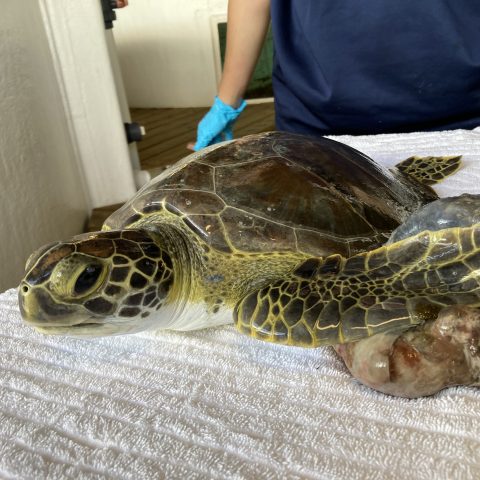 Patient Status

Current

Date Found

July 4, 2023
Location

Offshore Hudson; Pasco County
Reason for Rescue

Floating
Initial Assessment
Weight

4.33 kg (9.5 lbs)

SCL (Straight Carapace Length)

33.5 cm

Exam Findings

Active, good body condition, severe fibropapilloma tumor on front flipper.

Initial Treatment

Vitamins, fluids, and antibiotics.
Sparkler's Story
Sparkler is a juvenile green sea turtle who was found floating offshore of Hudson on July 4. Sparkler has severe fibropapilloma tumor on their left front flipper that will need to be removed surgically. Sparkler also has minor tumors on both eyes. Sparkler's overall body condition is relatively good. Their initial treatment plan consists of vitamin injections, antibiotics, and fluids.
INTERESTING FACT: Named in honor of 4th of July!
Treatment Updates
7.5.23

Sparkler's first swim test showed lethargic behaviors and was placed in a shallow pool. We will slowly increase swim time as they improve.

7.10.23

Sparkler went for a CT. No obvious internal abnormalities. We are continuing to do glucose checks and giving fluids as needed.

7.14.23

Sparkler has started to show consistent interest in food. They are able to be in deep water all day and overnight! Sparkler is still on injectable antibiotics. The large tumor is infected and becoming necrotic and likely causing several blood abnormalities for Sparkler.

8.5.23

Sparkler is ready for surgery to remove the large tumor on the front flipper.

8.8.23

Sparkler successfully had the large tumor removed from their flipper. It weighed approximately 350 grams (0.77 lbs). Sparkler's eye tumors were also successfully removed. Sparkler will be on medicated eye drops to help the eyes heal. We will be monitoring their recovery over the next few days.

8.12.23

Sparkler is continuing to improve post surgery. We will continue to monitor the healing process and for regrowth.

9.1.23

Sparkler was started on antibiotics. Continuing to heal well post surgery.

9.21.23

Sparkler is off antibiotics.
---
All marine turtle footage taken in Florida was obtained with the approval of the U.S. Fish and Wildlife Service and the Florida Fish and Wildlife Conservation Commission (FWC) under conditions not harmful to marine turtles. Footage was acquired while conducting authorized conservation activities pursuant to FWC MTP-23/24-172.