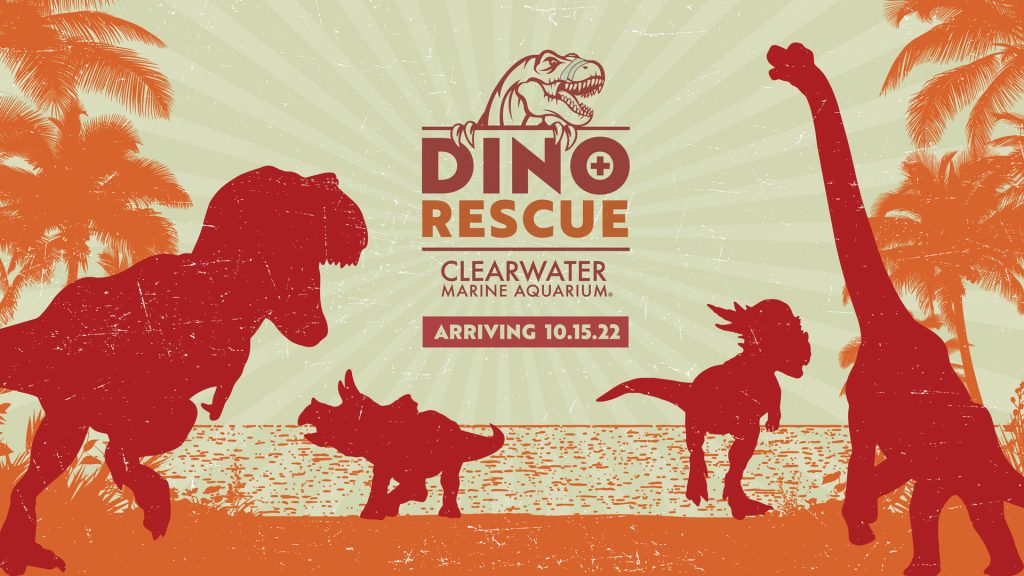 Clearwater, FL (September 15, 2022) – Clearwater Marine Aquarium is known for its work to rescue, rehabilitate and release marine life, but what about those that lived millions of years ago and thought to have been extinct?
Starting October 15, Dino Rescue will bring guests at the Clearwater Marine Aquarium up-close to life-size dinosaurs, some as tall as 35 feet and 65 feet long. As guests walk throughout CMA, they will encounter the dinosaurs, which move and roar, as they rehabilitate from various ailments today's animals face – like habitat loss and entanglement.
"Each dinosaur will have a medical patient workup chart with their backstory on display," said COO Lisa Oliver. "We hope that by applying these real-life challenges to the dinosaurs in a fun satirical fashion, it will bring to light the severity of these ailments which can lead to the very real extinction of an entire species."
Oliver added that having the dinosaurs "rehabilitate" throughout the facility provides an opportunity for guests to explore different areas of CMA they may not have otherwise seen.
"The size of the dinosaurs required us to think creatively about where they could be placed, and how they would be displayed," said Oliver, "which allows us to showcase areas guests may have missed with the expansion."
In 2020, Clearwater Marine Aquarium opened an $80 million expansion which increased its guest space by five times what it previously had available.
Dino Rescue features animatronic dinosaurs from "Dino" Don Lessem, a paleontologist who was a dinosaur consultant on "Jurassic Park."
"I'm excited and honored to bring the greatest animals of the past to Clearwater Marine Aquarium," said "Dino" Don of this special exhibition. "We've gone to great lengths to ensure these are the most accurate dinosaur robots in the world and dinosaur fans are going to love them!"
The rescued dinosaurs are available for viewing and can be experienced up close along with CMA's resident dolphins, turtles, otters and more with the regular price of admission. All net proceeds benefit Clearwater Marine Aquarium's work of Rescue, Rehab, and Release.
Learn more at cmaquarium.org.
MEDIA CONTACT Kelsy Long, Clearwater Marine Aquarium, media@cmaquarium.org.
###
About Clearwater Marine Aquarium

Clearwater Marine Aquarium (CMA) is a 501(c)(3) nonprofit working marine rescue center dedicated to inspiring the human spirit through leadership in education, research, rescue, rehabilitation and release. With a mission to preserve the environment and its marine life, CMA is home to rescued dolphins, sea turtles, river otters, stingrays, a nurse shark and more. Through Clearwater Marine Aquarium Research Institute, CMA conducts important global research focused on protecting manatees, North Atlantic right whales and sea turtles. Major motion picture Dolphin Tale (2011) and its sequel Dolphin Tale 2 (2014) features the true stories of rescued resident dolphins Winter and Hope, inspiring millions around the world. The mission and potential to change people's lives differentiates Clearwater Marine Aquarium from any other aquarium in the world.
© 2022 Clearwater Marine Aquarium | 249 Windward Passage, Clearwater, FL 33767 | 727-445-1139 | 727-441-1790 | mission.cmaquarium.org | cmaquarium.org

We believe in preserving our environment while inspiring the human spirit through leadership in the rescue, rehabilitation, and release of marine life; environmental education; research; and conservation.
A Florida non-profit 501(c)(3) organization