What is an Otter Kit?
An otter kit is a baby otter. Most females usually have 1-3 kits per litter. River otters normally breed between the months of March and April. And otter pregnancy lasts 11-12 months. For survival in the wild, mother otters have to teach their kits how to swim and hunt. They then wean their kits at 14 weeks but can stay with them for up to a year.
North American River Otters
North American river otters are part of the weasel family and a separate species from sea otters. This species is found in most states from Alaska to Florida living near streams, lakes, wetlands, and marine coasts. Their diet consists of fish, amphibians, crustaceans, turtles, birds and eggs.
Clearwater Marine Aquarium is dedicated to the rescue, rehabilitation, and release of marine and aquatic animals, including North American river otters!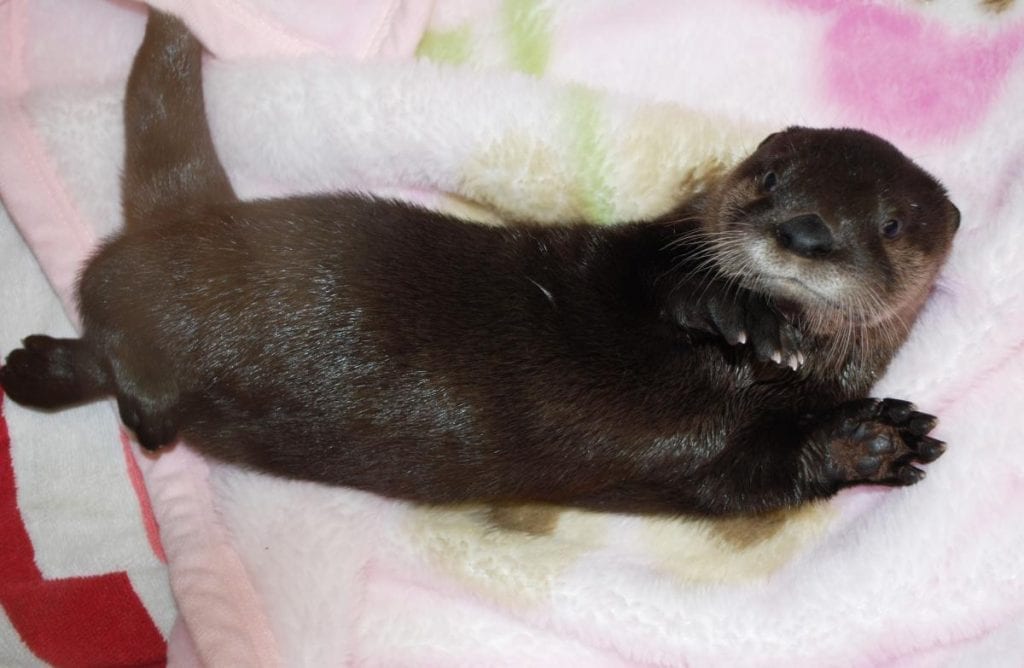 ---
Otter Kit Rescue — Abe
On February 16, 2018, a young North American river otter kit was found alone alongside a wall that separated a business property from the street. The business contacted Clearwater Marine Aquarium's Rescue Team and the otter kit was retrieved by rescue personnel. Due to the commercial location with no nearby wildlife habitats, re-nesting was not an option, and the otter was transported directly to CMA's animal hospital. Abe was examined by the veterinarian at CMA, given fluids, and later transferred to Owl's Nest, a partner rescue organization, for continued rehabilitation until he can be released with other otters.
---
Otter Kit Rescue — Petunia
Petunia, a three-week-old baby otter kit, was rescued on January 28, 2018, after being found alone without her mom. Our Rescue Team brought her to Clearwater Marine Aquarium's veterinarian for a health assessment and care. They gave her fluids with added dextrose and kept her warm. The Rescue Team made multiple attempts to go back and find her mom with hopes of reuniting them in the wild, but the mother could not be found. Petunia was then transferred to CROW, a wildlife rehab facility, where she will receive long-term care and have the opportunity to be released with other otters when ready.
---
Otter Kit Rescue — Murray
On February 24, 2017, a North American river otter was brought to Clearwater Marine Aquarium. The Rescue Team responded to a call from Pasco Animal Hospital, which had taken in the otter that was dropped off by a good Samaritan who found the otter kit stranded. The otter, named "Murray", was brought to the surgical suite at CMA for a health assessment. His condition was evaluated to determine if he would be a good candidate for rehab and eventual release. Watch Murray's triage on Facebook Live.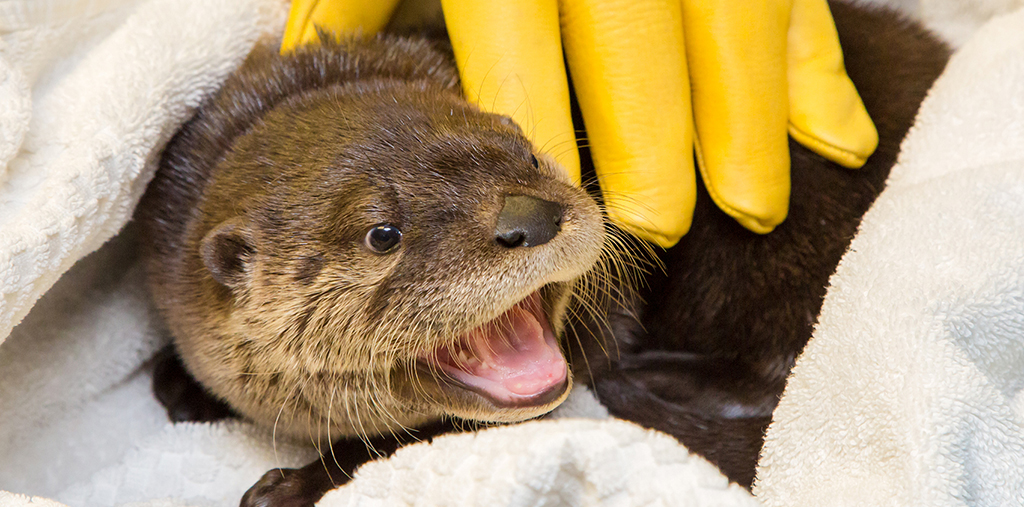 ---
What To Do If You Find an Otter Kit in the Wild
When encountering young river otter kits, the public is advised to view from afar and to not interact with the animal. Often times, an otter mother will leave her kit for a period of time to forage. Furthermore, otters are potential carriers for rabies. If the animal seems distressed, immediately contact Clearwater Marine Aquarium's emergency rescue hotline at 727-441-1790 Ext. 1.