Pinellas Nesting Season Begins!
May 1 officially marks the start of sea turtle nesting season in Pinellas County! Around 90% of all sea turtle nesting in the United States occurs on Florida beaches. In 2019, statewide nesting surveyors surveyed 1,356.9 km of Florida beach. According to the Florida Fish and Wildlife Conservation Commission (FWC), within the 2019 season, they found over 106,000 loggerhead (C. caretta) nests, 53,015 green turtle (C. mydas) nests and 1,105 leatherback (D. coriacea) nests. 
Things to Keep In Mind During the Season
After hatchlings are born, they need to crawl their way into the water. Some scientists believe this journey helps the hatchlings imprint on their natal beach and could bring them back to lay their own nests. There are many ways we can help sea turtle hatchlings successfully make their way into the water.
Use Sea Turtle-Friendly Lighting
Sea turtle hatchlings rely on celestial light (moonlight and starlight) to make their way into the water and are easily disoriented from bright lights from hotels and beachfront properties. During the season, use sea turtle-friendly lights! We are collaborating with Pinellas County Environmental Management, municipalities, code enforcement, FWC and the Sea Turtle Conservancy to offer sea turtle lighting consultations following FWC's sea turtle lighting guidelines!
These sea-turtle friendly lighting guidelines ensure:
The lights are at a low height.
They are shielded.
The wavelengths are long.
Close your drapes or blinds and turn off all unnecessary outdoor lights. Switch other lights to sea turtle-friendly lights if your property can be seen from the beach. If walking the beach at night, please avoid using flashlights and cell phone lights. If using a flashlight is necessary, please be cautious of your surrounding areas and possible nesting mothers and hatchlings making their way into the ocean.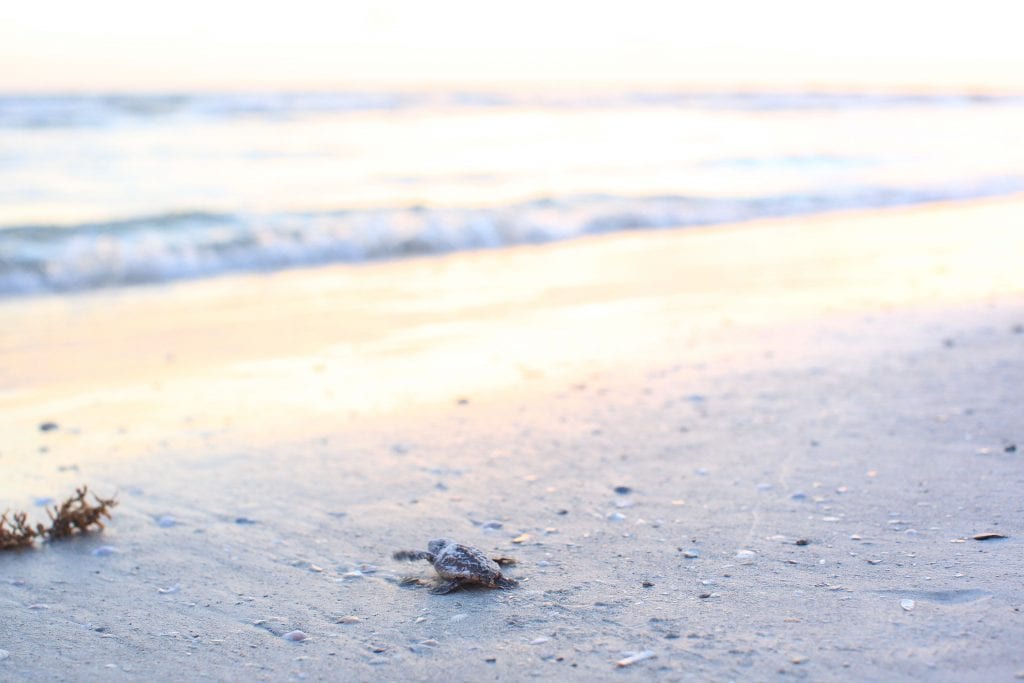 Clear Obstructions on the Beach
Another obstacle hatchlings and nesting mothers have are obstructions on the beach. Please leave the beach surface flat. Knock down all sandcastles and fill in holes. By flattening the beach, you are giving hatchlings and mothers an easier route to the water. Hotels and beachfront properties should also be putting all beach chairs and other beach equipment away after the sunsets. Nesting mothers have been known to become stuck under chairs while trying to enter or leave the beach.
Don't Leave Food or Trash Behind
The journey to the water isn't the only obstacle the hatchlings face. Predators such as raccoons destroy thousands of sea turtle eggs each year and are one of the biggest causes of sea turtle mortality on Florida beaches. When leaving the beach, be sure to remove all food and trash. This leftover food and food wrappers can attract raccoons to the beaches, ultimately leading them to nests full of eggs.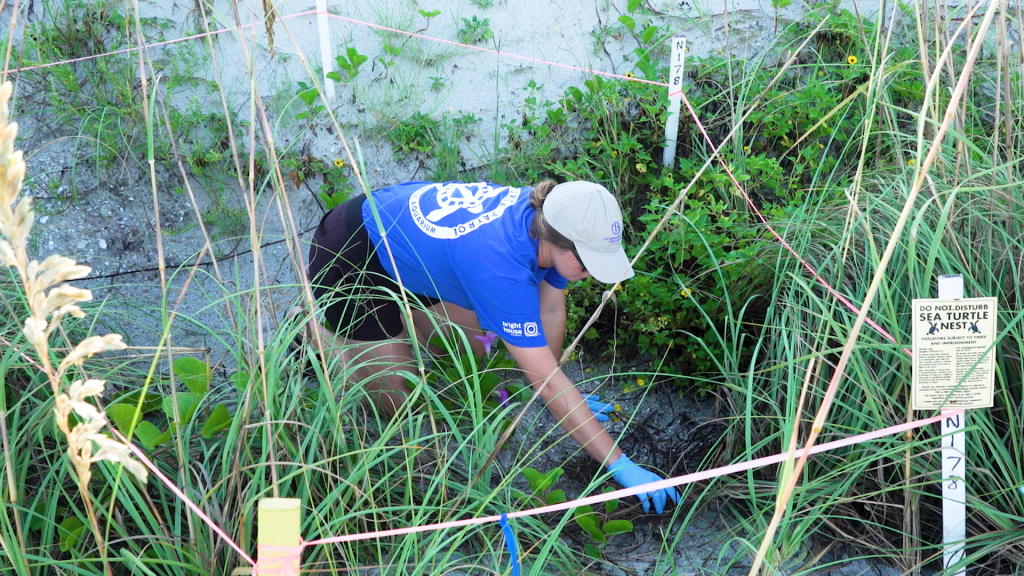 Leave Sea Turtle Nests and Hatchlings Alone
Another way to help hatchlings during nesting season is to not interfere with any nests or hatchlings! There are federal and state laws prohibiting the touching of sea turtles. If you encounter a nest or nesting mother, please leave them alone and call your local stranding hotline or the FWC Wildlife Alert Hotline: 888-404-FWCC (3922). Do not take photos with a flash, do not walk the beach with a flashlight and do not disrupt the tracks left by the mother! The tracks are pivotal to surveyors to know which species laid the eggs.
Clearwater Marine Aquarium discovered the first two sea turtle nests in Pinellas County on May 5! Our Sea Turtle Conservation Program patrols 21 miles of beach and last year we monitored over 250 nests.
---
If you are interested in a sea turtle lighting consultation, please call 727-441-1790 Ext 224 to learn more!
All marine turtle footage taken in Florida was obtained with the approval of the U.S. Fish and Wildlife Service and the Florida Fish and Wildlife Conservation Commission (FWC) under conditions not harmful to marine turtles. Footage was acquired while conducting authorized conservation activities pursuant to FWC MTP-19-263