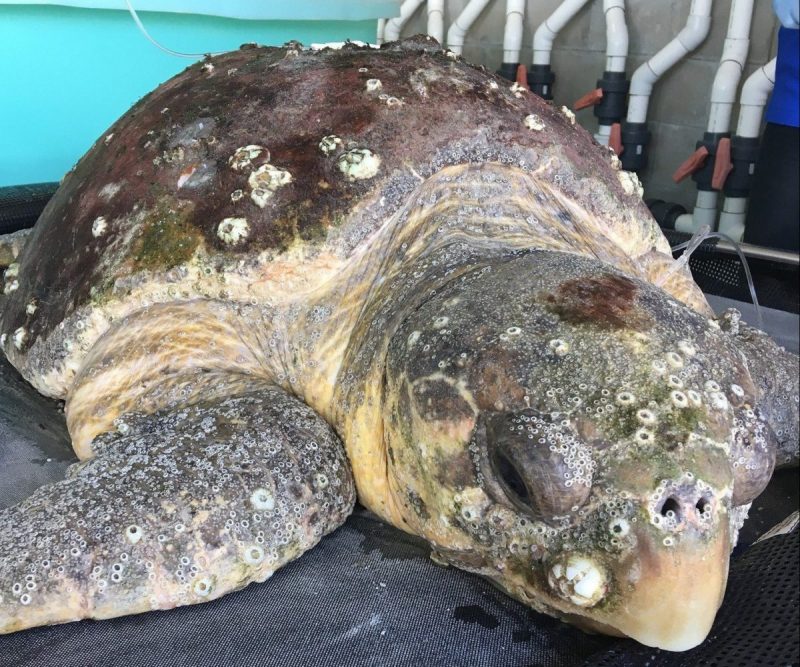 Luna
Sub-Adult, Loggerhead
(Caretta caretta)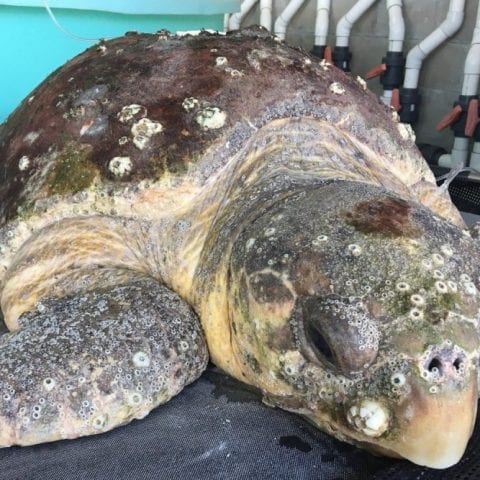 Patient Status

Current

Date Found

April 26, 2020
Location

St. Pete Beach; Pinellas County
Reason for Rescue

Stranded on beach, lethargic
Initial Assessment
Weight

98.9 kg (217.6 lbs)

SCL (Straight Carapace Length)

94.0 cm

Exam Findings

Alert but very lethargic

Initial Treatment

Received vitamins and fluids
Luna Story
Luna is an adult, female loggerhead who was found washed ashore on St. Pete Beach in Pinellas County on April 26. She was very lethargic and was covered with a moderate amount of epibiota. Since nesting season in Pinellas County for loggerheads typically starts in May, an ultrasound was performed to make sure Luna was not a nesting female or carrying eggs. No eggs were seen. Luna's initial treatment consists of vitamin injections and fluids.
Treatment Updates
4.28.20

Luna was placed in one of our shallow ICU pools. She will start on a diet tomorrow after eating a sample diet!

5.3.20

Luna is still considered in critical condition. We are monitoring her swim time. She is still very lethargic.

5.8.20

Luna is eating well on her own. Her diet will be increased!

5.11.20

We are gradually increasing her water level in her ICU pool and monitoring. She was started on oral medications.

5.15.20

Luna is showing more activity in water and is continuing to eat well.

5.26.20

Luna was moved to one of our deeper pools, T1. We are slowly increasing her water level and monitoring. She is continuing to eat well!

6.4.20

Luna has gained around 16 lbs! Fun Fact: She is now eating around 6 lbs of food a day!

6.12.20

Luna is able to be in her pool at full water level all day and overnight! This is very encouraging for her rehab progress!

6.19.20

Luna has gained 16 more lbs! She is doing very well! She is still on oral medications.
---
All marine turtle footage taken in Florida was obtained with the approval of the U.S. Fish and Wildlife Service and the Florida Fish and Wildlife Conservation Commission (FWC) under conditions not harmful to marine turtles. Footage was acquired while conducting authorized conservation activities pursuant to FWC MTP-18-172.