Rough-toothed dolphin rescued after stranding on Longboat Key.
Clearwater, FL (February 13, 2023) – A resilient, young rough-toothed dolphin, is being rehabilitated at Clearwater Marine Aquarium's Fred Howard Park location after the animal was found stranded on Longboat Key last week.
On Friday, Feb. 10 at 6:00 p.m. Clearwater Marine Aquarium (CMA) received a report from NOAA that MOTE Marine Laboratory & Aquarium was responding to a young, female rough-toothed dolphin stranded off Longboat Key. MOTE assessed the animal's health and transported the animal to CMA for rehabilitation at its Fred Howard Park location.
"The dolphin remains in critical condition but is stable and swimming, which is a hopeful sign," said veterinarian Dr. Shelly Marquardt with Clearwater Marine Aquarium. "We are running full health assessments and continue to monitor the dolphin's condition. Our goal is to determine the cause of her stranding and provide the care she needs for rehabilitation."
The veterinary staff at CMA continues to assess what may have caused the stranding. There were reports of beachgoers attempting to push the animal back to the water before trained professionals arrived on the scene.
"This life-saving work is at the core of our mission as a working marine animal hospital, " said CEO Joe Handy. "Our team of experts will provide round-the-clock care. We are steadfast in our efforts to rehabilitate and release this dolphin back to Florida waters. I'm proud of our highly-trained professionals that provide exceptional care on a moment's notice."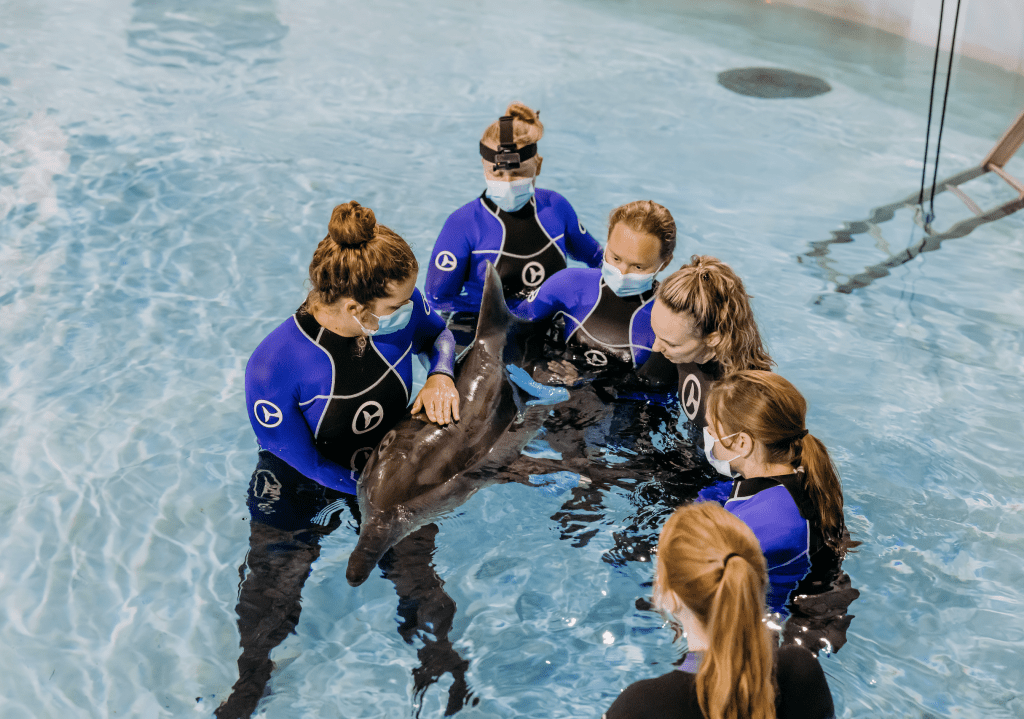 The juvenile rough-toothed dolphin is a female weighing 156 lbs. upon intake and 198 cm. According to NOAA Fisheries, this species can get up to 8.5 feet long, 350 lbs. and have a lifespan of 36 years. Rough-toothed dolphins are usually found in tight-knit groups of 10 to 20 individuals but have been reported in groups of up to 100 individuals. They often associate with other cetacean species, including short-finned pilot whales, bottlenose dolphins, pantropical spotted dolphins, and spinner dolphins.
If you see a marine mammal in distress, it's important to remember not to intervene, and call trained responders at (877) WHALE-HELP. Please remain at a safe distance, and if conditions allow, take photos to share with biologists once they arrive on scene.
This is the first dolphin to be rehabilitated at CMA's Fred Howard Park rehab facility since 2020, when Rudolph, another rough-toothed dolphin, was transported and rehabilitated there.
MEDIA CONTACT Andrea Alava, Clearwater Marine Aquarium, media@cmaquarium.org.
###
About Clearwater Marine Aquarium

Clearwater Marine Aquarium (CMA) is a 501(c)(3) nonprofit working marine rescue center dedicated to inspiring the human spirit through leadership in education, research, rescue, rehabilitation and release. With a mission to preserve the environment and its marine life, CMA is home to rescued dolphins, sea turtles, river otters, stingrays, a nurse shark and more. Through Clearwater Marine Aquarium Research Institute, CMA conducts important global research focused on protecting manatees, North Atlantic right whales and sea turtles. Major motion picture Dolphin Tale (2011) and its sequel Dolphin Tale 2 (2014) features the true stories of rescued resident dolphins Winter and Hope, inspiring millions around the world. The mission and potential to change people's lives differentiates Clearwater Marine Aquarium from any other aquarium in the world.
© 2022 Clearwater Marine Aquarium | 249 Windward Passage, Clearwater, FL 33767 | 727-445-1139 | 727-441-1790 | mission.cmaquarium.org | cmaquarium.org

We believe in preserving our environment while inspiring the human spirit through leadership in the rescue, rehabilitation, and release of marine life; environmental education; research; and conservation.
A Florida non-profit 501(c)(3) organization