CMARI Scientists Follow Manatees to Ensure Successful Releases.
Clearwater, FL (February 16, 2023) – Clearwater Marine Aquarium Research Institute (CMARI) satellite tagged 18 rehabilitated manatees that were released by the Manatee Rescue and Rehabilitation Partnership (MRP) at three different sites in Florida between Feb. 10 and Feb. 17 – a busy start to manatee tracking for 2023. CMARI researchers and biologists monitor rehabilitated manatees post-release to ensure they are adapting well to the wild. The public may follow the movements of the recently released manatees on MRP's tracking website https://www.manateemap.org/
"Tracking manatees after they are rehabilitated and released allows us to monitor each individual manatee's progress and help ensure they are adapting OK to being back in the wild," said Jennifer Galbraith, a research scientist with CMARI's manatee research program. "We assess body condition, behavior, movements, and location. This way we can help keep all our partners updated and together make informed decisions on whether a particular manatee needs additional human intervention."
CMA Research Institute is a member of the MRP, a cooperative group of more than two dozen organizations and governmental agencies that pool resources to rescue, rehabilitate and release manatees back into their natural habitat. Each year many manatees are injured or become sick and are rescued and treated at critical care facilities. Exposure to red tide, cold stress, and disease are all natural problems that can affect manatees. Man-made threats include boat strikes, pollution, and habitat loss. Numerous manatees released this month were rescued as orphaned calves within the area of the manatee unusual mortality event (UME), which left thousands of animals malnourished and starving. Under the expert care of a dedicated network of partners, these manatees were given a second chance at life after receiving rehabilitative care at various MRP partner organizations.
CMARI scientists not only monitor rehabilitated manatees as partners in the MRP but study the movement patterns of tagged wild manatees throughout the southeast United States and Caribbean to better understand changing migration patterns and shifts in habitats selected for survival within the manatee population overall. Dr. James "Buddy" Powell, chief zoological officer for CMA, has worked to protect manatees around the globe for more than 50 years through hands-on field study and scientific research.
"It's important for us to understand where manatees are moving to and why," said Dr. Powell. "Documenting patterns of use at less-studied manatee wintering locations and understanding foraging habits can help influence policy and protections for ecosystems. The more we know about where manatees go and why, the more successful we will be as a community at protecting them."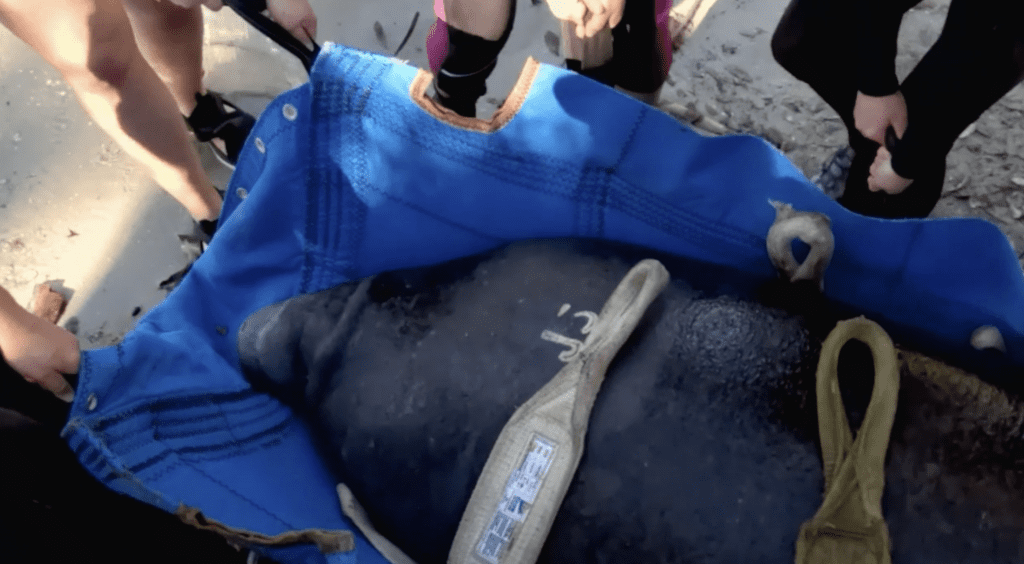 February 10 Releases: TECO Power Plant, Apollo Beach, Fla.
Cherrysota
February 13 Releases: Blue Spring State Park, Orange City, Fla.
Alby
Asha
Bianca
Ferret
Finch
Guppy
Inigo (tagged for CMARI research, not MRP)
Lil Peep
Manhattan
Maximoff
Reece
Scampi
Swimshady
February 14 Releases: Crystal River, Fla.
Adobe
Einstein
Kelis
Maverick
February 17 Release: TECO Power Plant, Apollo Beach, Fla.
Aria
MEDIA CONTACT Andrea Alava, 813-453-8162, Clearwater Marine Aquarium, media@cmaquarium.org.
###
About Clearwater Marine Aquarium

Clearwater Marine Aquarium (CMA) is a 501(c)(3) nonprofit working marine rescue center dedicated to inspiring the human spirit through leadership in education, research, rescue, rehabilitation and release. With a mission to preserve the environment and its marine life, CMA is home to rescued dolphins, sea turtles, river otters, stingrays, a nurse shark and more. Through Clearwater Marine Aquarium Research Institute, CMA conducts important global research focused on protecting manatees, North Atlantic right whales and sea turtles. Major motion picture Dolphin Tale (2011) and its sequel Dolphin Tale 2 (2014) features the true stories of rescued resident dolphins Winter and Hope, inspiring millions around the world. The mission and potential to change people's lives differentiates Clearwater Marine Aquarium from any other aquarium in the world.
© 2023 Clearwater Marine Aquarium | 249 Windward Passage, Clearwater, FL 33767 | 727-445-1139 | 727-441-1790 | mission.cmaquarium.org | cmaquarium.org

We believe in preserving our environment while inspiring the human spirit through leadership in the rescue, rehabilitation, and release of marine life; environmental education; research; and conservation.
A Florida non-profit 501(c)(3) organization