In celebration of International Day of Women and Girls in Science on Feb. 11, Clearwater Marine Aquarium is recognizing the critical role women and girls play in science and technology by featuring a few of our own staff members this week. These are four of the many amazing women leading the way in science and inspiring the next generation at CMA.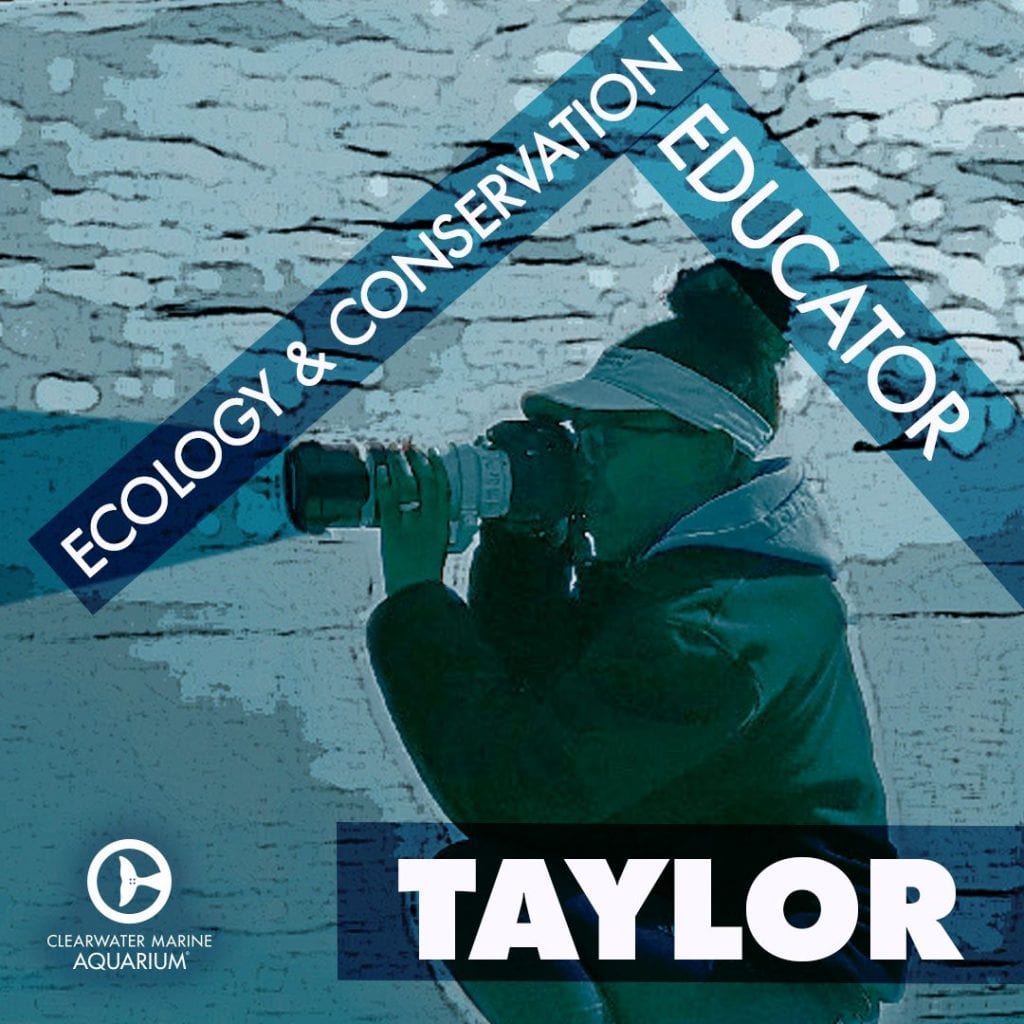 Taylor Reece
As Team Lead for Clearwater Marine Aquarium's Education division, Taylor Reece's day is never the same – and that's the way she likes it. From cataloging wild dolphins in Clearwater Bay through CMA's dorsal fin ID program, to teaching a group of children in a summer camp program, Taylor likes to be busy.
How did you find your way to CMA?
After graduating from Northwest Missouri State University with a degree in wildlife ecology and conservation, I decided to take a vacation to Clearwater Beach with the intention of visiting CMA. When I came, I immediately started asking how I could become an intern. In 2016 I became an intern and I haven't looked back since.
Why did you choose the education side of work?
I truly love the opportunity education provides to inspire young minds. Many of the kids we have in our summer camps return year after year, and it's so incredible to see the impact we've made on their development. Even I am able to learn something new almost every day, and for that I am so grateful.
What advice do you provide the students?
No question is a dumb question! I encourage our campers to always ask questions because you never know where the answer may lead. I also suggest they take advantage of every experience to make connections and learn something new. The more questions you ask and the more connections you make, the closer you will get to your goals.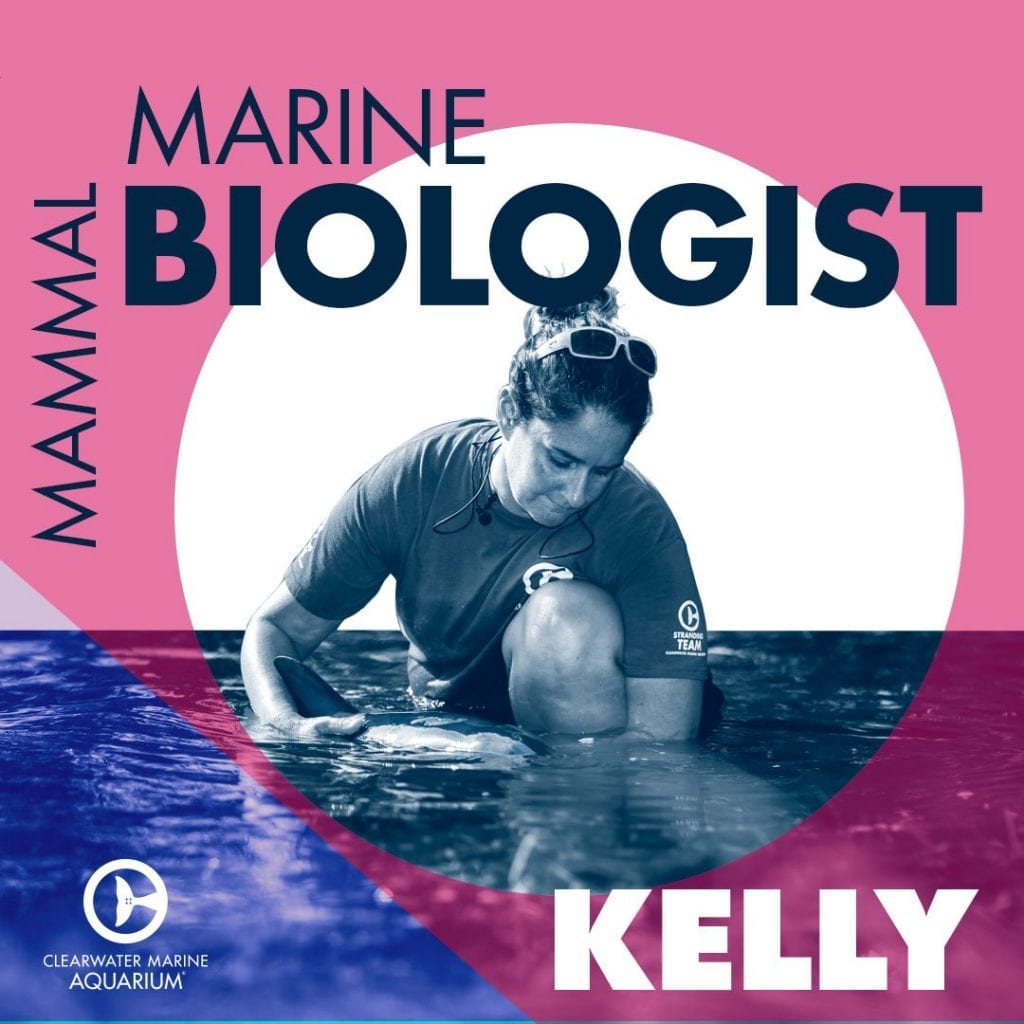 Kelly Martin
Kelly Martin is the Director of Animal Care overseeing the health and well-being of all the animals for Clearwater Marine Aquarium. After getting her degree, Kelly held a position at the Mirage, Las Vegas before transitioning to Discovery Cove in Orlando. There she worked with Atlantic bottlenose dolphins for six years before moving to Atlantis, Bahamas to start an interactive program as Director for Dolphin Cay.
What do you like most about your career?
After 20 years, I continue to learn and be inspired by those I work with every day. When I began as an intern preparing fish, I remember my grandmother asking me when I would get a real job. Now, here I am working to save marine mammals and endangered sea turtles and educating the public about ways to reduce the human impact on the species. It's an overwhelming feeling to know that what you do is bigger than you and your original career goals.
What piece of advice would you give to someone thinking of starting a career in animal care?
Always work to broaden your scope. You may be passionate about one species, or a particular part of the career field, but if you expand your horizons and continue to learn, you never know where your career will take you and the impact you will make.
What is your favorite memory at CMA?
The collaborative efforts that are made to make a difference in an animal's life! Whether it is Winter and the research efforts with her therapy and tail, the community support and networks of individuals who helped release the five pilot whales back out into the ocean, or the municipalities and governmental agencies who work in partnership to reduce the human footprint to save our sea turtles, it is a team effort that makes the difference for animals who wouldn't otherwise have a voice!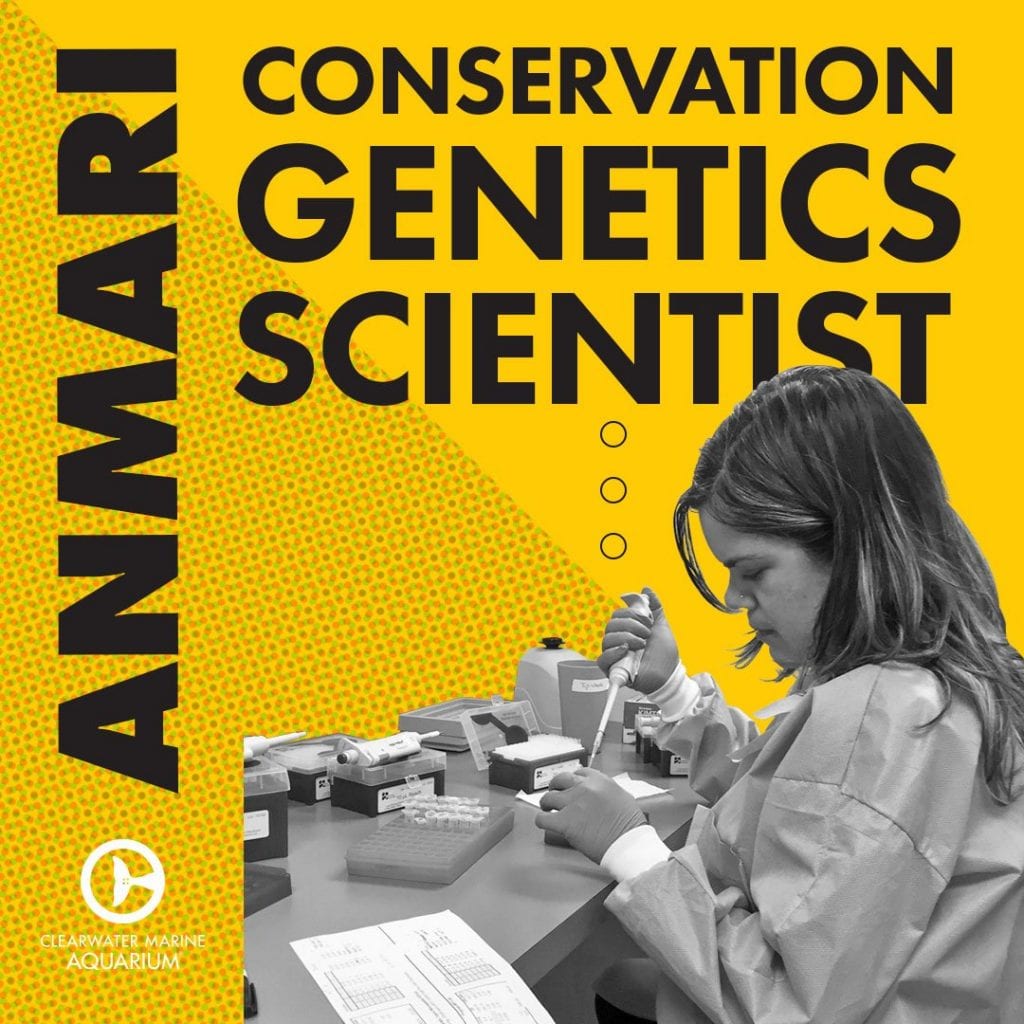 Anmari Alvarez Aleman
In 2019, Anmari Alvarez Aleman gained her PhD from the University of Florida, focusing on the endangered Antillean manatee in Cuba. Despite the importance of the manatee population in Cuba within the Antillean region, it has been reported that there has been a decrease in the number of individuals and at the same time an increase in the number of threats that impact the species. Anmari's focus is on conducting large-scale genetic analysis on the West Indian manatees and other regional populations to develop a Caribbean-wide model of population phylogeographic structure, for a better understanding of Cuba's position in the regional dynamics. With a better understanding of dispersal, gene flow, size of the populations, reproductive success and reproduction strategies, as well as the critical habitats of the manatee in Cuba, Anmari is hoping to provide recommendations for conservation actions and management plans of critical protected areas throughout the country.
What most excites you about your work?
That I get to practice science and contribute to saving marine mammals from extinction at the same time!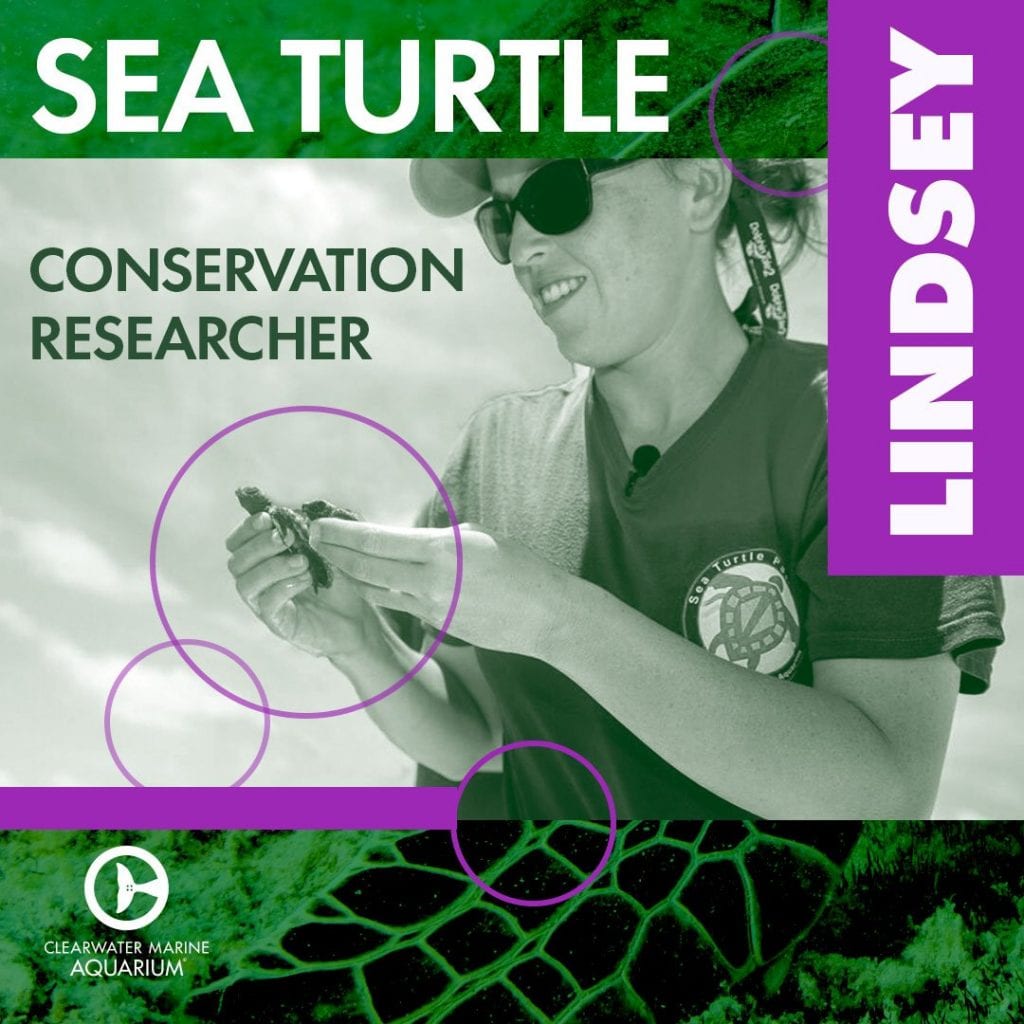 Lindsey Flynn
Supervisor of Clearwater Marine Aquarium's Sea Turtle Conservation Program, Lindsey Flynn has been patrolling the beaches of North Pinellas County since 2014 documenting every sea turtle activity. She earned her Master's in Marine Science at the University of South Florida with a focus on sea turtles – shortly after graduation Lindsey came to work at CMA.
What does your day look like during nesting season (May 1 – Oct. 31)?
Beginning April 15 our team starts patrolling the beach for sea turtle activity. We start our day about 30 minutes before sunrise. We're looking for evidence of any sea turtle nests, we monitor existing nests for any signs of vandalism or predation, we preform nest inventories to determine their success rate, and we also do a lot of community outreach while on the beaches. People are curious about our work and what they can do to help ensure a successful nesting season. Our team is diligent to record every activity. Once we are off the beach, we collect all the day's data and send it to the Florida Fish and Wildlife Conservation Commission.
What do you tell the curious beachgoers about how they can help?
For locals, we inform them about sea turtle-friendly lighting. That's probably our biggest challenge at the moment. For tourists, we ask them to knock down any sand castles, remove their beach furniture, fill holes, dispose of trash properly, and to not use unnecessary lights (like cell phones and flashlights) so as to not disorient the hatchlings.
What is your favorite CMA moment?
In 2015 we rescued more than a dozen hatchlings and rehabilitated them back to health. When it came time to release them, they did not have enough energy reserves from their yolk to make it out to the sargassum – where many species call home including sea turtles. So, I was part of the team that went 95 miles offshore to deliver the hatchlings to their home. It was incredible!
---
Discover how your child can become more involved in marine science and conservation by signing up for our Marine Academy or Summer Camp programs.