Leesburg Left Us Invaluable Lessons for Manatee Research and Conservation
The discovery and rescue of one individual manatee in Lake County, Florida provided researchers valuable years of data collection and observations tracking the movement of this threatened species throughout the chain of lakes and waterways surrounding the Ocklawaha River system. During that time, researchers, rescuers and the community of citizens involved in monitoring the manatee named "Leesburg" grew a strong connection to the animal. They saw her return to the wild after being rescued, navigate through the seasons, impacted by several boat strikes, become pregnant and give birth to a calf, before eventually passing away in 2020 due to a final boat strike wound. The story of those events is well documented by researchers and provides a lasting lesson on the importance of research and conservation efforts to protect manatees and their habitats.
During the summer of 2015, Florida Fish and Wildlife Conservation Commission (FWC) began receiving reports of a manatee in Lake Harris, Leesburg, Lake County. Through photos obtained by citizens at the time of their sightings, it was determined there were actually two sub-adult to adult size manatees in the upper chain lake system of the Ocklawaha.
Finding Leesburg in Winter
As the public sightings continued to roll in during late fall, concerns increased as it appeared there might not be adequate warm water in the area for manatee survival through a winter. There were also concerns regarding the manatees' ability to travel north back through the three lock systems they had traversed in spring to get to the chain of lakes. Flyers were placed at local marinas and boat ramps by FWC volunteers asking the public to keep a look out for the animals and to report their sightings right away to the FWC Wildlife Hotline number (1-888-404-3922). On August 19, 2015, the body of a medium sized adult male was recovered at the Moss Bluff Lock. The cause of death was not determined because his carcass was too decomposed at recovery, but it did not have any obvious signs of trauma.
During January and February, a single manatee was still being reported in the chain of lakes system. On Valentine's Day 2016, a manatee was reported in the Venetian Gardens canals. FWC, Clearwater Marine Aquarium Research Institute (previously Sea to Shore Alliance) and Save the Manatee Club responded and rescued the manatee before noon. The manatee was a female, in very poor condition, with extensive cold stress over her entire body. Her condition was considered critical with many of her rescuers not expecting her to survive. She was transported to Zoo Tampa (previously Tampa's Lowry Park Zoo), one of only four manatee critical care facilities, to rehabilitate from her cold stress. She received extensive care at the zoo for almost three months and received the name "Leesburg" after the closest location where she was rescued.
Releasing Leesburg With GPS Tracking Gear
On May 11, 2016, "Leesburg" was released into the St. Johns River at Welaka, Putnam County. The release site was chosen because it was fairly close to the entrance of the Ocklawaha River system, an area "Leesburg" would have passed previously, placing her back in a familiar area for navigation.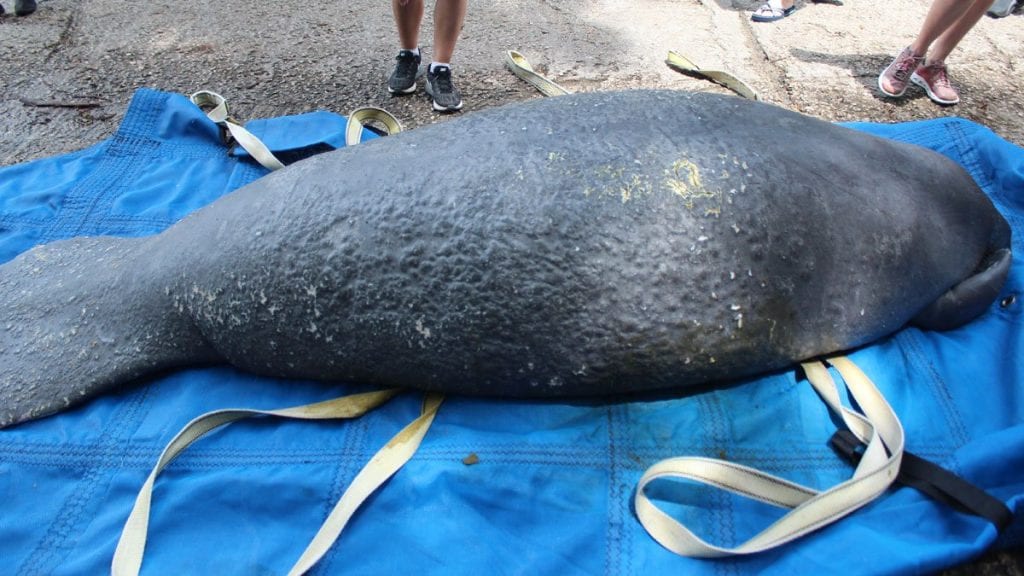 She weighed 1,100 pounds and was just under 9 feet long at release – considered a small adult just reaching the age length of becoming reproductively active. "Leesburg" was outfitted with manatee tracking gear, which contained a GPS tag, so researchers from Clearwater Marine Aquarium Research Institute (CMARI) could monitor her activities if she moved back into the Ocklawaha system.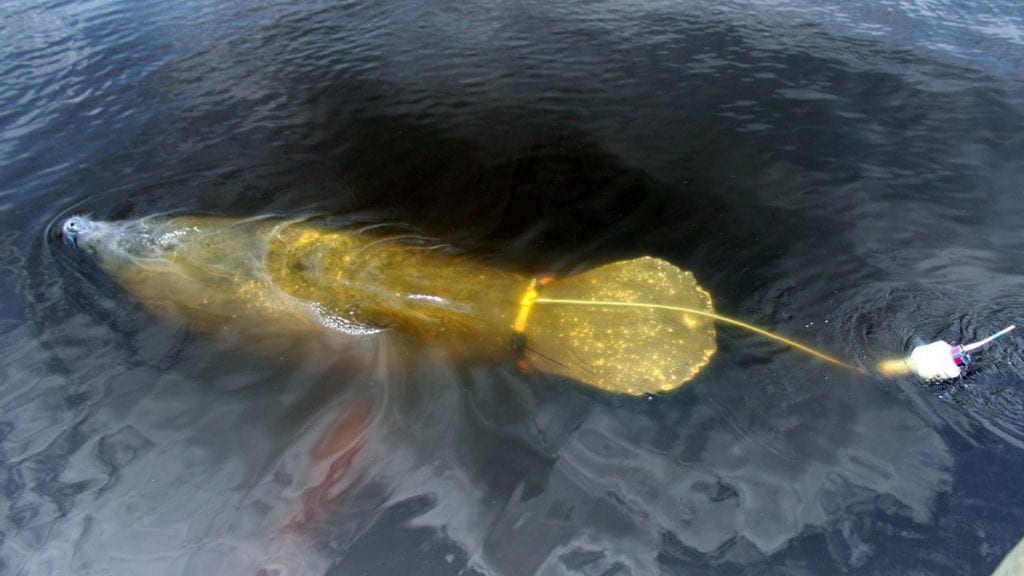 The First Manatee Tracked in the Ocklawaha River System
"Leesburg" was the first manatee tagged for CMARI's Ocklawaha Manatee Use Study with the goal to obtain the first ever manatee movement and habitat distribution use within the Ocklawaha system to assist with identification of feeding locations, resting locations and movement parameters.
She moved to the Buckman Lock and was locked through just two days after her release. Her movement in the Ocklawaha basin from May to September suggested she was very familiar with the system, finding ample amounts of food to feed on and socializing with other manatees. "Leesburg" began to travel south up the Ocklawaha on September 28, 2016, and was locked through the Moss Bluff lock on September 30, 2016. She reached Lake Griffin on October 1, 2016, and moved through the Burrell Lock on October 10, 2016, reaching Lake Harris that same day. "Leesburg" moved between Lake Harris and Lake Denham for several days before returning to Lake Griffin on October 22, 2016.
During the late hours of Halloween 2016, the GPS tag incurred damage from an alligator bite causing it to partially fill with water and sink just below the water column. This stopped all routine transmissions on the location of "Leesburg", but researchers were able to continue tracking her with some additional equipment inside the belt around her peduncle.
Tracking Leesburg Through Another Winter
As winter set in, "Leesburg" remained in the lake chain of Lake Griffin, Lake Eustis and Lake Harris feeding on primarily hydrilla and coontail (submerged vegetation). CMARI researchers were having a very difficult time changing out her malfunctioning tag because of her avoidance behavior but on December 16, 2016, a new tag was exchanged. "Leesburg" was confirmed at that time to be in great condition with no cold stress apparent on her body. Due to the mild winter conditions in December, no concern was indicated at that time.
"Leesburg's" movement over the next few weeks indicated she was utilizing the entire Lake Harris and Little Lake Harris shoreline, while also utilizing Palatlakaha and Mooring Cove springs during cold fronts. This was wonderful news since it was not previously clear if she had knowledge of where to go for warm water during a cold front.
Unfortunately, the day after Christmas, December 26, 2016, all of her tracking gear fell off, ending her GPS monitoring option for the season. This did not stop CMARI staff. Since we had obtained valuable information on manatee habitat use of the area, we were able to routinely monitor specific springs to help with the health assessment of "Leesburg" through the winter. CMARI had formed a great network of citizens that either ventured out on their boats on a routine basis or lived by the water and could report their sightings of manatees for additional monitoring of "Leesburg" activity. Two "Leesburg" sightings were collected or reported almost weekly to the FWC Wildlife Hotline number or to CMARI staff through the end of March.
Evidence of Boat Strikes and More Manatee Sightings in Lakes
From photos citizens also obtained, CMARI was able to confirm "Leesburg" had been hit by a boat on three separate incidents while in the Lake Eustis and Lake Harris. Public visuals of manatees in the chain of lakes increased in April through May 2017, with up to three manatees confirmed in the system at a given time. "Leesburg" was reported and confirmed from photo-identification to have utilized Lake Harris, Lake Eustis, Lake Dora and Lake Beauclair from March to May with the last confirmed visual reported on May 20, 2017, in Lake Eustis. A report was received at the FWC Wildlife Hotline on July 1, 2017, of a manatee with a calf in Lake Eustis but no photos were provided to confirm it was "Leesburg".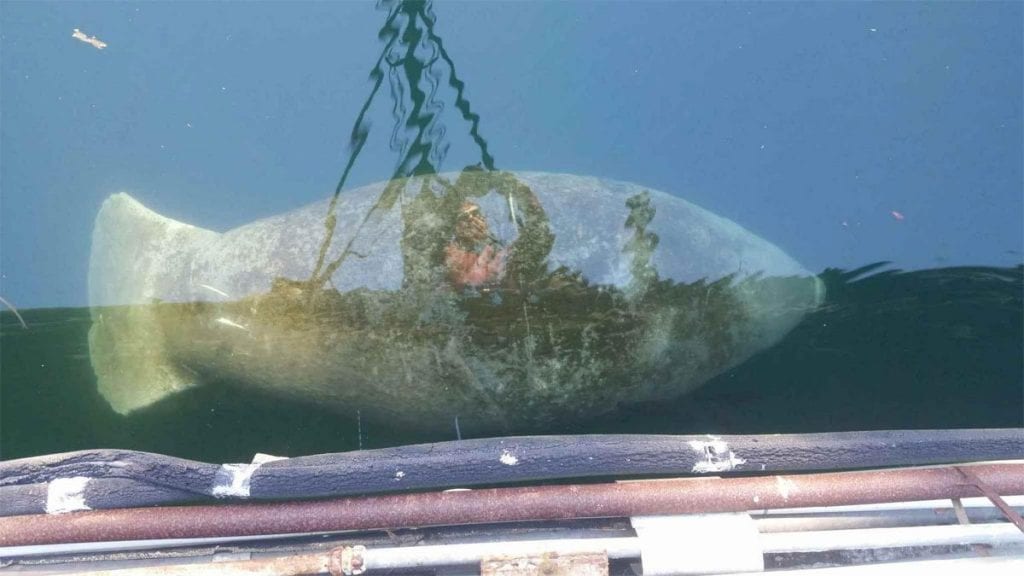 Leesburg Confirmed Pregnant in 2017
CMARI researchers did try several times to retag "Leesburg" but her avoidance behavior inhibited efforts. However, during one of their attempts, she was visually confirmed to be pregnant. Manatee gestation period is 12-13 months. Adding a year to her release date and another month before she was observed in close proximity to more than one male manatee, her birthing date was estimated to occur between mid-June to mid-July 2017.
CMARI researchers monitor several springs along the St. Johns River for manatee use throughout the winter months. Leesburg was resighted at a small spring in the St. Johns River on January 5, 2018. With great enthusiasm from researchers, she was documented with a small calf and both were in great condition.
Leesburg and Baby Sunset Seen Swimming in Silver River
CMARI began a manatee use study in April 2018 to establish the suitability of Silver River as a viable and sustainable wintering habitat for the Florida manatee and subsequently how the species might be using the system during warmer times of the year. During a survey on September 13, 2018, "Leesburg" and her calf "Sunset" were documented swimming up the Silver River and they joined up with "Trevluc", the second manatee tagged for the Ocklawaha Manatee Use Study. "Leesburg and Sunset" were seen monthly in Silver River through March 2019, using Silver River as their warm water refuge for winter.
Leesburg Found Pregnant Again and With Another Boat Strike Injury
"Leesburg" was not seen again until December 4, 2019, using Silver River as her warm water refuge for winter. She appeared to be very pregnant, intensely feeding on submerged vegetation, acting normal but displaying a new boat strike scar, a linear mark on her right side.
A citizen contacted CMARI and FWC on January 9, 2020 with a report of a manatee floating high on its right side at the mouth of Silver River. The manatee was tucked up on the bank not moving but still alive. CMARI staff responded the next morning to confirm the location and condition of the manatee while FWC deployed a rescue crew. While waiting for the rescue crew to arrive, CMARI staff were monitoring the manatee's behavior and obtained photo-identification of the scar patterns to help with the identification of the animal. They determined the manatee struggling to breathe was "Leesburg".
Tragic Loss But a Lasting Legacy
The rescue crew were able to capture "Leesburg" but she passed away before they reached the boat ramp to take her to a critical care facility. FWC performed a necropsy at the Marine Mammal Pathobiology Laboratory in St. Petersburg, FL on January 10, 2020. They reported the probable cause of death was Human Related: Watercraft Collision. "Leesburg" had a chronic healing watercraft wound with numerous fractured ribs and vertebral separations. They also confirmed she had a near full term male calf inside of her when she died. Upon examination of the scar photos obtained on December 4, 2019, to her necropsy findings, it is believed she had been suffering from a boat strike injury for over a month before she succumbed to her injuries.
The death of "Leesburg" has been heavy on the people and community that helped rescue her back in 2016 and all those that followed her story in subsequent years. Even though "Leesburg" was killed by human interaction, her story inspired so many to learn more about manatees. Her journey will live on by the invaluable movement data she provided researchers and residents that live and play on the Ocklawaha waterways, all the way down to Leesburg, Florida.
---
Contributed by Monica Ross, Senior Research Scientist, Clearwater Marine Aquarium Research Institute. All manatee research was conducted under USFWS Research Permit #MA37808A.