Amigos de Las Tortugas program choses Acapulco location as first to receive education course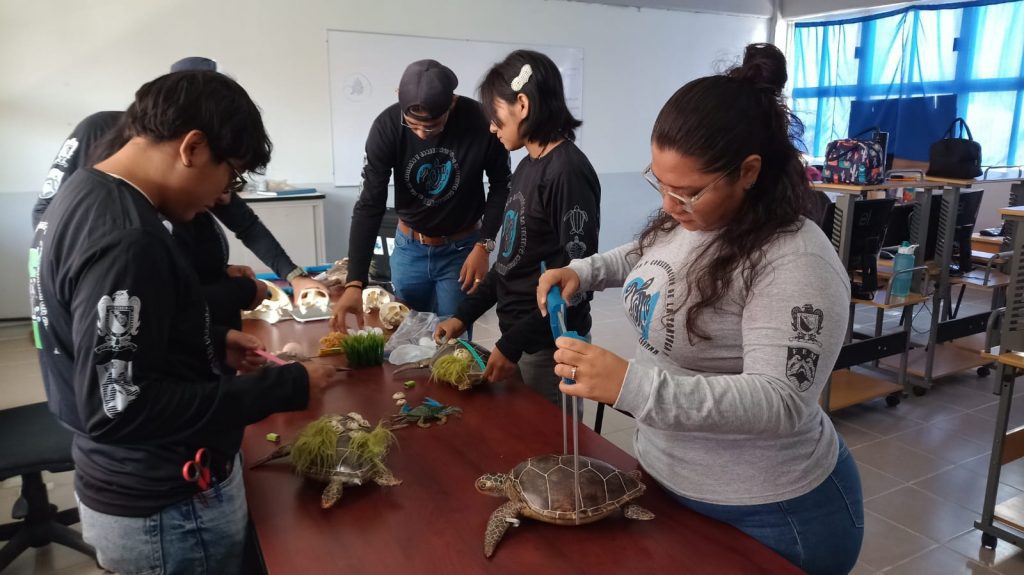 CLEARWATER, FL (JULY 11, 2023) Clearwater Marine Aquarium announces the international expansion of its Amigos de Las Tortugas program, a collaborative initiative with Inwater Research Group. This ecologically important educational program, aimed at promoting sea turtle conservation, has now reached the shores of Acapulco, Mexico.
For years, Yvette Fernandez, a dedicated sea turtle biologist at CMA, has been tirelessly traveling across Florida, bringing her educational workshops to Spanish-speaking students and their families. With the Amigos de Las Tortugas program, Fernandez has successfully conducted 56 workshops across nine school districts in the state. However, her passion for conservation led her to seek opportunities beyond borders.
Thanks to the support of Inwater Research Group, Fernandez's dream of expanding the program internationally has become a reality. More than a dozen organizations applied for the grant to implement the conservation-based education program, but ECOMAR UAgro stood out due to its significant involvement in the community and its efforts to educate citizens about the importance of protecting sea turtles.
Last month, ECOMAR UAgro, an organization dedicated to sea turtle conservation in Acapulco, taught its first Amigos de Las Tortugas workshop to a group of 32 students from the faculty of Marine Ecology at the University of Guerrero. The participants actively engaged in an hour-long workshop, where they learned about the significance of sea turtles through hands-on instruction using real scientific tools and sea turtle models.
"This partnership with ECOMAR UAgro is just the beginning of our global efforts to educate underrepresented and underserved Spanish-speaking communities about sea turtle conservation," said Fernandez. "We envision our program becoming a staple in coastal communities worldwide, driving conservation through citizen engagement."
The Acapulco region is home to various sea turtle species, including the olive ridley, green, and hawksbill turtles. Unfortunately, these magnificent creatures face numerous human-related threats, such as the consumption of their meat and eggs. By providing hands-on programming and sharing vital sea turtle information, the Amigos de las Tortugas program aims to inspire local citizens to make impactful conservation changes within their communities.
Rebecca Mott, scientist and director of education for Inwater Research Group emphasized the program's tailored approach, stating, "Their issues are vastly different from what we're teaching here in
Florida." This customized approach ensures that the workshops address the specific challenges faced by the communities they serve.
Clearwater Marine Aquarium and Inwater Research Group are committed to expanding the Amigos de Las Tortugas program further, reaching more Spanish-speaking communities worldwide. Through education and citizen engagement, they hope to foster a deep appreciation for sea turtles and drive positive change for their conservation.
For more information about the Amigos de Las Tortugas program and Clearwater Marine Aquarium's conservation efforts, please visit www.cmaquarium.org.
MEDIA CONTACT Marsha Strickhouser, (727) 242-0770, Clearwater Marine Aquarium, mstrickhouser@cmaquarium.org.
###
About Clearwater Marine Aquarium

Clearwater Marine Aquarium (CMA) is a 501(c)(3) nonprofit working marine rescue center dedicated to inspiring the human spirit through leadership in education, research, rescue, rehabilitation and release. With a mission to preserve the environment and its marine life, CMA is home to rescued dolphins, sea turtles, river otters, stingrays, a nurse shark and more. Through Clearwater Marine Aquarium Research Institute, CMA conducts important global research focused on protecting manatees, North Atlantic right whales and sea turtles. Major motion picture Dolphin Tale (2011) and its sequel Dolphin Tale 2 (2014) features the true stories of rescued resident dolphins Winter and Hope, inspiring millions around the world. The mission and potential to change people's lives differentiates Clearwater Marine Aquarium from any other aquarium in the world. CMAquarium.org.
© 2023 Clearwater Marine Aquarium | 249 Windward Passage, Clearwater, FL 33767 | 727-445-1139 | 727-441-1790 | mission.cmaquarium.org | cmaquarium.org

We believe in preserving our environment while inspiring the human spirit through leadership in the rescue, rehabilitation, and release of marine life; environmental education; research; and conservation.
A Florida non-profit 501(c)(3) organization