From May to October, CMA biologists monitor 21 miles of beach to protect nesting sea turtles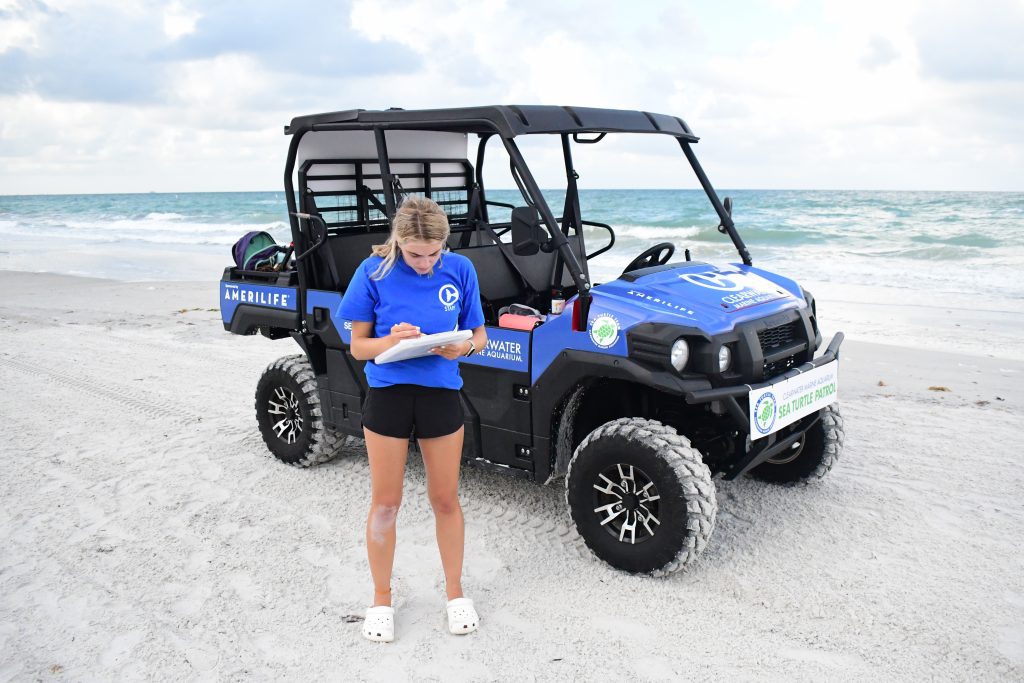 CLEARWATER, FL (Nov. 1, 2023) – While sea turtle nests documented on the east coast of Florida were up overall according to reports, Clearwater Marine Aquarium saw a decrease in turtle nests this year.
227 nests were observed this year (compared to 313 last year)
240 false crawls
There were 75 nests before Hurricane Idalia and the team was only able to recover 14 after the hurricane.
"Unfortunately, the nests pre-Idalia were almost all lost due to the high tides and flooding on our barrier islands," according to Carly Oakley, senior biologist of the Sea Turtle Conservation Program at CMA.
"In addition, in Pinellas County, we were expected to have a lower nesting year," said Oakley. "We believe that our nesting females here tend to be on a three-year cycle. Female sea turtles lay multiple nest in one season. In each nest there can be anywhere between 80-120 eggs in each nest. After the season they tend to take a one to two-year break in between breeding seasons. The nesting process is very exhausting and, in this break, females regain the energy necessary to do the process again. That being said, we have a smaller population of nesting females this year as compared to other years."
But there's positive news as well. "Even though we had a lower nest number, we saw a great hatch success from all of our nests this season and we were able to help approximately 12,000 hatchlings make it out and to the water," according to Oakley. In addition, sea turtle biologists found two green turtle nests on the beach this season, along with the loggerheads they primarily see.
This year's biggest challenge: Responding to disorientation events – nearly 100 were observed. Pinellas County is one of the most densely populated counties in Florida for humans making artificial lighting a constant challenge for nesting sea turtles. Education is key to reaching tourists and the new Florida residents gained daily."We are still seeing problems with our artificial lighting in our area," said Oakley. "We may not have had as many nests but we did still have a lot of hatchling disorientations this season. This season we had over 100 disorientation events with not just hatchlings but also nesting females."
"We are learning every year how important education to the public is about our nesting sea turtles and what they can do to help even though they themselves cannot physically handle the turtles," she said. "Our patrollers spend quite a bit of time not only responding to our daily sea turtle duties but also educating our beachgoers on ways they can help out our sea turtles."
Those ways to help sea turtles include simple things such as knocking down sand castles and filling in sand holes after a day on the beach."Those things can make a big difference to our sea turtles. One quote to live by is leave nothing but your footprints in the sand. Even items such as leftover beach chairs and tents can be detrimental to our nesting females and cause them to choose to not nest but instead head back to the water," Oakley said.
Also educating home owners and beach goers about making sure all lights are turned off or shades are drawn during turtle season is very important."By keeping our beaches dark creates a big help in preventing the disorientation of hatchlings and nesting females. Another educational tool we use is promoting the use of red lights on the beach during nesting season including red light flashlights. This wavelength is harder for turtles to see and will be less likely to disturb our nesting females.
The most important thing to remember is to always call your local stranding hotline if you see hatchlings headed in the wrong direction or if you see anyone harassing a nesting female."There is always someone on call 24/7 and ready to respond to any event that's needed," Oakley said. The CMA number is (727) 441-1790, ext. 1.
All marine turtle footage taken in Florida was obtained with the approval of the U.S. Fish and Wildlife Service and the Florida Fish and Wildlife Conservation Commission (FWC) under conditions not harmful to marine turtles. Footage was acquired while conducting authorized conservation activities pursuant to FWC MTP-22/23-013 and MTP-22/23-263.
MEDIA CONTACT: Marsha Strickhouser | mstrickhouser@CMAquarium.org | (727) 242-0770
###
About Clearwater Marine Aquarium

Clearwater Marine Aquarium (CMA) is a 501(c)(3) nonprofit working marine rescue center dedicated to inspiring the human spirit through leadership in education, research, rescue, rehabilitation and release. With a mission to preserve the environment and its marine life, CMA is home to rescued dolphins, sea turtles, river otters, stingrays, a nurse shark and more. Through Clearwater Marine Aquarium Research Institute, CMA conducts important global research focused on protecting manatees, North Atlantic right whales and sea turtles. Major motion picture Dolphin Tale (2011) and its sequel Dolphin Tale 2 (2014) features the true stories of rescued resident dolphins Winter and Hope, inspiring millions around the world. The mission and potential to change people's lives differentiates Clearwater Marine Aquarium from any other aquarium in the world. CMAquarium.org.
© 2023 Clearwater Marine Aquarium | 249 Windward Passage, Clearwater, FL 33767 | 727-445-1139 | 727-441-1790 | mission.cmaquarium.org | cmaquarium.org

We believe in preserving our environment while inspiring the human spirit through leadership in the rescue, rehabilitation, and release of marine life; environmental education; research; and conservation.
A Florida non-profit 501(c)(3) organization