Amazing recipients won for positive impact on community and stories of hope and perseverance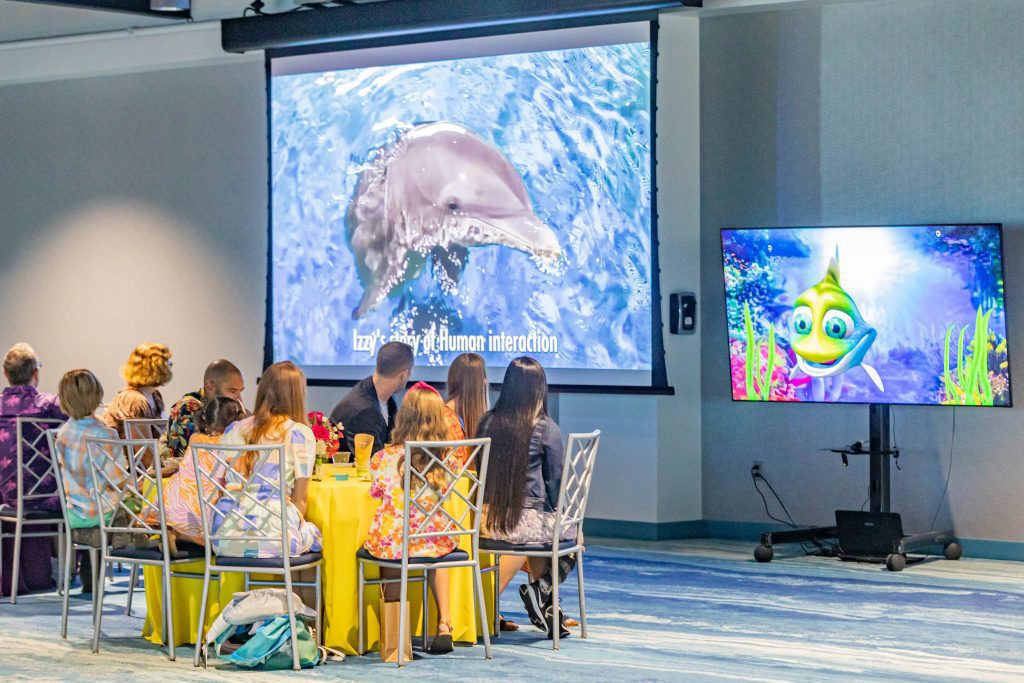 CLEARWATER, FL (Nov. 8, 2023) – It was a magical afternoon as five amazing young people received awards for overcoming challenges and sharing their stories of hope at Clearwater Marine Aquarium on Saturday, Nov. 4. The awards celebrated uniqueness, diversity and inclusivity by honoring the guests of CMA's Inspire Program at the Second Annual Inspire Awards. Recipients were praised for conquering their own challenges while making a positive impact in their community.
CMA started its Inspire Program in 2008 due to the overwhelming amount of guests who were taken with the story of Winter the dolphin and other rescued marine life. As CMA continues its mission of rescue, rehabilitation and release, the marine mammals and animals at the aquarium have stories that continue to uplift guests. In 2023 alone, CMA has hosted more than 900 Inspire Program guests and allowed them to have visits to the aquarium with their families, and special opportunities to meet the animals.
"Coming here to Clearwater Marine Aquarium is really a happy place for them," said Karen Malo, CMA's Inspire Program Coordinator. "To connect with our rescued animals and their stories and just be able to have a fun day, not thinking of whatever life challenge is going on, whether it's a medical treatment, or loss, or their child is going through something really difficult. Maybe they're in the foster care system and this is just a special day to just be kids and connect with our animals and our residents," said Malo.
Winter Award Winner Maja Kazazic expressed her thanks: "It's definitely an honor to receive any award but especially a Winter Inspire award because Winter is so much part of my story and the aquarium is so much a part of my story that I wouldn't be where I am now without Winter and the aquarium, so it is definitely an honor and it definitely changed my life," said Kazazic, who had lost a leg during he war in Bosnia, and has gone on to create her own business.
This year's theme was A Unique Celebration and showcased the uniqueness in all of CMA's Inspire Program guests, as well as the rescued animals at CMA with Fox 13's Laura Moody as the host and Brock Mealer, an athlete with a spinal cord injury who was told he would never walk again, as guest speaker. There was music and food including a candy buffet, face painting, caricature drawings and a silhouette artist, a unicorn-themed stilt-walker and Tampa Bay Ray's DJ Kitty all to leave guests inspired and uplifted.
The five awards – named after CMA's inspirational animals – and recipients are:
Winter Award: Winner – Maja Kazazic
When Maja was 16 years old and living in Bosnia during the war, she was severely injured from a motor shell rocket grenade. Maja's leg had to be amputated and when on the verge of dying from her injuries and infection, she came to the United States for treatment, not knowing if she would ever see her mother, father and brother again. Maja later learned her family had survived the war and was eventually able to move them all to the United States. She learned English, graduated from college and is now a successful business owner. After moving to Clearwater, Maja learned about Winter and immediately related to her story. Both had traumatic injuries, lost part of themselves and had prosthetics. Maja decided she wanted the same doctor who treated Winter and went to the Hanger Clinic for her prosthetic leg. She now uses Winter gel and truly has an amazing and inspirational story to share.
Hope Award: Winner – Rob Gerson Rob, like Hope, is a free and strong spirit who finds his own way to shine. Rob, 22, was diagnosed with autism spectrum disorder at 3 years old. While language processing, social communication and sensory issues remain significant challenges for him, he has the kindest heart and the most hard-working personal drive. Rob enjoys beach life in Indian Shores with his family and spends many days walking the beach taking photos, filling in holes, picking up trash and learning about wildlife. He understands about conservation and knows he's making a difference.
In February 2023, Rob and his teacher Britt were the first to notice a floating sea turtle who appeared to be in distress, which turned out to be a 250-pound Loggerhead turtle, later named Shenandoah. They stayed present for the whole rescue and were able to visit CMA a few times, (once as an Inspire guest) to see Shenandoah's progress and they were also present for his release back into the Gulf of Mexico. Rob truly embraces CMA's mission and was able to give several interviews on camera to the media about how the public can help our beaches and animals. This was way out of his comfort zone but he shined! He is passionate about conservation and finding his own way to help and make a difference. This inspires all people who come into contact with him. He hopes to volunteer at CMA in the future.
Snorkel/Cocoa Award: Winner – Sarah Stys
Sarah is a frequent CMA visitor, frequently before and after her Inspire visit. It is always a pleasure to see Sarah's radiant smile while she is visiting. Sarah has autism, visual and speech challenges but doesn't let anything stop her enthusiasm and love of CMA's resident animals. Her enthusiasm and joy is obvious and spreads to all she encounters, especially the staff at CMA. Samantha, a CMA Aquatic Biologist, say she was lucky enough to be able to help Sarah feed the stingrays during her visit with Inspire and the pure joy she had while participating in the stingray feed and the red drum fish feed was just one of the many moments in the day where her presence made her truly shine.
Nicholas Award: Winner – Kristen and Hazel Davidson
Kristen and Hazel are a mother and daughter who both have Alopecia, or loss of hair. This dynamic duo embodies Nicholas because they too, have a skin condition which makes them unique and beautiful.
Kristen is a great spokesperson for Alopecia and while at CMA, she was more than happy to be interviewed to help educate others about Alopecia. She also has taught both of her daughters to embrace their uniqueness and with Hazel specifically, not to hide who you are. She does not wear a wig because she feels it is important to embrace this uniqueness and she serves as a role model for her daughters and others.
Izzy Award: Winner – Charlotte Robertson
Charlotte's passion for animals is contagious and she is always excited to learn how to care for CMA's precious marine animals. Charlotte created her own Winter puppet with a prosthetic tail. She keeps a diary of her drawings and has shown them to employees Kevin Carroll and Dan Strzempka who were
both very impressed with her work. Charlotte loves all the dolphins at CMA and knows all of them by name as well as how to identify each one. She soaks up every bit of information about the CMA dolphins that she hears or reads. Winter, Dolphin Tale, and CMA have truly impacted Charlotte deeply and created in her a lifelong passion. Her dream is to someday work at CMA. Upon hearing the minimum age to volunteer at CMA is 15 she told her mom, "I already have my 15th birthday planned, I want it to be my first day volunteering!"
Community Partner Award: Johns Hopkins All Children's Hospital
Johns Hopkins All Children's Hospital has been a wonderful partner with CMA. They have worked with CMA as it creates curriculum for the children in the hospital, and has recently collaborated with the aquarium to host multi-week parenting workshops at the aquarium. The hospital has allowed CMA to visit patients and cheer them up with gifts and a visit from Donny the dolphin puppet in a partnership to help children reach their full potential despite their medical challenges or diagnosis.
CMA Board of Directors helped decide categories and along with staff and volunteers, nominated award winners and secured these sponsors for the event: Valpak, Johns Hopkins All Children's Hospital, Griffin Law Firm, BayCare and Allori Blow Dry Bar.
MEDIA CONTACT Marsha Strickhouser, (727) 242-0770, Clearwater Marine Aquarium, mstrickhouser@cmaquarium.org.
###
About Clearwater Marine Aquarium

Clearwater Marine Aquarium (CMA) is a 501(c)(3) nonprofit working marine rescue center dedicated to inspiring the human spirit through leadership in education, research, rescue, rehabilitation and release. With a mission to preserve the environment and its marine life, CMA is home to rescued dolphins, sea turtles, river otters, stingrays, a nurse shark and more. Through Clearwater Marine Aquarium Research Institute, CMA conducts important global research focused on protecting manatees, North Atlantic right whales and sea turtles. Major motion picture Dolphin Tale (2011) and its sequel Dolphin Tale 2 (2014) features the true stories of rescued resident dolphins Winter and Hope, inspiring millions around the world. The mission and potential to change people's lives differentiates Clearwater Marine Aquarium from any other aquarium in the world.
© 2023 Clearwater Marine Aquarium | 249 Windward Passage, Clearwater, FL 33767 | 727-445-1139 | 727-441-1790 | mission.cmaquarium.org | cmaquarium.org

We believe in preserving our environment while inspiring the human spirit through leadership in the rescue, rehabilitation, and release of marine life; environmental education; research; and conservation.
A Florida non-profit 501(c)(3) organization