Project Holocene, Washed Ashore and Morean Arts Center bring the message of conservation to CMA guests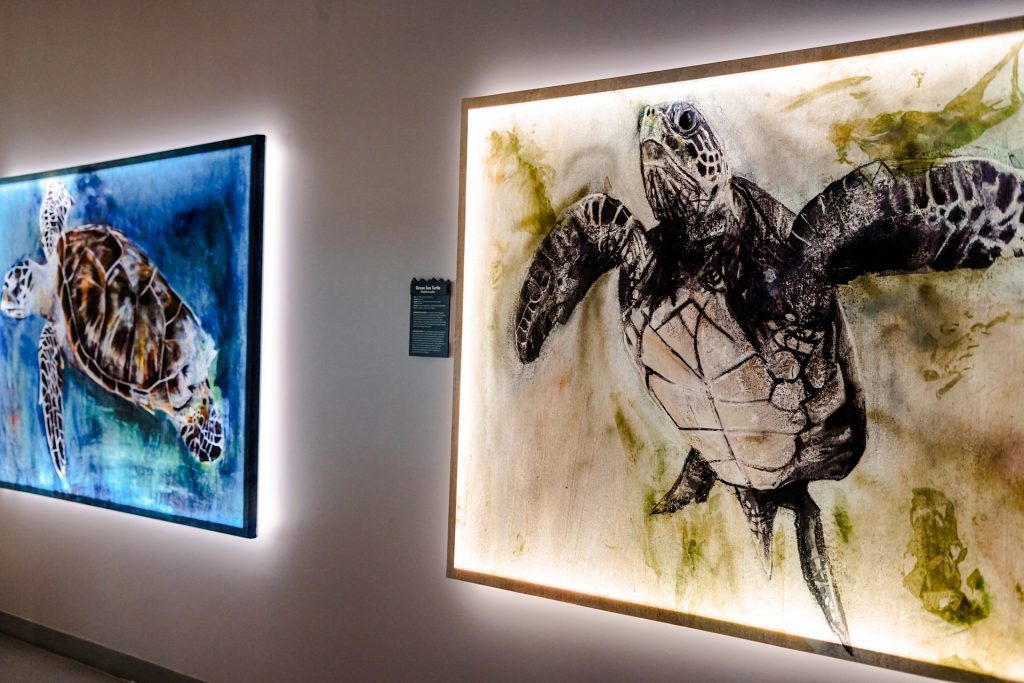 CLEARWATER, FL (Nov. 10, 2023) – Today, Clearwater Marine Aquarium unveils ArtSEA Conservation, an art exhibit featuring international, national and community artists, to show the connection between art and marine conservation. The aquarium's fourth floor will be transformed into an art gallery where marine mammal paintings, sculptures and aquariums are on display along with videos featuring Clearwater Marine Aquarium Research Institute's fieldwork.
CMA partnered with artists and organizations that are aligned with CMA's mission and are deeply committed to conservation and guests can see the beauty and value of protecting these incredible creatures of the sea.
In this new exhibit, illuminated paintings come to life – of dolphins, manatees, right whales, sea turtles, and sea otters – created and honored by artist Russell Ronat. Conservation, and the desire to protect these creatures, bubble up from the artist's imagination, giving them life and breath, hoping to preserve them for future generations.
For more than 20 years, CMA and CMA Research Institute scientists and staff have worked with these marine animals in rescue, rehabilitation and release efforts. A video of the artwork as it is being created is interspersed with video of CMA researchers in the field with dolphins, whales, manatees and sea turtles.
In addition, sculptures created from pollution found in the ocean show guests the whimsy of creating art, but remind them of the importance of taking care of our oceans. Aquariums are designed by community partners and a CMA artist to tie the fish and artwork together.
The new art space will also feature five Art Aquariums with pieces of art that complement the marine life that swims inside, with blown glass balls, geodes, metallic domes and colorful noodlelike forms. St. Petersburg-based Morean Arts Center is part of the collaboration and is featured through glass and clay. This was provided through a grant-funded project awarded to its summer camp program to address underserved students in experiencing the art process.
"This multi-media art exhibit is an innovative way to educate guests about sea life and the conservation efforts CMA is committed to in protecting them," said Anthony Rivera, Chief Operating Officer of CMA. "The exhibits will appeal to new audiences in different ways, and we hope will not only educate them but inspire them to show that we can make a difference," said Rivera.
Project Holocene is an illuminated art exhibit focused on wild animal conservation by international artist Russel Ronat, which features eight-foot illuminated paintings with marine mammals including manatees, right whales, dolphins, sea turtles and a sea otter.
The Washed Ashore exhibit features marine life such as jellyfish, whales, a sea turtle, sea otter and a sea lion – all created from pollution and trash items found in the ocean such as bottles, shoes, lighters, and thousands of pieces of discarded waste. The sculptures bring to life the concept of truly making art from trash. The sea lion, sea otter and jellyfish will debut on the fourth floor and other animals will be placed throughout the aquarium.
Morean Arts Center will also have art installation above each art aquarium, created by their student artists. Morean's mission is to connect people with art through innovative, community-oriented art and art education, and to contribute to the economic development of the region.
There is also one from a longtime CMA employee. The exhibits will stay at CMA for several months, until new installations are revealed next year.
MEDIA CONTACT Marsha Strickhouser, (727) 242-0770, Clearwater Marine Aquarium, mstrickhouser@cmaquarium.org.
###
About Clearwater Marine Aquarium

Clearwater Marine Aquarium (CMA) is a 501(c)(3) nonprofit working marine rescue center dedicated to inspiring the human spirit through leadership in education, research, rescue, rehabilitation and release. With a mission to preserve the environment and its marine life, CMA is home to rescued dolphins, sea turtles, river otters, stingrays, a nurse shark and more. Through Clearwater Marine Aquarium Research Institute, CMA conducts important global research focused on protecting manatees, North Atlantic right whales and sea turtles. Major motion picture Dolphin Tale (2011) and its sequel Dolphin Tale 2 (2014) features the true stories of rescued resident dolphins Winter and Hope, inspiring millions around the world. The mission and potential to change people's lives differentiates Clearwater Marine Aquarium from any other aquarium in the world.
© 2023 Clearwater Marine Aquarium | 249 Windward Passage, Clearwater, FL 33767 | 727-445-1139 | 727-441-1790 | mission.cmaquarium.org | cmaquarium.org

We believe in preserving our environment while inspiring the human spirit through leadership in the rescue, rehabilitation, and release of marine life; environmental education; research; and conservation.
A Florida non-profit 501(c)(3) organization