Clearwater Marine Aquarium released two sea turtles on November 16, 2023.
After receiving rehabilitation at Clearwater Marine Aquarium, two sea turtles have been successfully released this week.
Naan
Naan, a young green sea turtle was discovered near Ozello, Florida and faced health challenges with fibropapilloma tumors. With care, Naan became active and underwent successful tumor removal surgery, healing beautifully.
Sourdough
Sourdough, a juvenile green sea turtle was discovered near Duke Power Plant in Holiday, Florida. Sourdough faced challenges with a caudal carapace deformity and previous injuries. After receiving care for gastrointestinal gas and a buoyancy disorder, Sourdough underwent a successful deep-water swim evaluation at Florida Aquarium, Sourdough navigated a 15-foot deep-water pool with ease.
Our veterinarian and Florida Fish and Wildlife Conservation Commission gave their approval for a clean bill of health. Alongside our friends at The Florida Aquarium, both turtles were released yesterday!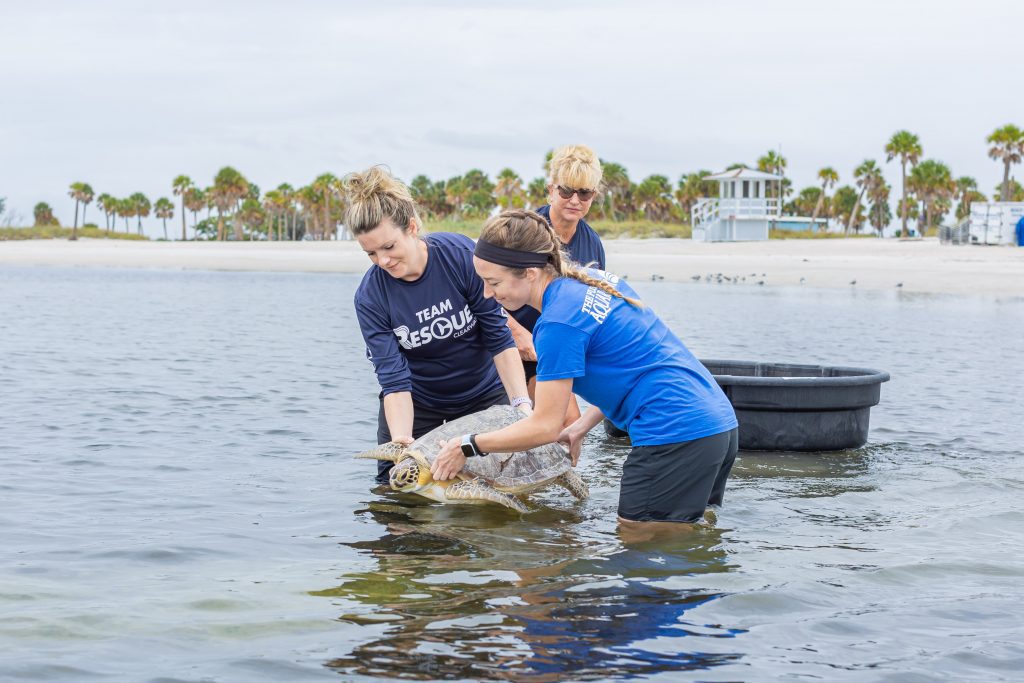 All marine turtle footage taken in Florida was obtained with the approval of the U.S. Fish and Wildlife Service and the Florida Fish and Wildlife Conservation Commission (FWC) under conditions not harmful to marine turtles. Footage was acquired while conducting authorized conservation activities pursuant to FWC MTP-23/24-172A.
###
About Clearwater Marine Aquarium

Clearwater Marine Aquarium (CMA) is a 501(c)(3) nonprofit working marine rescue center dedicated to inspiring the human spirit through leadership in education, research, rescue, rehabilitation and release. With a mission to preserve the environment and its marine life, CMA is home to rescued dolphins, sea turtles, river otters, stingrays, a nurse shark and more. Through Clearwater Marine Aquarium Research Institute, CMA conducts important global research focused on protecting manatees, North Atlantic right whales and sea turtles. Major motion picture Dolphin Tale (2011) and its sequel Dolphin Tale 2 (2014) features the true stories of rescued resident dolphins Winter and Hope, inspiring millions around the world. The mission and potential to change people's lives differentiates Clearwater Marine Aquarium from any other aquarium in the world. CMAquarium.org.
© 2023 Clearwater Marine Aquarium | 249 Windward Passage, Clearwater, FL 33767 | 727-445-1139 | 727-441-1790 | mission.cmaquarium.org | cmaquarium.org

We believe in preserving our environment while inspiring the human spirit through leadership in the rescue, rehabilitation, and release of marine life; environmental education; research; and conservation.
A Florida non-profit 501(c)(3) organization