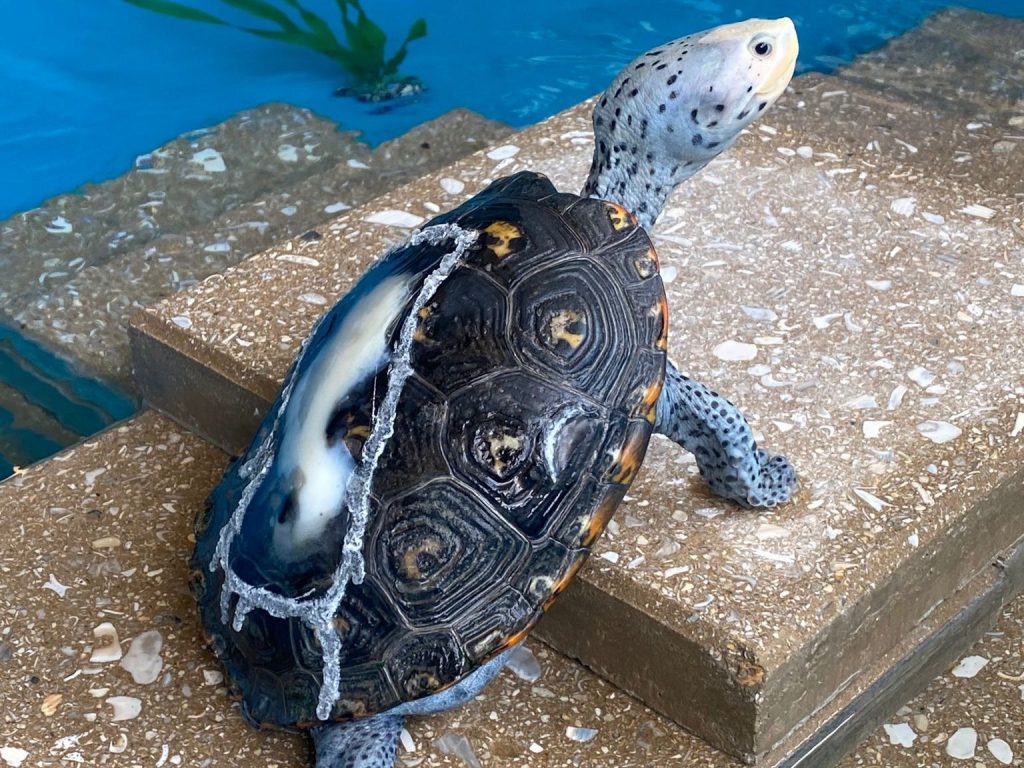 Pearl
Diamindback Terrapin, Adult
(Malaclemys terrapin)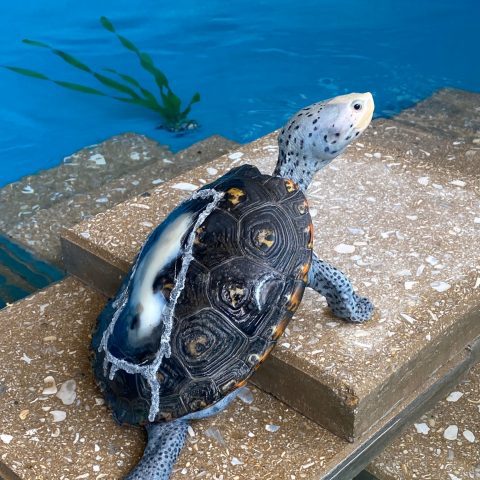 Patient Status

Current

Date Found

June 16, 2023
Location

Palm Harbor; Pinellas County
Reason for Rescue

Carapace injury
Initial Assessment
Weight

0.679 kg (1.49 lbs)

Exam Findings

Thin body condition. Injury to carapace.

Initial Treatment

Fluids, Antibiotics, Wound Care
Pearl's Story
Pearl is an adult, female diamondback terrapin who was found floating near a seawall in Palm Harbor with carapace injuries. Pearl was lethargic, underweight, and had minimal use of her rear legs at intake examination. Pearl's initial treatment includes antibiotics and fluid therapy.
Treatment Updates
6.20.23

Pearl went for a CT scan to assess extent of carapace injuries.

6.22.23

We are continuing to do daily soaks in the sun, fluid therapy, and injectable antibiotics. We are monitoring her appetite.

6.25.23

Pearl is receiving wound care and bandage changes twice a month until further notice.

6.30.23

Pearl is starting to show interest in food and is eating well! Pearl has gained 0.2 kg in weight.

7.6.23

Pearl is continuing to receive wound care and bandage changes every other week. We are starting to see more use in rear legs with utilizing her ramp in her habitat!

8.23.23

Pearl has been moved to a larger habitat, one of our ICU pools, to help assess potential buoyancy issues and to help increase their activity level.

9.26.23

We have started to do daily cold laser treatments on Pearl's carapace injury.

11.7.23

Pearl's wound has been healing really well since utilizing cold laser treatments! Pearl's latest weight is 0.98 kg (2.16 lbs). She has gained 0.67 lbs since intake!
---
All marine turtle footage taken in Florida was obtained with the approval of the U.S. Fish and Wildlife Service and the Florida Fish and Wildlife Conservation Commission (FWC) under conditions not harmful to marine turtles. Footage was acquired while conducting authorized conservation activities pursuant to FWC MTP-23/24-172.