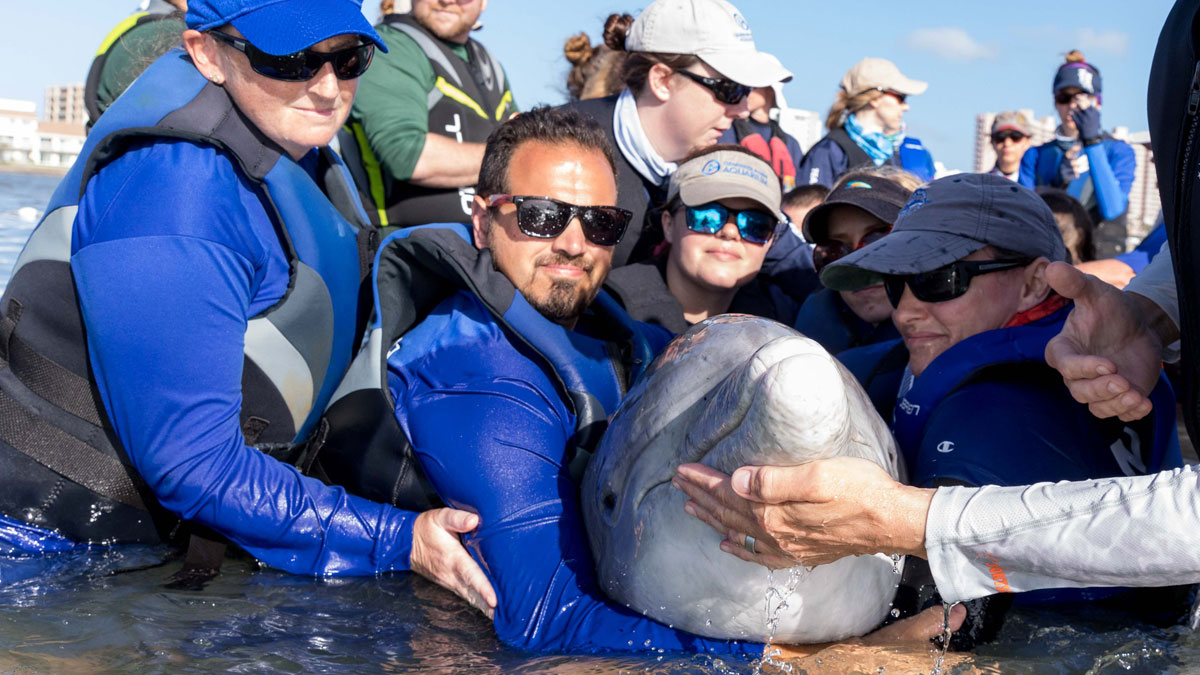 Entangled Dolphin Reported Near Belleair Beach
On February 8, 2018, an entangled dolphin was reported to Clearwater Marine Aquarium (CMA) by residents of Bell Isle Canal on Belleair Beach, FL. CMA located the dolphin the same day and photos and video were taken showing that line appeared attached at the leading edge of both tail flukes. The line trailed behind the tail, forming a "Y" shape with approximately 18 inches of line carrying algae and biofouling (attached microorganisms, plants and other animals). The ability to swim did not appear compromised, body condition looked normal with white discoloration on flukes, peduncle, and leading edge of the dorsal fin.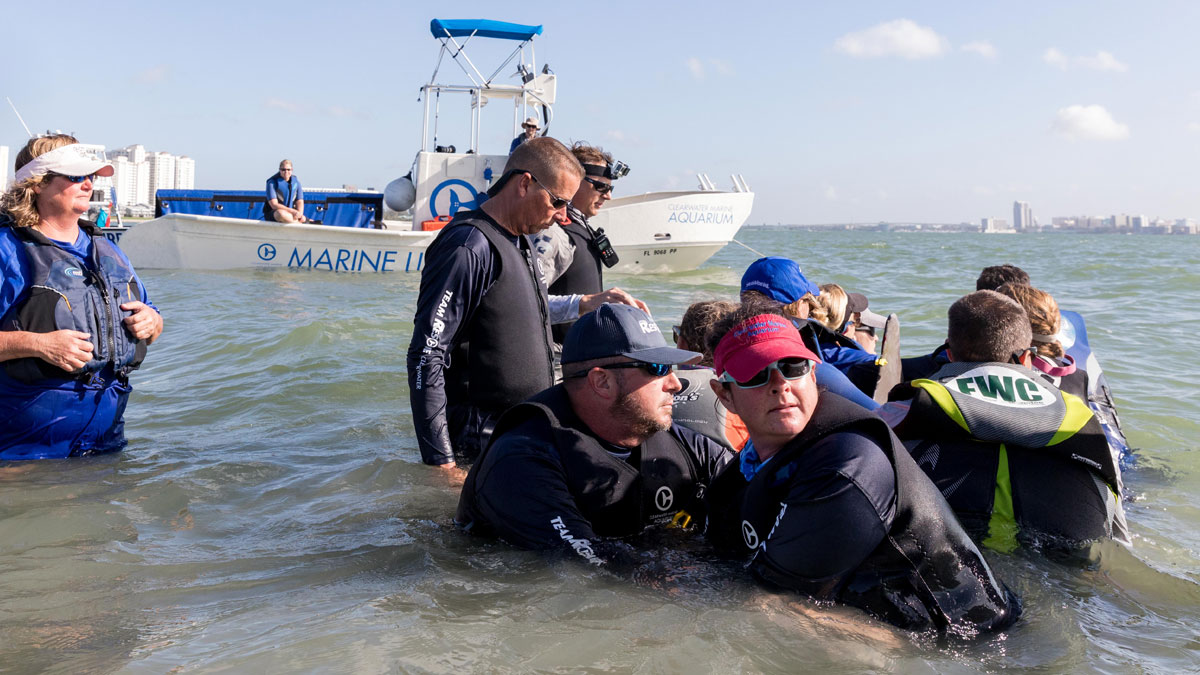 Identified as a Local Dolphin Known as "Lenny"
The animal was positively identified via dorsal fin identification by the CMA Education Team as "Lenny," a bottlenose dolphin known to CMA since 2014. Reports by Network Partners revealed that this dolphin identified as CMA-Tt-1804 was also a known animal to the John's Pass Dolphin Study, Eckerd College Photo ID Program, and the Sarasota Dolphin Research Project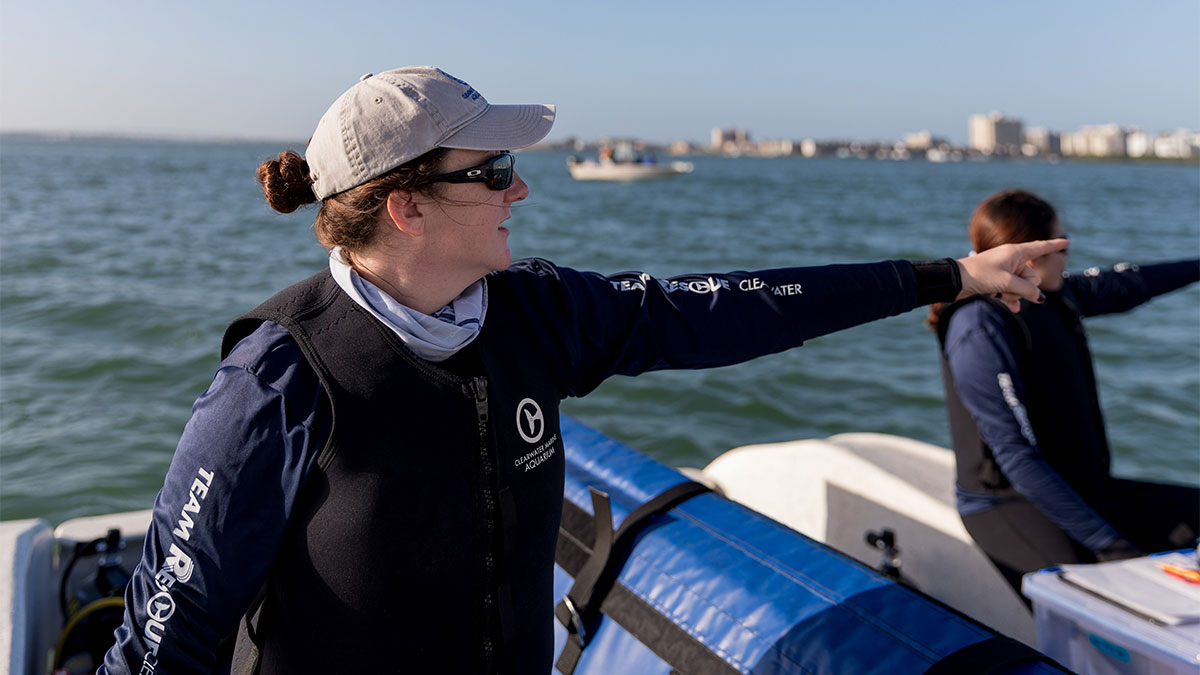 Life-Threatening Entanglement Required Intervention
The entanglement was reported to National Marine Fisheries Service (NMFS), and daily searches for Lenny were conducted by the Education Team on Photo ID, as well as, the Rescue and Marine Teams. On Feb. 16, 2018, CMA Rescue began receiving reports of a dolphin exhibiting unexpected behavior including abnormal surfacing behavior. Animal care, education, and marine staff located Lenny near the Clearwater Municipal Marina and noted a marked change in behavior since previous sightings. All information was submitted to NMFS. NMFS veterinarians deemed Lenny's entanglement as life-threatening and intervention was planned for the week of Feb. 19.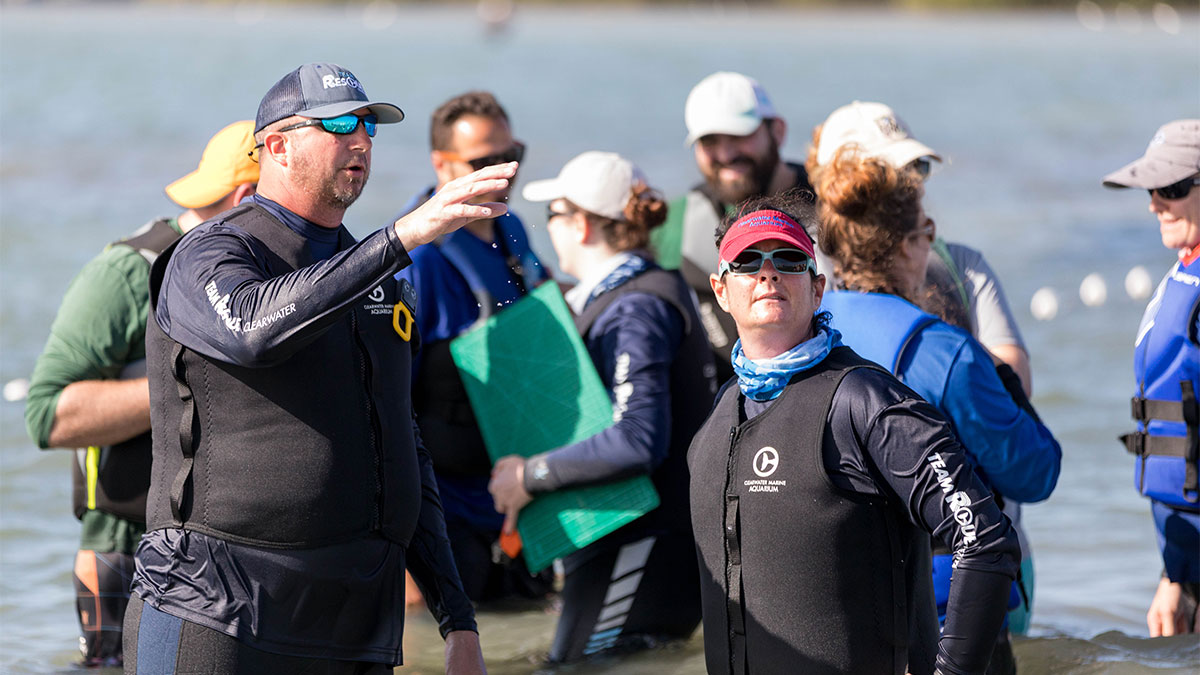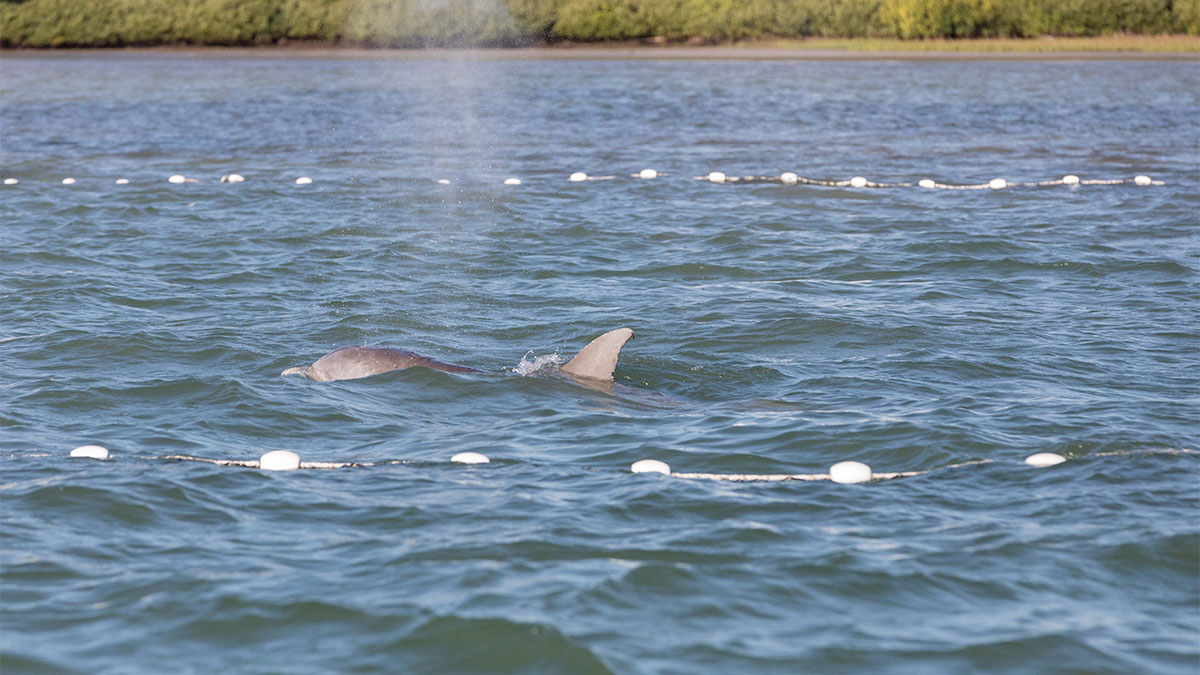 Multiple Organizations Come Together for Dolphin Disentanglement
On February 22, CMA, in conjunction with Southeast U.S. Stranding Network partners and the Clearwater Police Department, successfully intervened under the direction of NOAA. At 7 a.m. scout boats began patrolling Clearwater Harbor and successfully located Lenny. The capture vessel, with Andy Garrett of FWC at the helm, successfully contained the dolphin with a seine-style net set in a compass. The animal was then restrained while a number of vets, including CMA vet Dr. Marquardt examined the animal's flukes and body.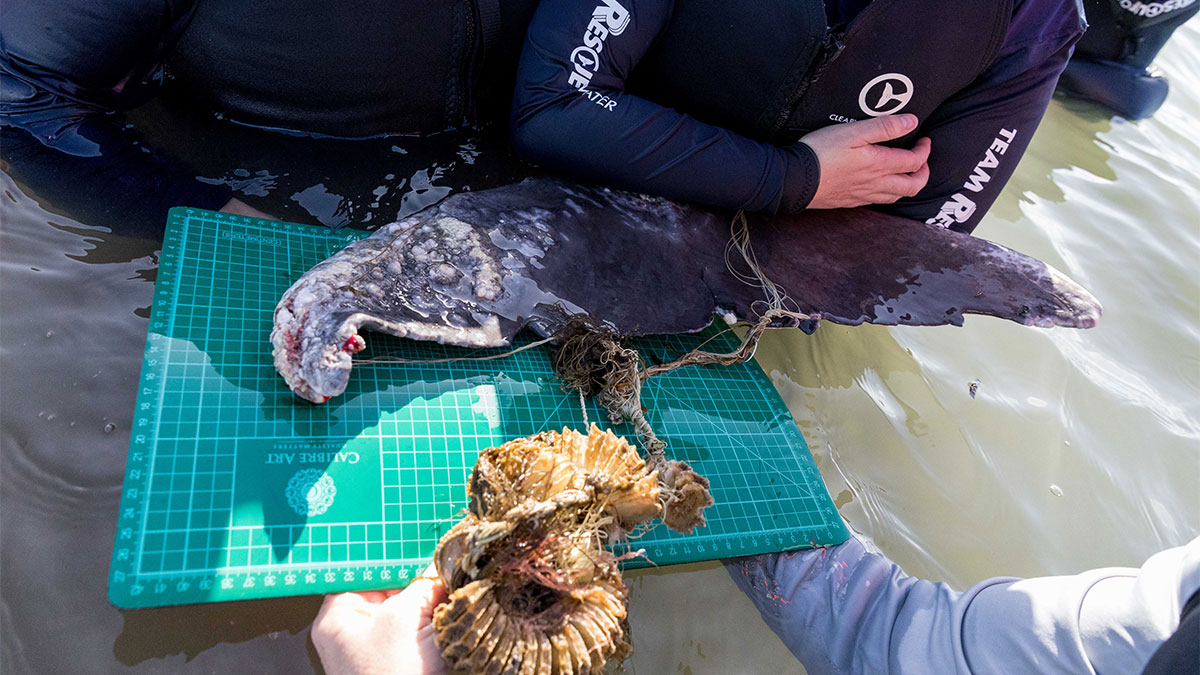 Successful Disentanglement and Release
The animal was successfully disentangled and deemed suitable for immediate release. Morphometrics, measurements, and photos were taken of the animal and long-lasting antibiotics were administered. A yellow roto tag was placed on the middle, trailing edge of the animal's dorsal fin to aid in continued monitoring efforts. Immediately after release, CMA rescue and marine teams followed Lenny to observe and monitor behavior.
The CMA Rescue Team, in conjunction with the Marine Department and Education Team, will continue monitoring Lenny (CMA-Tt-1804).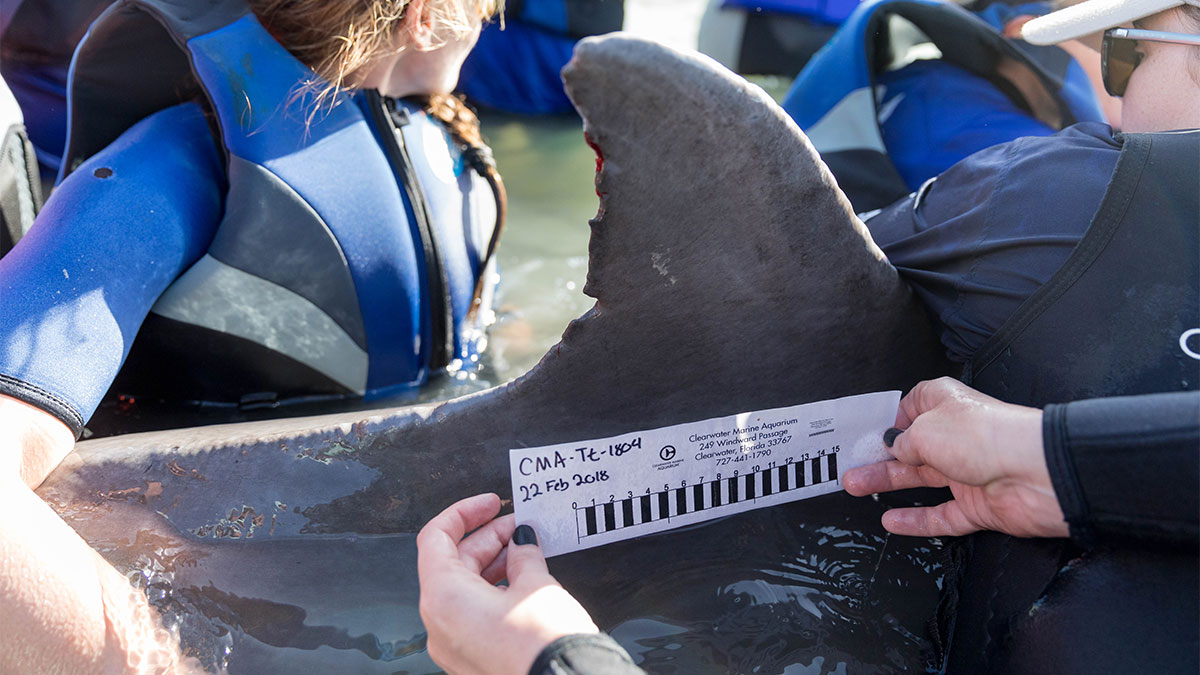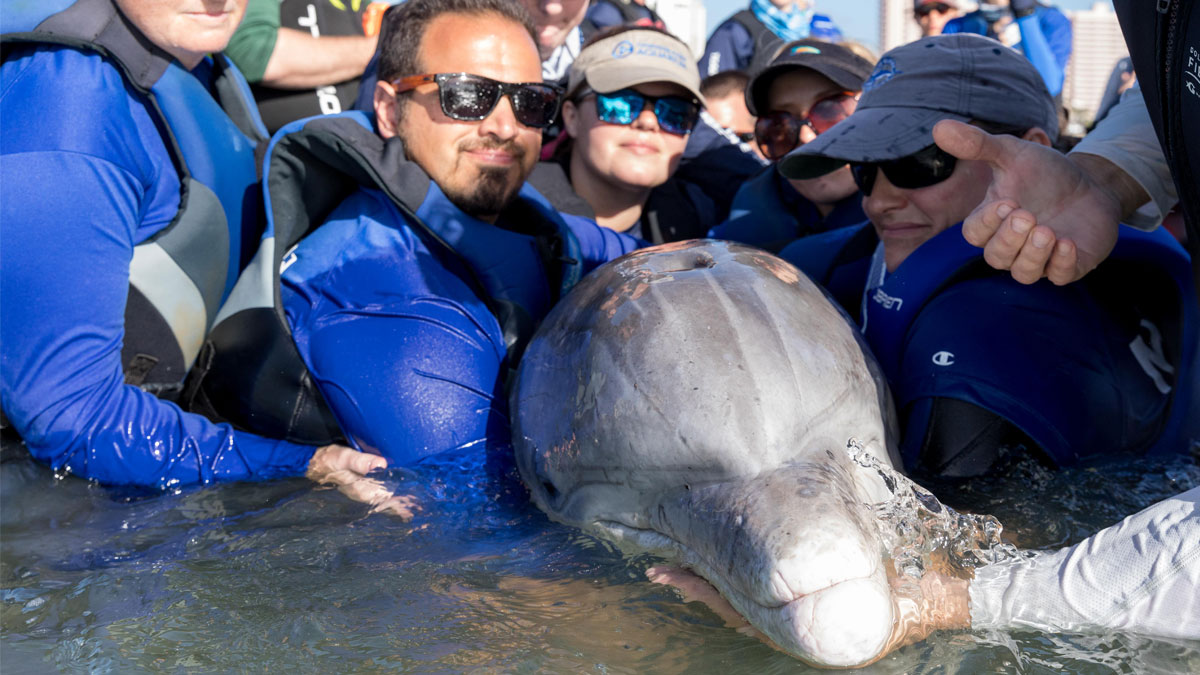 ---
If you find a dolphin, whale, sea turtle or river otter in distress in the Tampa Bay area, immediately call CMA's 24-hour Emergency Rescue Hotline at 727-441-1790 Ext.1. Please do not email or attempt to contact via social media; always call the hotline first.
---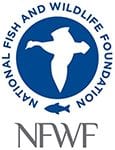 We greatly appreciate the support from NFWF, National Fish and Wildlife Foundation, for our rescue efforts. If you would like to help, please consider donating an item from our wish list!
All photos featured taken acknowledging the following – stranding response conducted under stranding agreement between NMFS and CMA under the authority of the Marine Mammal Protection Act (MMPA). MMPA Permit No. 18786-02.