Endangered Green Sea Turtles Released After Fishing Gear Injuries
Two endangered green sea turtles were rescued and released back into the wild after rehabilitation at Clearwater Marine Aquarium (CMA). Both turtles, Urkel-O's and Eucalyptus, were rescued by CMA after being harmed by fishing gear and both have a missing front right flipper. Urkel-O's' flipper was amputated due to injury, while Eucalyptus was rescued with a healed amputation.
---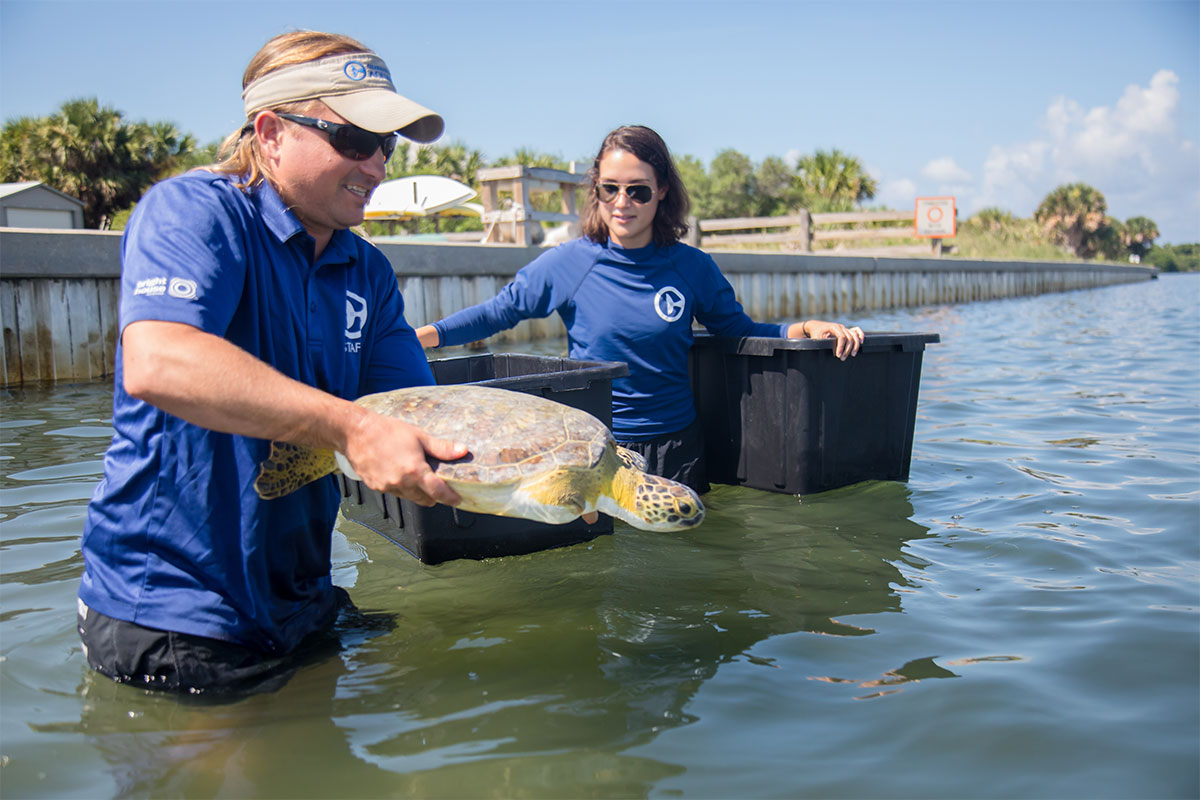 Urkel-O's
Juvenile, Green
(Chelonia mydas)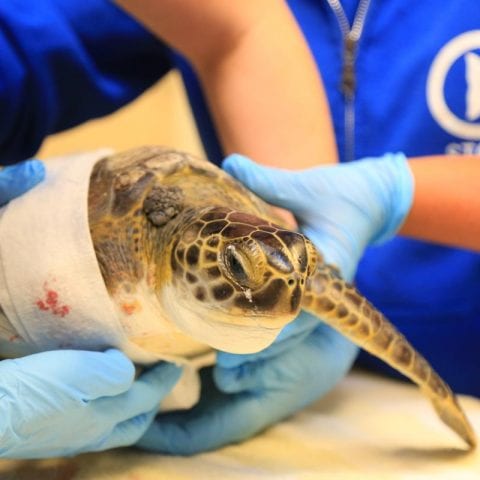 Patient Status

Released August 17, 2017
Urkel-O's arrived at Clearwater Marine Aquarium on May 21, 2017, from Pasco County. A fisherman found the turtle floating and brought it to shore, where it was picked up by our rescue team. The right front flipper was entangled in monofilament fishing line and already nearly amputated.
It was also discovered that Urkel-O's had a few fibropapilloma tumors on the neck and flippers. A couple days after arrival, the right front flipper was amputated and on June 6, 2017, we successfully removed the fibropapilloma tumors. After just three short months Urkel-O's was ready to go back home showing a full recovery.
---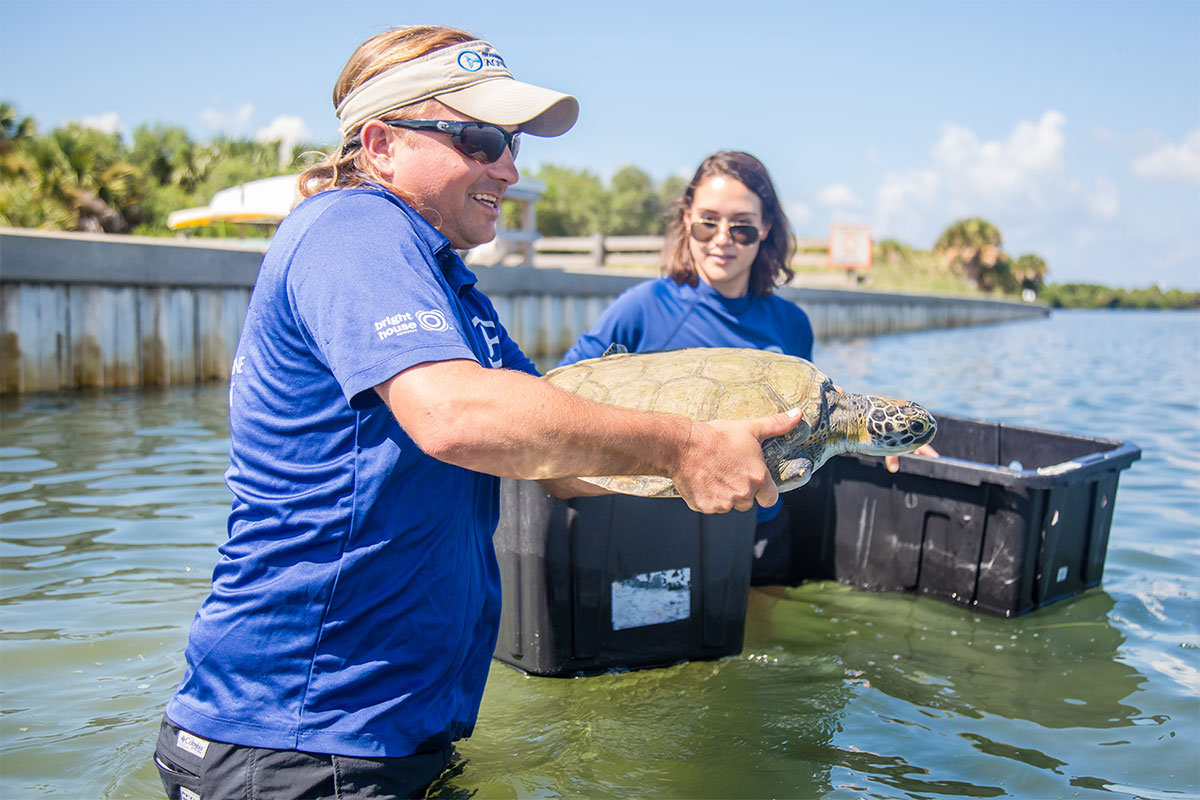 Eucalyptus
Juvenile, Green
(Chelonia mydas)
Patient Status

Released August 17, 2017
Eucalyptus, a juvenile green sea turtle missing its front right flipper, was snagged by a fisherman's hook off Sand Key Fishing Pier in Pinellas County on August 6. The fisherman removed the hook and brought the turtle to CMA for care. An assessment by CMA's veterinarian found no obvious wounds from the fishing hook, and its healed flipper was missing from an injury long ago. After running initial blood work, x-rays and CT scans it was determined that Eucalyptus was healthy and ready to head back to the big blue.
---
Fishing Gear is Dangerous for Sea Turtles
Fishing equipment like monofilament fishing line and fishing hooks are very dangerous for sea turtles, especially when left in the ocean and not properly disposed. Turtles can get tangled in the line, causing flipper amputations, or they can swallow the line or hooks causing digestive problems.
"The rescue stories of these two turtles show us the importance of properly disposing our trash," says David Yates, CEO of Clearwater Marine Aquarium. "Fishing lines and hooks are deadly to sea turtles and we are happy that our team was able to rescue, rehabilitate and release these two lucky survivors."
Although both turtles are missing flippers, they can still live a full life and complete their migrations which can be hundreds of miles long. The turtles were both released on Thursday, August 17, 2017 at Honeymoon Island, FL.
Read our fishing gear tips to help save sea turtles.
---
All marine turtle footage taken in Florida was obtained with the approval of the U.S. Fish and Wildlife Service and the Florida Fish and Wildlife Conservation Commission (FWC) under conditions not harmful to marine turtles. Footage was acquired while conducting authorized conservation activities pursuant to FWC MTP-17-172.